Dr Tine Bech is Senior Lecturer on the exciting new MA Arts and Place programme at Dartington Arts School, starting in January. A multidisciplinary artist, researcher, and teacher with extensive experience working with public art and designing for people, play and participation, Tine is a fantastic addition to the faculty. She's part of the team building up the Arts School as an innovative institution here within Dartington Trust's learning programme. We caught up with Tine recently to find out more about her work, interests, and her thoughts on the course she'll be working on.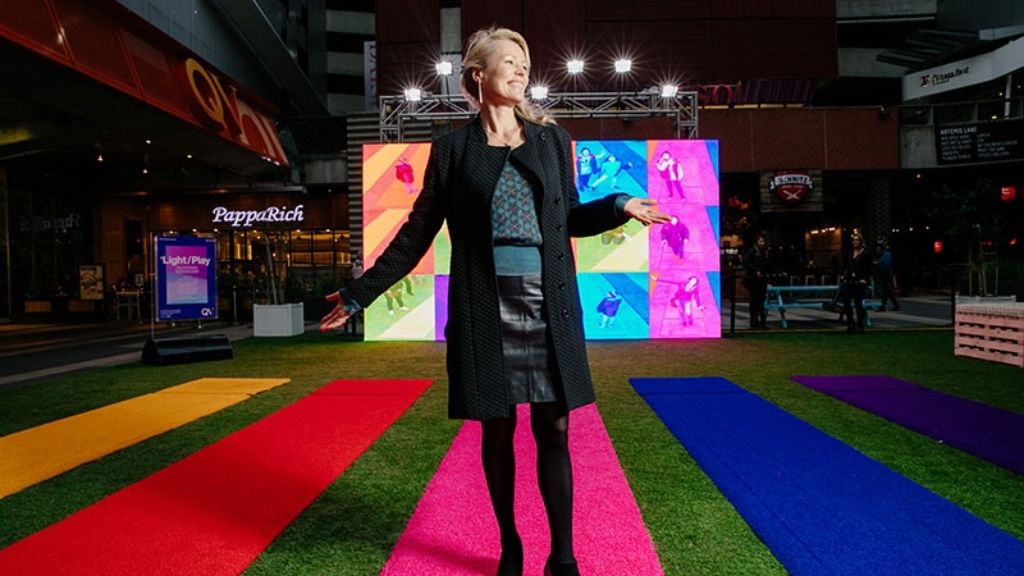 Will: In your own words, how would you sum up who you are?
Tine: In the context of being an artist, I'm an artist who comes from fine art, then moving to interactive design, and my work has become very cross-disciplinary and collaborative. I've embedded participatory processes into my practice. After my Master's I became interested in technology as a means to interact with audiences, which lead me to a PhD in Play Theory, essentially looking into the ways we can interact with art playfully. My real focus is on people, collaboration, participation, play, and place. My practice happens both inside and outside the gallery, or in the corridors of the gallery, or with people. Essentially at its core, I'm seeking to create social spaces where we engage, where we connect with each other in new ways. I am particularly interested in connecting People and Places. Place is where people gather and my work is really about people and place or public spaces. That human factor is really what drives the interaction, and technology aids that to a certain extent. I see technology as a material. Technologies have affordances and properties just like any material and, just as the grain of the wood allows me to make a particular kind of shape so it is by understanding the materiality of the technology that I can shape experiences. What is key is that art connect us. Art asks questions and allows us to develop new collective knowledge and new ways of seeing. We need this more than ever!
Will: You talk about creating social spaces where we can engage, and that seems really relevant to what's happening here on the Dartington estate, with our growing learning community, and how this all interacts with the natural environment around us too.
Tine: Yes, public places are very important – that could be the natural environment or the built environment. I sometimes find myself shifting into architecture or landscape architecture by the nature of working with Public realm. And the nature of art today is to expand and explore – it has the ability to share – and to ask questions. Dartington's such a lovely place. Everyone that knows the school and the history of the arts here tells me it's an amazing place.
Will: Yeah, it's gorgeous, it's really nice. But you're in you're in London now. Is that right?
Tine: Yes, I'm in London. I came from Denmark to London. In the few last years I've travelled a fair amount, showing work internationally (and to Denmark naturally) – and London is a perfect cultural hub. But the pandemic has sort of grounded me. I think it's forcing us all to think and shift. And part of that shift for me is to become connected to Dartington and this amazing new MA which I'm really excited about. There's some great innovative thinking that lies behind the MA Arts and Place programme and I am thrilled to work with Dartington to shape that vision.
Will: One thing that is quite unique about the Arts and Place course is this idea of students starting with us here and then going to different Network Hosts for residences around the country. It seems like a really nice way of studying, a new way of studying really, you know, when I think of how you would traditionally study fine art, you'd go to your college and you'd have a studio there.
Tine: Yeah, I completely agree with you. It's not only a new way of studying, it's also a new way of learning – at the core of the course there is collaboration and this rethinking of learning spaces. In that way it reflects our time. The MA examines our relationship with our environment – not only rationally but in terms of how we feel about it. The artist studio is shifting and it is no longer a hidden creative place. Artists are on site working with people and responding to the world. The course is also a great opportunity for students to link to that amazing network outside the institution, while being on the course, which is quite unique. Students won't be isolated, you know, tucked away learning and then later thrown into the creative world trying to make their way. On the course we'll always learn from where we are, with the learning and the research truly linked to the real world collaboratively. I do think that universities can become closed institutions, not all of them, of course. But here, we're actually connecting students more closely with places, both as part of the actual structure of the MA but also as part of the ethos – the vision. And we're giving students a live experience of what it is actually to work with a place and with people by being physically invested in it. It is a very particular experience. And it requires you to gain a very particular skill set. And it's also not something you can only learn by a book or by being in the studio or preparing for it, it's the real experience of going out there, of being exceptional.
Will: It sounds quite in keeping with contemporary life in that sense!
Tine: Yes, in that sense it's very reflective of society today, which is much more nomadic. We move around so much more than we used to. Britain is very metropolitan. So we are also reflecting the world today. And I think education has to do that! This course does it in more ways, as well, because we're creating communities – we need those right now. We're creating local communities, and we need those more than ever. Also, there is something about working from the ground up, you know, which links the ethos of Schumacher College to Dartington Arts School around sustainability, new thinking, a holistic or regenerative approach to community, or a regenerative approach to economics, food production, design and so on. Perhaps it is the local ecological movements and their growing strength. We have all become interested in the hyperlocal during the pandemic. We've all suddenly become aware of our green spaces, we're aware of our shared spaces and workplaces. For me, this was always there but there's a new emphasis – we are really focusing on it now. It also feeds into a wider debate about how we define our public spaces, our local communities, and decide what spaces that local community should have access to. Our new MA will contribute to this, in both the rural and urban contexts.
Will: I totally see what you mean. I think that the link with Schumacher College is also that idea of engaging with ecology in new and different ways, whether we are economists, farmers, artists, long distance runners or anything in between. Place has become crucial to our understanding of how we engage with ecology, whether that's in relation to the local environment generally, or specific animals, plants, the land itself, and like you say, other people and communities.  So yes there is an exciting crossover there.
Tine: I'm excited about the potential for cross collaboration between the College and the Art School. We're learning and we're becoming better at cross-disciplinary working, and knowledge creation. Our collective intelligence is far better than that of the individual, when we can make collaboration work. But we need systems that are flexible enough to allow that. When I have tried to do cross- or inter-disciplinary projects at university levels in the past, sometimes it has been difficult because we're simply set up structurally, in society and in universities, for that not to happen. But I think it's different here at Dartington, and the Arts and Place MA certainly is designed to take things in that direction.
Will: We'd like to hear a bit more about your work outside of this. Obviously the pandemic has made things very difficult for practicing artists to exhibit their work, but you're managing to keep going?
Tine: I still have projects on. I'm currently doing research which is about place making, and how place is changing – how we can build bridges to the future. I'll be doing much more research into this in the coming months and into 2021. This is in some ways linked to another project I'm doing with Future Everything up in Manchester, which is also about the future of the high street. The project was commissioned before the pandemic, and became even more important during the pandemic. We are working digitally together in new ways and looking to innovate how we can use digital platforms to connect with people and place. In that sense, I'm also thinking about what blended, or hybrid learning will be in the future. A new hybrid space where digital and place are merging better. I hope to explore technical, aspects with Future Everything that we can use on the course too. That project titled this place [of mine] is really about what's the future of the high street in towns. We're asking young local people and working with young cultural producers because they are the future. I think the project is really interesting in relation to the future of our places, our shared places, our public spaces, but also, how digital platforms interact with these. I'm working on various other projects, but more on those in due course, because we just don't quite know what the world will be like next year.
Dr Tine Bech is Senior Lecturer on the Arts and Place MA programme starting in January 2021. Explore her recent and artworks and projects on Tine's website here. If you would like to join Tine and programme lead Dr Jo Joelson on the MA Arts and Place this January, there are just a couple of places left. Find out more and apply via this link.