Mary Bartlett came to Dartington in 1963 as a horticultural student. After her training she became responsible for the glasshouses, nursery and walled garden.
She is the author of several books, including the monograph Gentians, and Inky Rags, a review of which can be read here. She is now the tutor for bookbinding in the Crafted @ Dartington department. More blogs from Mary
---
The already long list of artistic collaborations that have helped me bring to life my fascination with the unicorn is still growing.
It's vitally important to me that it does. In fact, the life-enhancing value of mixing minds and ideas, which is surely the key to success in scientific research as well as artistic creation, is one of the basics of unicorn symbolism.
My latest example is a modest pamphlet that brings together Guardian, a poem by Helen Ashley and the bronze sculpture of a unicorn by Andrew Lacey that inspired it. Andrew Lacey cast the bronze Guardian on St Dunstan's Day in 2014. I helped chip him out the mould myself.
I typeset Helen's poem, letter by metal letter, line by line. Andrew illustrated it for me and I printed it on my mischievous 1895 Arab Press on paper hand made for me in the 1980s by Tim Powell. Tim's paper has a unicorn watermark; among papermakers the unicorn traditionally indicates virgin purity. (The standard work on watermarks lists 540 such examples.)
---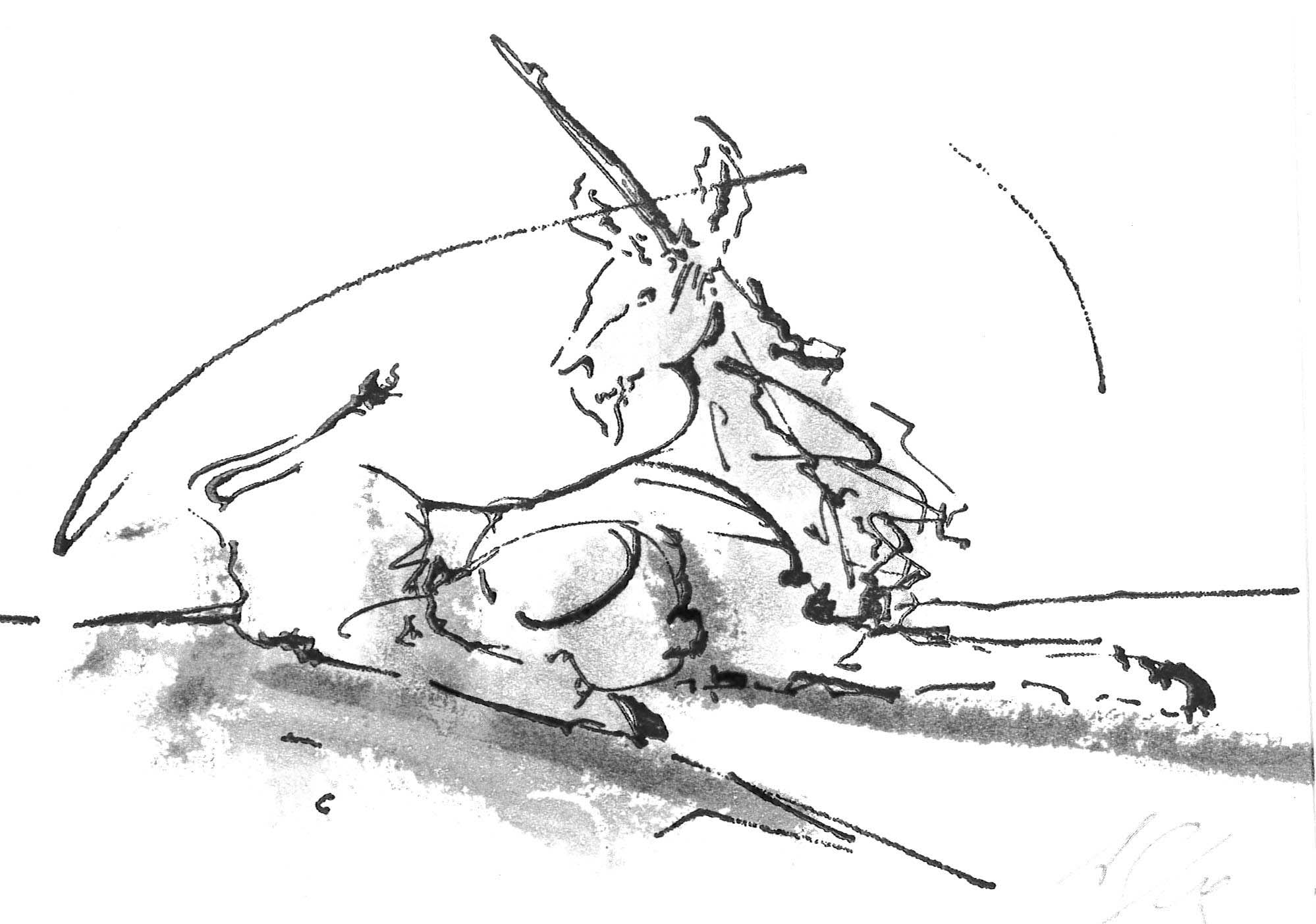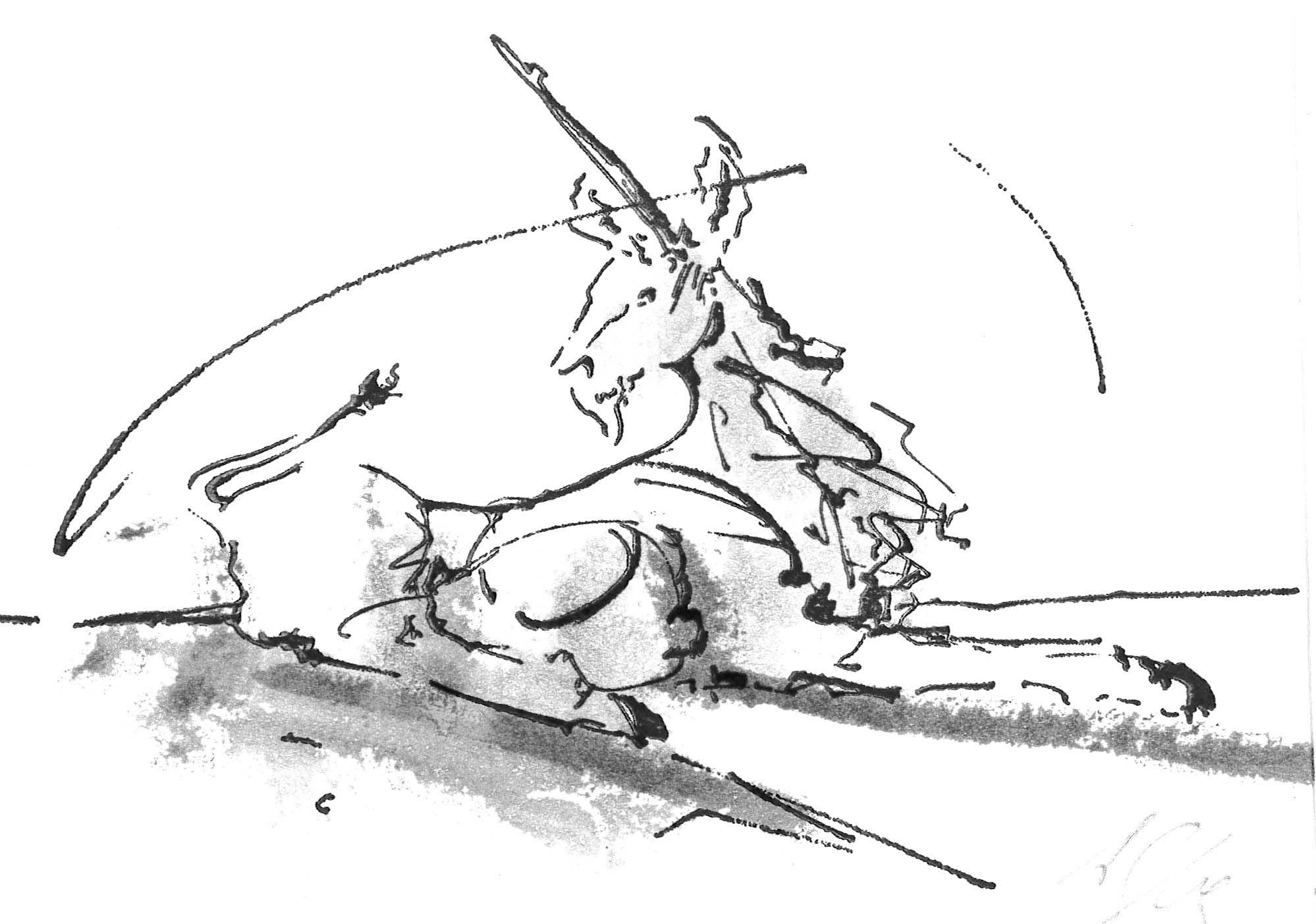 Andrew Lacey's illustration for Mary's Guardian pamphlet
---
Helen Ashley also wrote Man of Trees, for me, a poem inspired by the life of my late husband Bramwell, whose gravestone at St Mary's Church Andrew Lacey carved.
Bram died from the asbestos disease, Mesothelioma, in 2005. He had worked for the Trust all his life in various capacities after apprenticeship at Staverton Joinery. His craftsmanship propped up the College of Arts for many years, and latterly as estate warden he wrote articles about conservation and the environment in a column called Bram's Patch.
---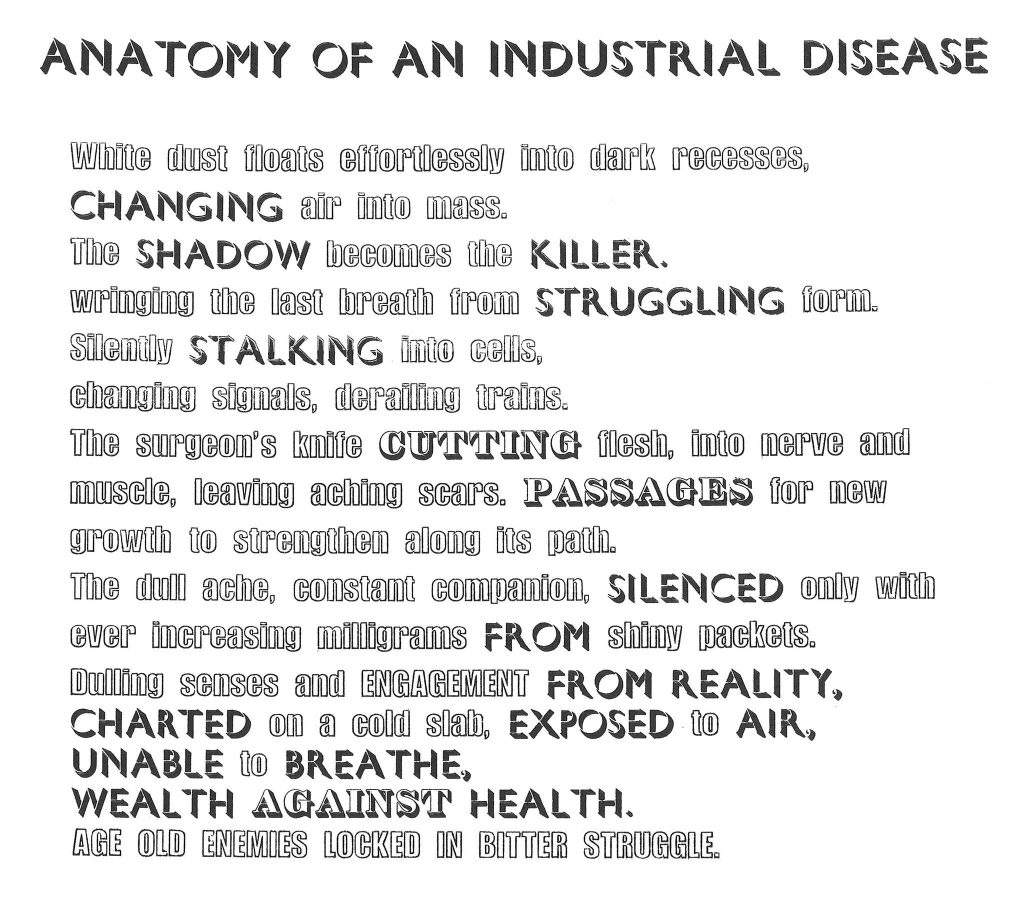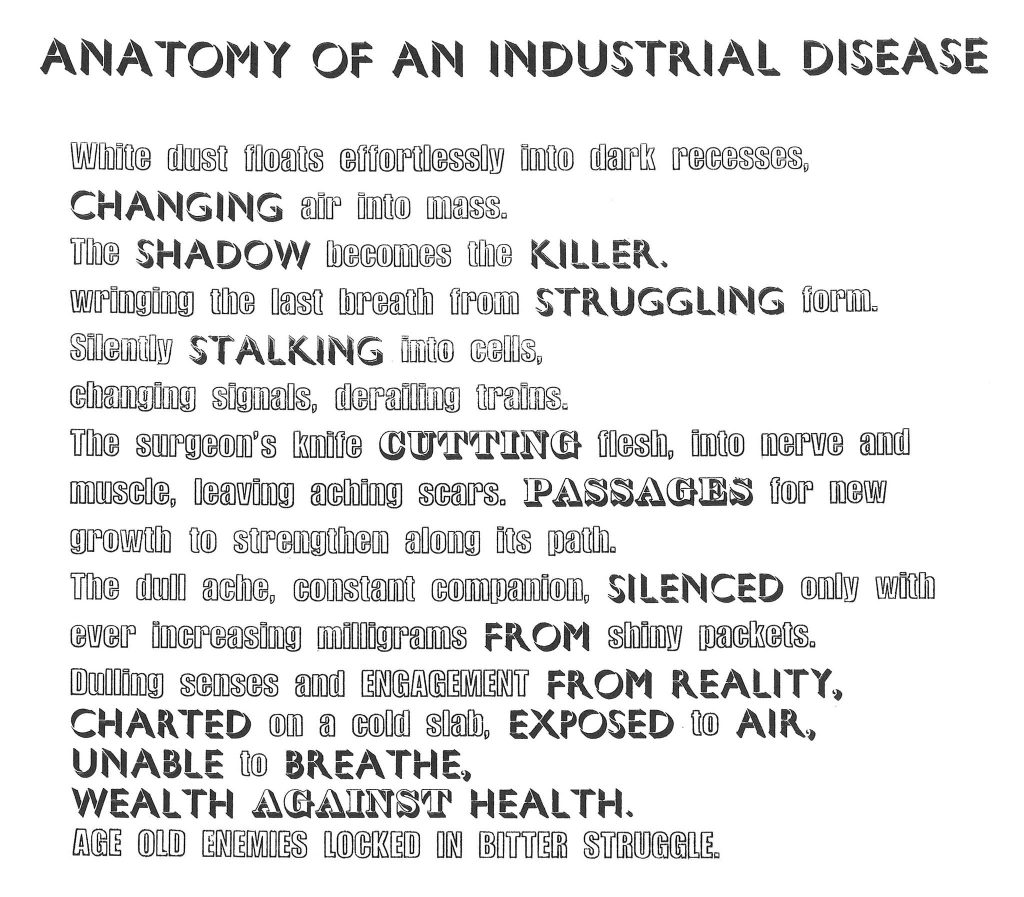 Anatomy of an Industrial Disease – a printed poem about the disease that claimed Bram. If viewing with a mouse, hover to zoom in on the text
---
The unicorn speaks then for the necessary leap of imagination that shapes new ideas. It helps us, just as Andrew Lacey's lifesize, anatomically correct bronze unicorn does, to get the measure of what we do not know.
Speaking of which – Philip Franses, Holistic Science senior lecturer at Schumacher College, not long ago turned to me for a spot of unicorn advice and in return introduced me to a concept that I had never heard of – and fear may never fully grasp – although I think I understand the mind-stretching principle. The subject was 'white holes' and an article about them posted on the hugely popular phys.org website for Imagination Day.
White holes, the phys.org writer contended, are 'more fantastical than leprechauns and rarer than unicorns'. He wrapped up his argument this way: 'White holes are created when astrophysicists mathematically explore the environment around black holes, but pretend there's no mass within the event horizon. What happens when you have a black hole singularity with no mass?'
In other words – I think! – fully consider the implausibility of white holes and you will deepen your understanding of the mind bogglingly hard-to-grasp reality of black holes. And my friends sometimes accuse me of having wild ideas!
What Philip and I offered phys.org was a more balanced account of the relationship between unicorns and white holes,  both as outsiders from the normal specimens of existence, and both equally valuable as keys to creative thinking.
Consider the unicorn's rarity, rich history and relationships to human exploration and you will deepen your understanding of the threatened environment its biological relatives inhabit.
For example, another of my patient collaborators, Hazel Brown, phoned me the other day to alert me to a recent report about the Saola, the Asian antelope. Its habitat is the uplands of Laos and Vietnam, regions once synonymous with human brutality and now ruined by nation building interference and ambition. The elusiveness of the forest dwelling 'spindlehorned' Saola, one of the flesh and blood sources of the unicorn myth, has made it a symbol of biodiversity, but – alas, almost needless to say – it is one of too many critically endangered bovids.
Hazel and I spent the winter compiling work on Emily Faithfull, the Victorian women's rights activist and publisher who employed women as her typographers and printers. Hazel is the author of a calligraphy version of Unicorn Histories and also of Crafts of the Unicorn in which the Saola is illustrated.
One or two more loose, but then again connected threads:
The publication of the Designer Bookbinders International competition 2017 catalogue 'Heroic Works' published by the Bodleian Library, Oxford University, includes A Modern Alphabet for Unicorns, (see my previous blog, Travels with Unicorns) and Unicorn Histories, a collaboration with Russian book artist Dmitry Sayenko, a copy of which has been added to the prestigious New York Grolier Club collection.  nikodimpress.blogspot.com
Earlier in the year Peter and Donna Thomas, two Californian book artists visited. Their 30-year obsession has been with the history of the papermill (now holiday apartments) at Tuckenhay. Peter has produced a wonderful boxed book on the subject, and very generously made all his research available online http://www.baymoon.com/~peteranddonna/2-tuckenhay.htm
I keep several packets of Tuckenhay paper safe on my dressing table. No unicorn watermark, more a beckoning sort of creamy-white hole…
Mary
Read Guardian by Helen Ashley (opens in new tab) ⇒
.
Read Man of Trees by Helen Ashley (opens in new tab) ⇒
---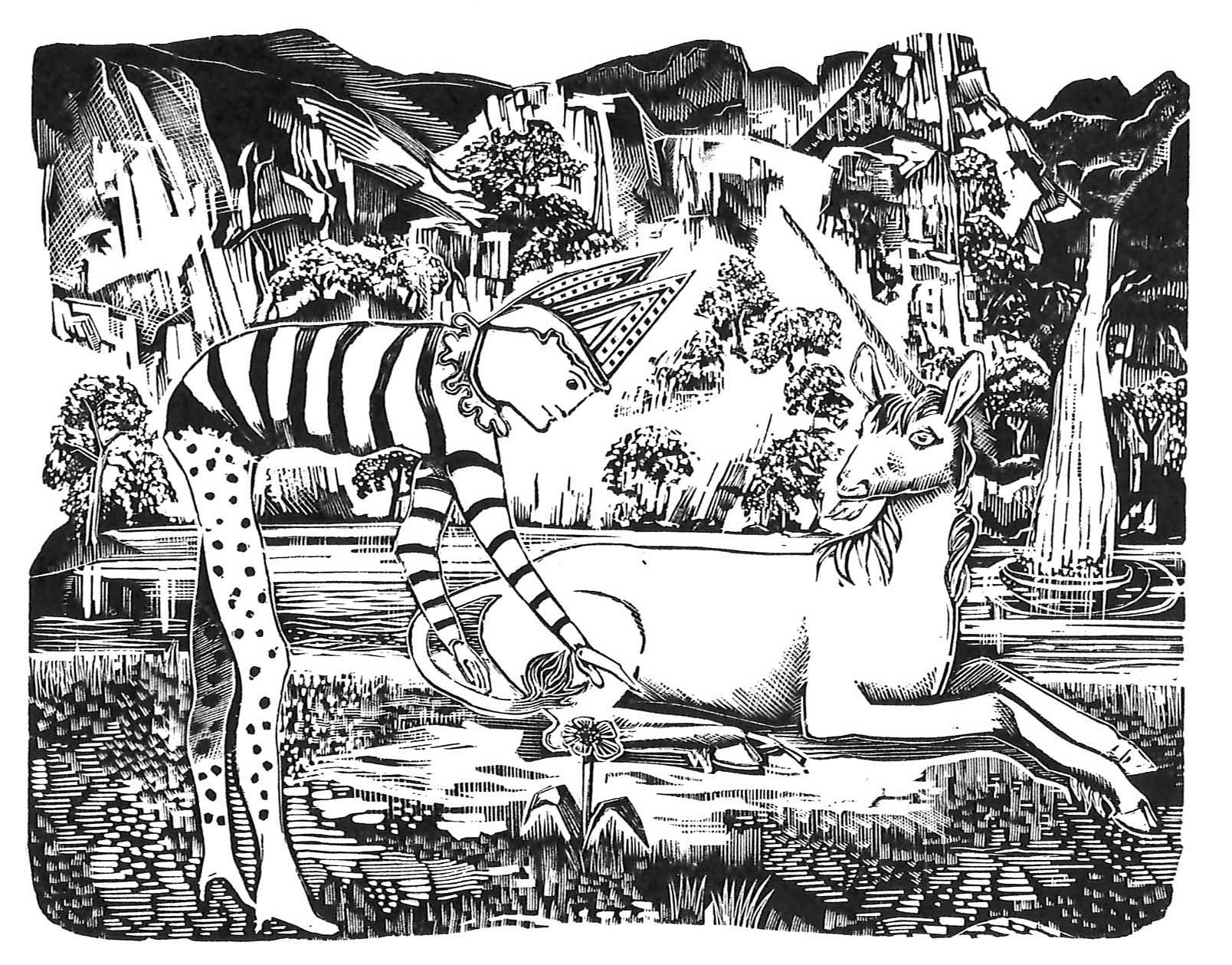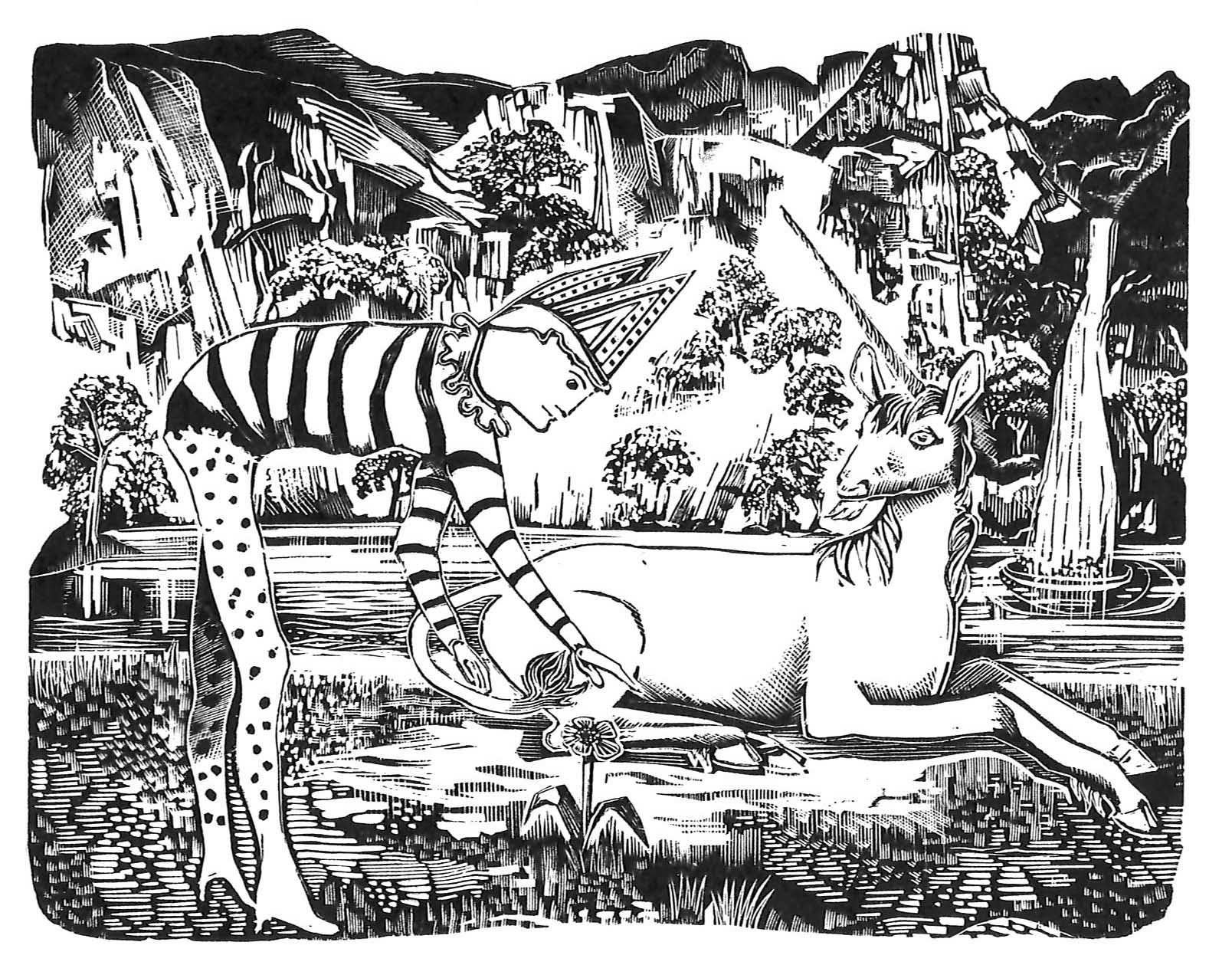 The Fool and The Unicorn – wood engraving by John Hunt
---