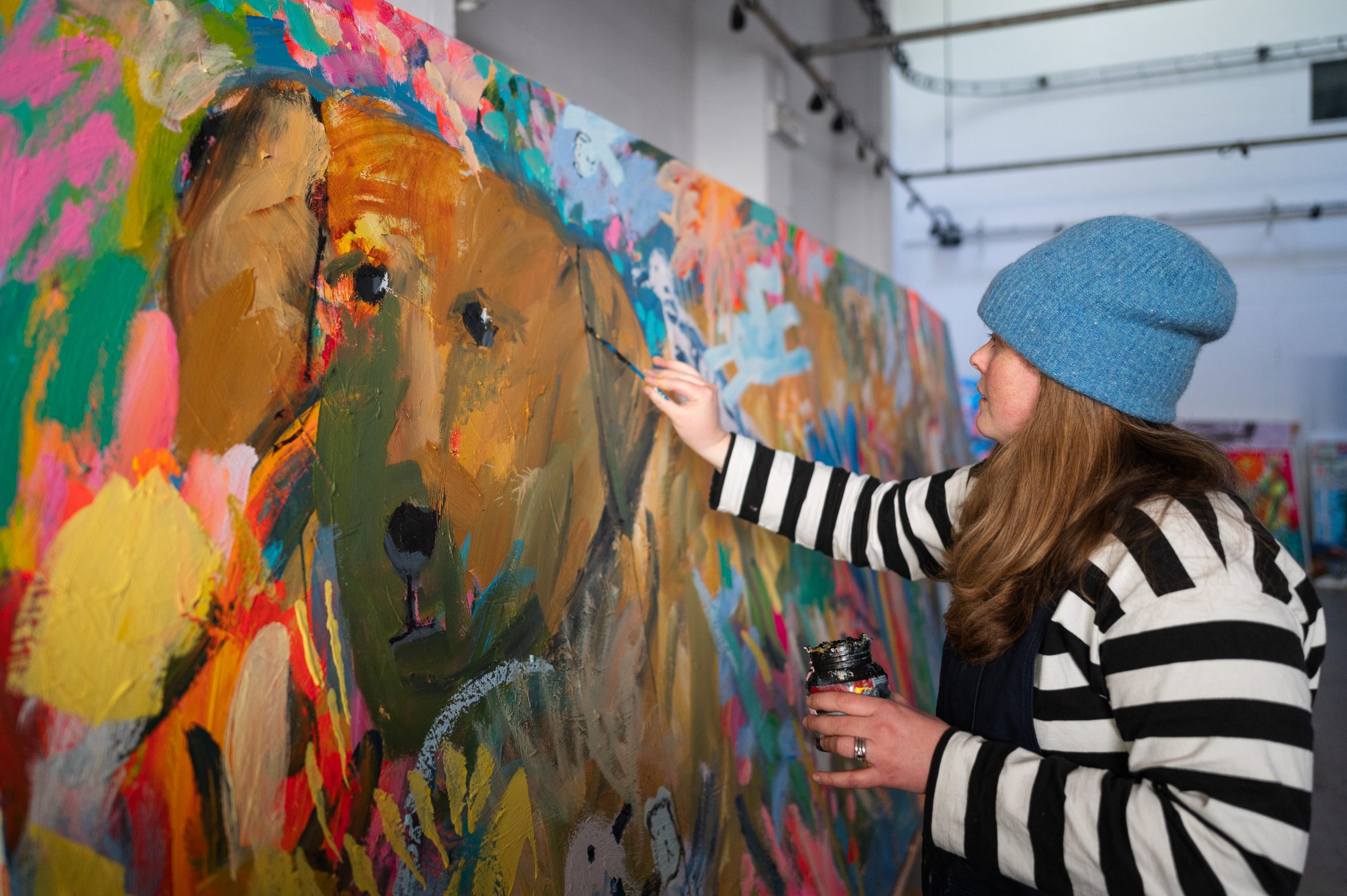 "It's been a goosebump-inducing place to paint, I've never seen so many greens all together all at once." 
Emily Powell on her artist residency at Dartington
Following a period as artist in residence at Dartington Trust, contemporary British artist Emily Powell is launching an exhibition at Dartington's Gallery to showcase the work she produced while on the estate.
Described as 'one of the most important emerging artists in the UK today',  Emily studied at Norwich School of Art for her formal training with a sabbatical at the Ecole Régionale des Beaux-Arts de Rouen (2008-2011). She is a colourist and painter, often working large scale, she places great emphasis on connection and emotion. 
This exhibition is the culmination of Emily's residency at Dartington. Working en plein air and in the studios, she has created a body of work which opens up the spirit and essence of Dartington and her understanding of it as Utopia right here in Devon. Inviting you into her world of whimsy, the paintings offer a technicolour view of the gardens as seen through her eyes. She focuses in on the emotional hold that 'place' evokes within each of us, and combines that with a delight in play and the use of raucous colour.
For Emily, Utopia is found in the beautiful routines we use to keep ourselves safe. It is right in front of us in the swirls of steam coming from the teapot; the good trees we find; the times we allow ourselves to get lost; the thinking time; lambs and foals all learning to walk and fly at the same time in our minds; the acceptance of things in the past, and hope for the new. It is all right in front of us in the hills of Dartington. Utopia is here, and everyone is invited.
Emily Powell commented: "I wanted to capture the glow of life that can be found flying around the grounds here at Dartington. The trees are kind here, and the birds aren't judgemental. The dogs I've painted are comforting dogs, and the flying teapots hold the kindness of a pot of tea shared with friends. The bears are the bears that people bring on holiday here as a transitional comfort from a well-known place, and there are flying tigers of hope guarding the Great Hall.
We all need comfort, whatever age we are. Let the trees look after you a while, just stop and trust the honest nature that surrounds you here. You have done so well and come so far. Run free, let go of the pain and embrace all the golden glow you find in watching the birds and hearing their song. This exhibition is dedicated to those who are grieving, and those who are feeling overwhelmed. My hope is that you find solace here."
The Gallery is a light and welcoming space that, through year-round exhibitions, showcases two fundamental strands of the Trust's mission – arts and ecology. The Gallery is open 11am-4pm, Tuesday-Sunday.
Powell's exhibition runs from 18th February to 13th May.