Meet our senior producer Michael Sells! In this interview he opens up about the thinking behind the new Past Futures theatre series he's programmed for us as well as the broader arts programme he's involved in here.  But before that, we asked Michael to tell us a bit about his own intriguing background to get a sense of the man behind the scenes…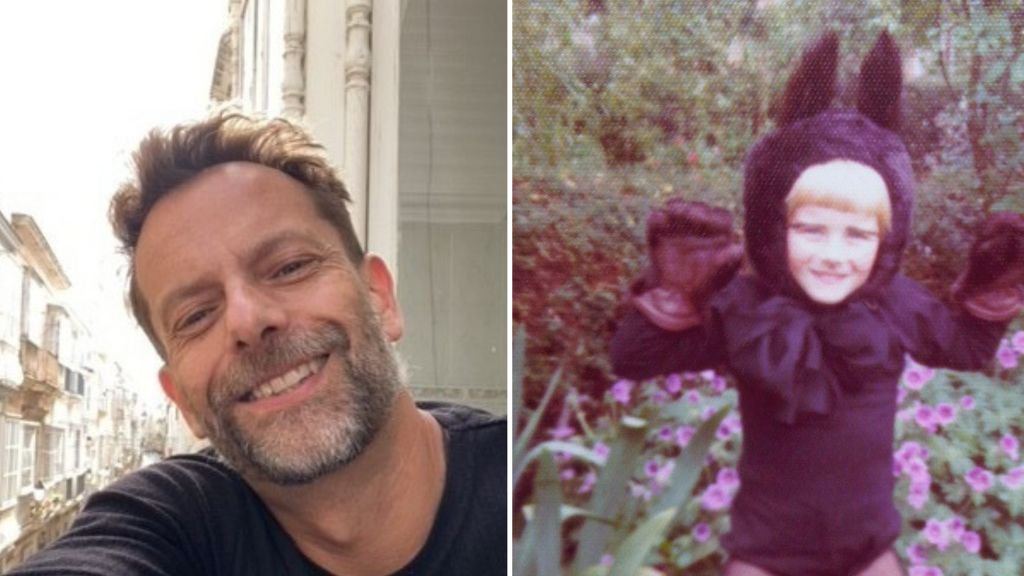 Images: Michael now and Michael in Cats! as a child
Hi Michael, tell us about your background?
My background is very much in theatre so my focus since I started at Dartington last year is on getting a fantastic programme of theatre both for adults and kids. I have also worked a lot in applied arts so I am keen to broaden our outreach offer and work more collaboratively with different communities around Dartington and south Devon. Initially I trained in playwriting and then I seemed to naturally move into producing. For me going to the theatre is always such an exciting experience – there is something about the live interaction between the actors and the audience that has a deep effect on me – and I want other people to feel that too. I started going to the theatre as a child and the first thing I saw was Cats. I can remember them coming through the audience at the beginning and feeling like my head was about to explode with excitement!
Before coming to Devon I had a theatre company that worked with displaced young people, and did an outreach programme in hostels and day centres around London. We had an 12 week course in devising techniques with them and then they would create plays which would tour to hostels and conferences. Then I went to work for Cardboard Citizens who do similar work on a bigger scale using some actors with experience of homelessness. I produced their tour with an up and coming author at the time called Kate Tempest (now Kae Tempest) and an amazing writer called Bola Agbaje who is now writing screenplays in Nigeria. The actors would devise a script based on their life experiences and the writers would go away to write that up and then we would tour to hostels and day centres and soon expanded into theatres, and the shows became really popular.
Have you been able to transfer some of that community work to Dartington?
In 2022 we did a music project partnering with an academy with schools across the south east of Devon. We worked on a couple of school music projects with Jason Singh (currently artist in residence at Dartington) and John Richards and put these artists in with some classes looking at different ways to make music, like beatboxing with nature! We are a beacon for really high calibre artists at Dartington and what we're looking at is sharing some of that talent with community groups and to programme more collaboratively with local schools, linking more with their curriculum. We are looking at how we can offer more workshops with professional touring companies in local schools.
We have also launched an artist development scheme in order to support local artists. We have allocated a block of time every three months and we're inviting local makers in any discipline to apply. We currently have a composer, a visual artist, a dancer, plus a theatre company – Moveable Type – who have just produced a show with our support. They get up to three full days of studio time which is flexible plus tech support if they need it. There's no pressure to share but we would like to look at one or two events a year where those artists are encouraged to do a bit of a scratch performance to share their work. This is completely free and all local artists are encouraged to apply.
What theatre have we got going on this year?
We are now programming a family show every school holidays and we're excited about what we've got coming up. The Egg theatre in Bath are doing amazing work aimed specifically at children and families and we are delighted to be welcoming their show I Wish I Was A Mountain next week. Also Little Angel Theatre in London are bringing I Want My Hat Back for younger audiences next week for half term. Plus, over the Easter holidays we are working with Paddleboat Theatre to run a workshop for kids to make a play in a day, the theme is explorers and it should be great fun.
We are planning more immersive shows outdoors this summer to make more use of the stunning grounds we are lucky to have here.
We are also reaching out to lots of new producing and new writing houses who are creating really interesting and ground-breaking theatre both in London and nationally, and inviting them to Dartington. For example Kandinsky are coming to launch their show The Winston Machine at the beginning of March, before it tours the country. I want to develop more partnerships, offering space and being a co-producing venue to help encourage more new theatre.
Protoype Theatre's Dead Cats show in May is going to be really good. It's about fake news so highly topical. The people behind it studied at Dartington and have gone on to fidn huge success as theatre-makers, so it's an added bonus to welcome back successful alumni.
I've tried to programme theatre that links to our values of ecology and social justice. Dartington has a really strong history of supporting artists to make work, many radical experimental theatre-makers came here when the Elmhirsts were running the Dartington Experiment and we are very keen to keep that tradition going. This links in with the renewed focus on arts education we have recently developed at Dartington, with postgraduate degrees in arts management and performance soon to join the existing provision for poetics, taught by Martin Shaw and Alice Oswald, and a couple of other ecology and place-based creative degrees. It's great to begin to see the interconnections between the current students who are here now creating work and our more public programme and I look forward to seeing that develop more closely over time.
What play have you seen that really made an impact on you?
I always go back to David Mamet's Oleanna. It's just two people in an office but it just winds up the tension between them and they're both so right – it builds to such an awful and violent conclusion. But when it happened, half of the audience got up and applauded and the other half were utterly horrified at those clapping and for about 5 minutes the audience were just arguing with each other. The power that theatre has to provoke that is incredible and it had a huge impact on me. I like theatre that provokes thought and that's what we are aiming for with our programming here at Dartington.
The Past Futures series begins here on 2 March with Kandinsky theatre's The Winston Machine. Explore the full theatre programme and book tickets via our listings pages.