Regular, rolling updates from the brilliant volunteer team at our beautiful Kitchen Garden! Follow the progress of this beautiful organic garden as zero-food miles produce is grown for our café, The Green Table and our restaurant, The White Hart.
september 2021
It's been a full-on race against the time clock of nature to get seeds sown for winter, beds cleared and prepped, and plants in the ground.
Think we're winning!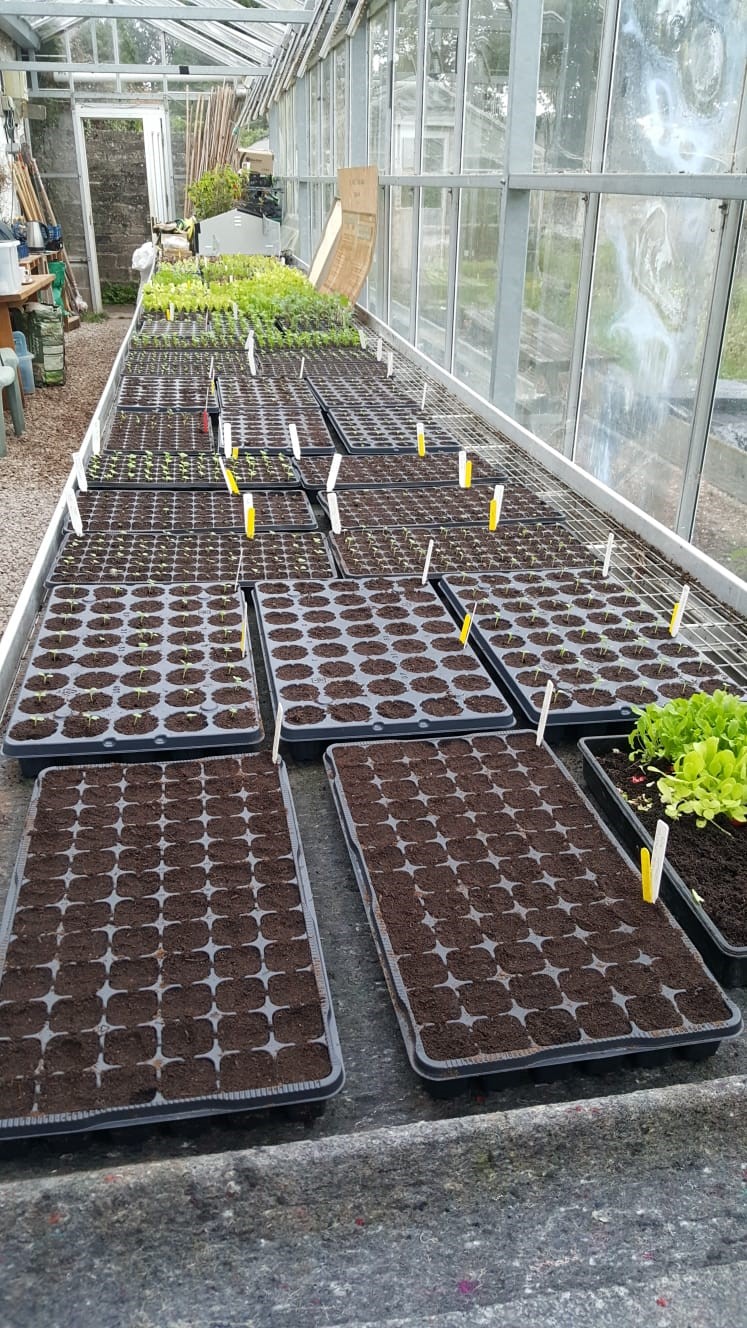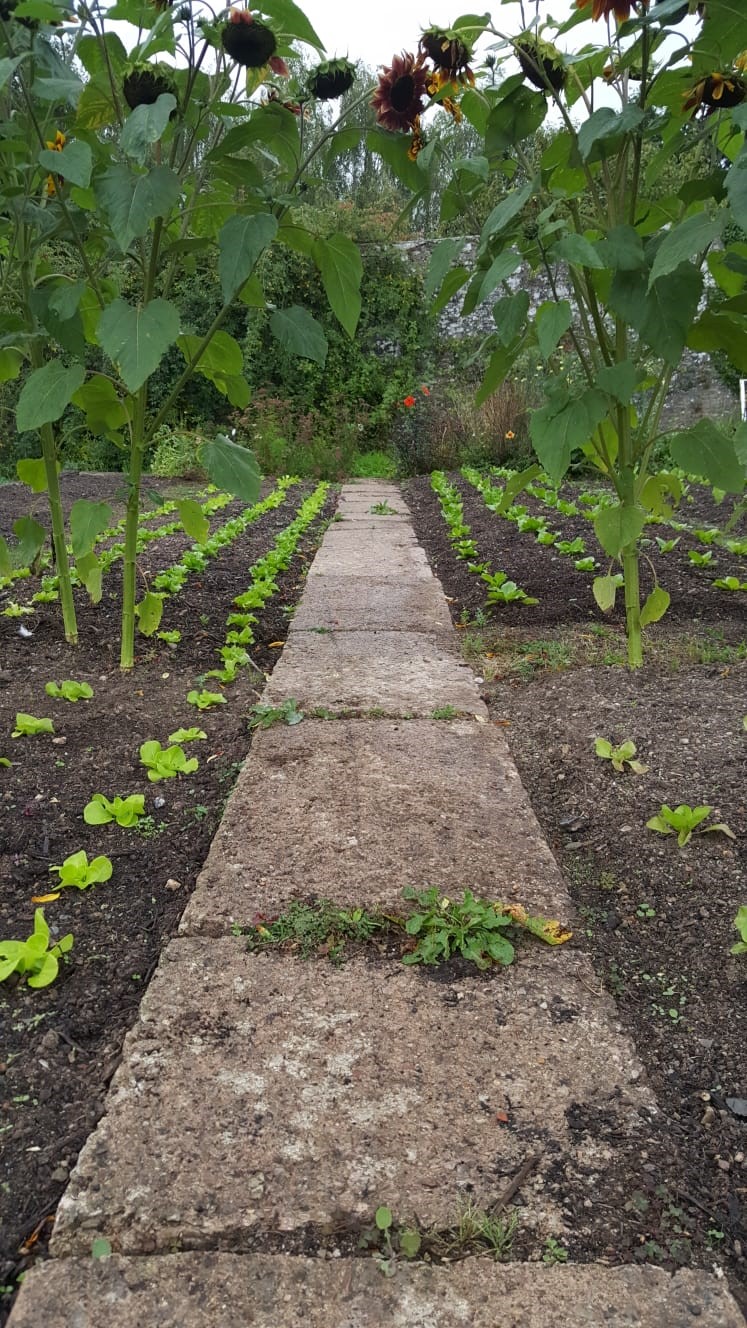 Endive and winter lettuce outside
Many of the summer crops, like cucumber, basil, summer lettuces, amaranth, tree spinach, basil, plantain and agretti, have come to an end now. The tomatoes, aubergine and chillies had to wait for more sunshine to ripen, luckily we managed to harvest them so that we can switch to the winter crops.
Five varieties of chicory have been planted in the glass house after removing the aubergine plants, weeding, hoeing and composting. The winter lettuce and endives have been sown outdoors and are doing well. Great team work!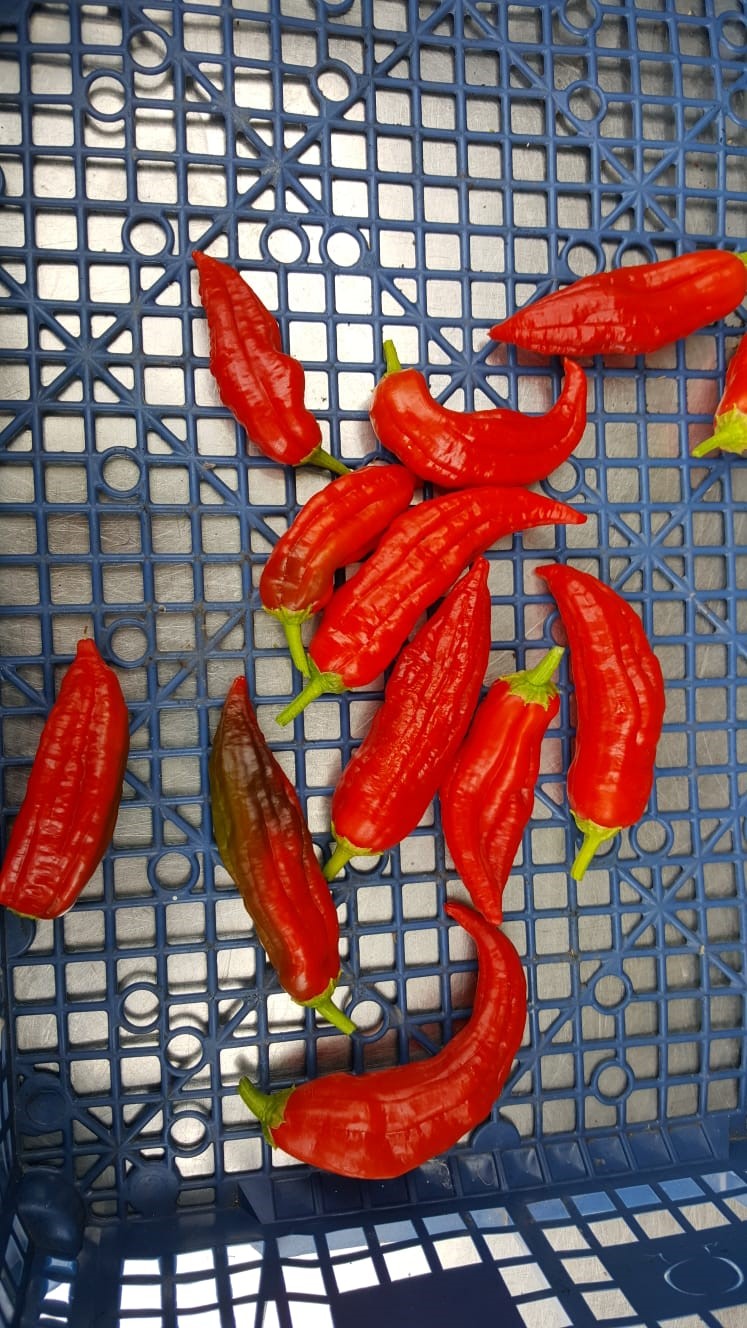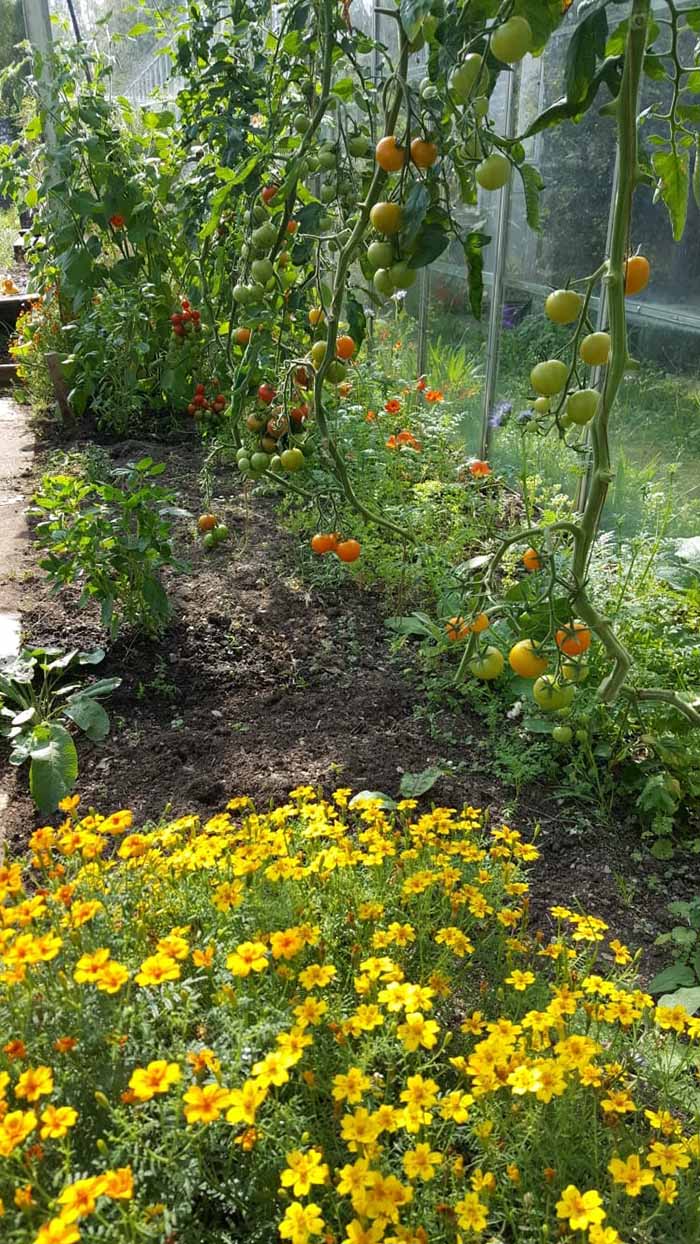 Tomatoes growing in greenhouse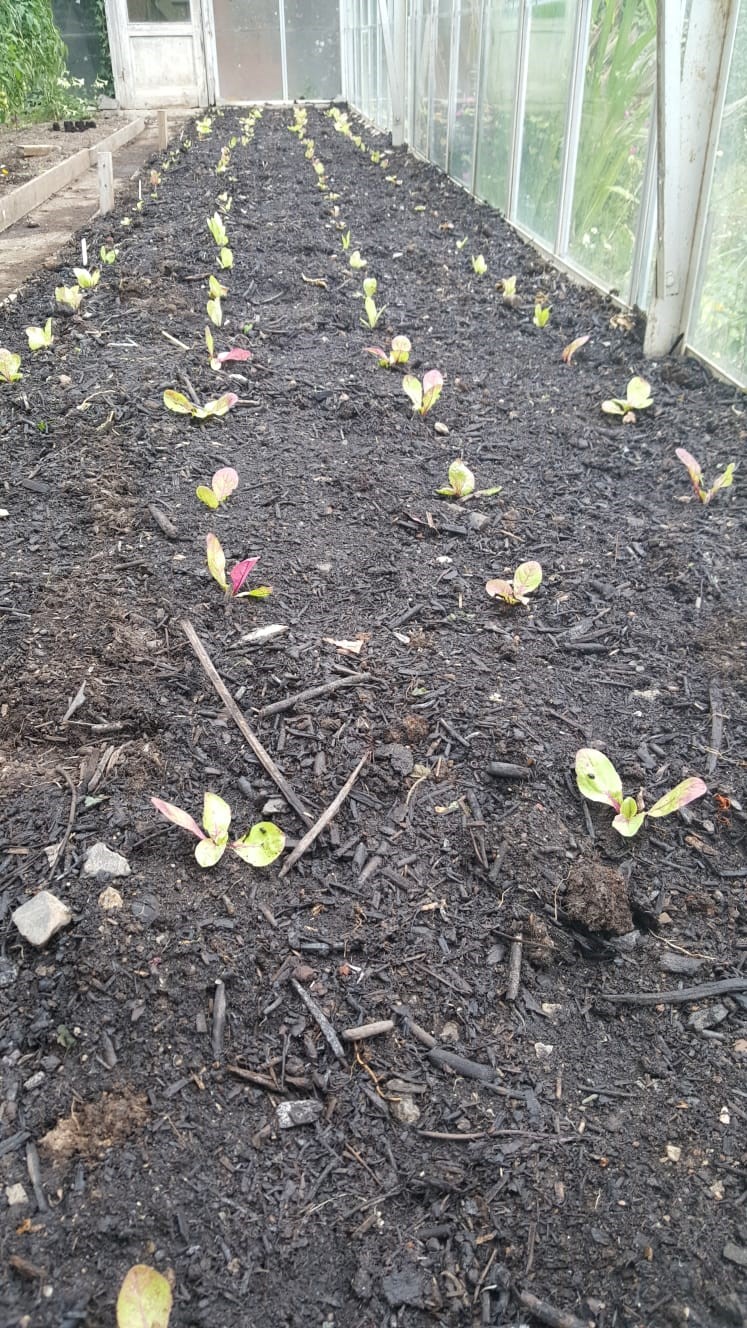 Aubergines cleared and chicory seedlings planted
august 2021
All growing well and looking good, especially the lettuces!
We have been able to send some to Schumacher College and Food in the Community, as well as delivering 8 -10kg per week to the Green Table along with aubergines and cucumbers.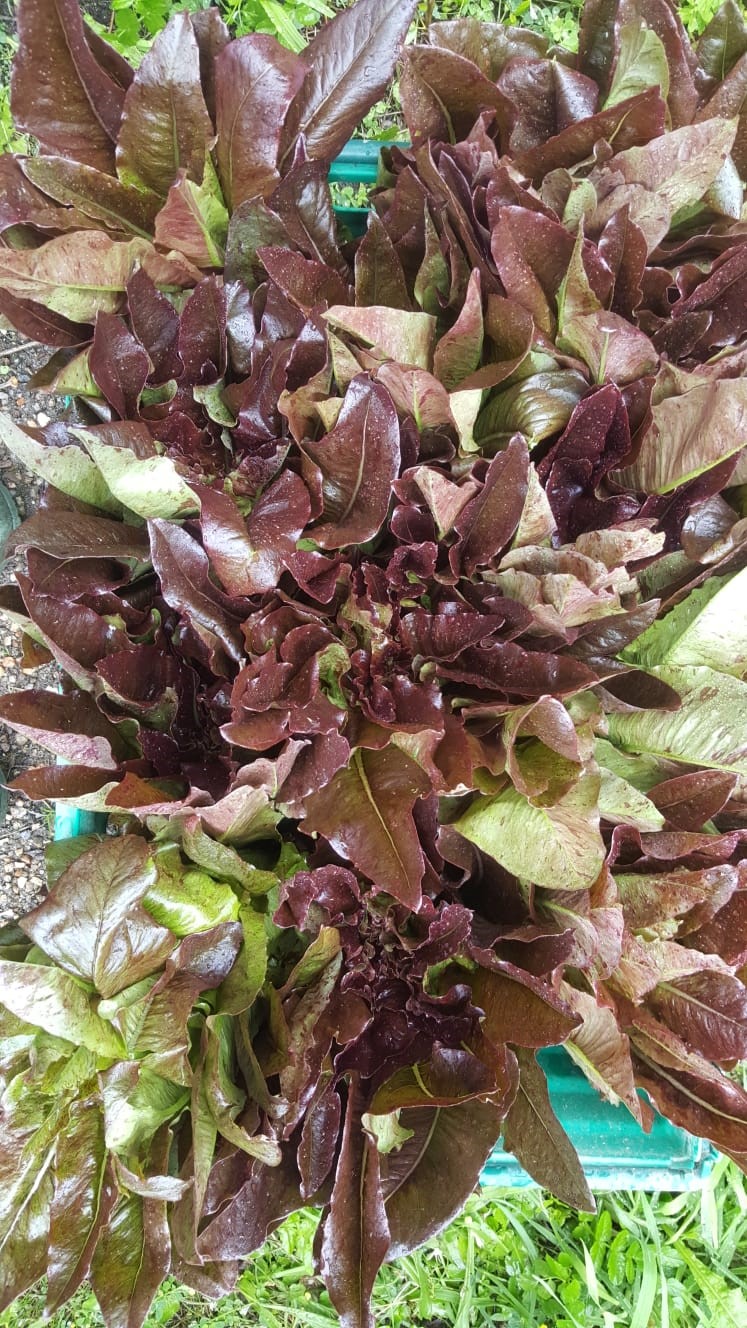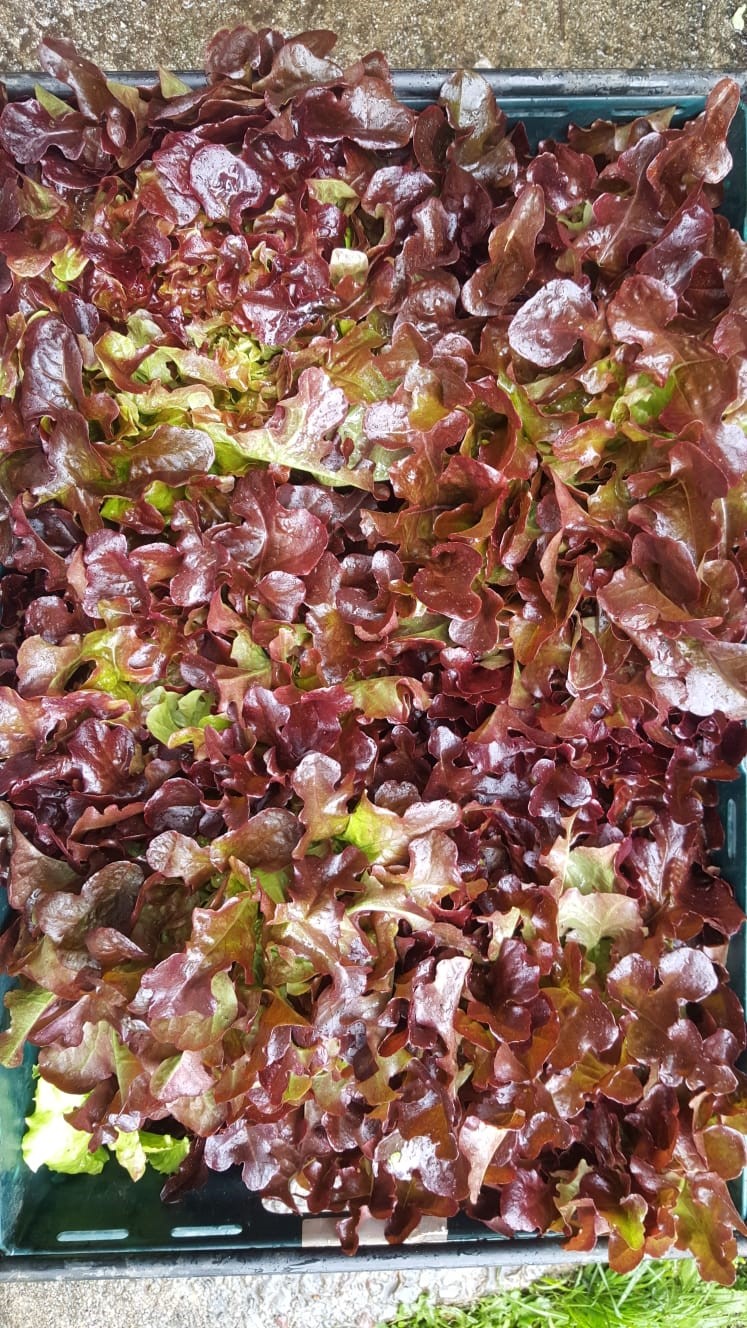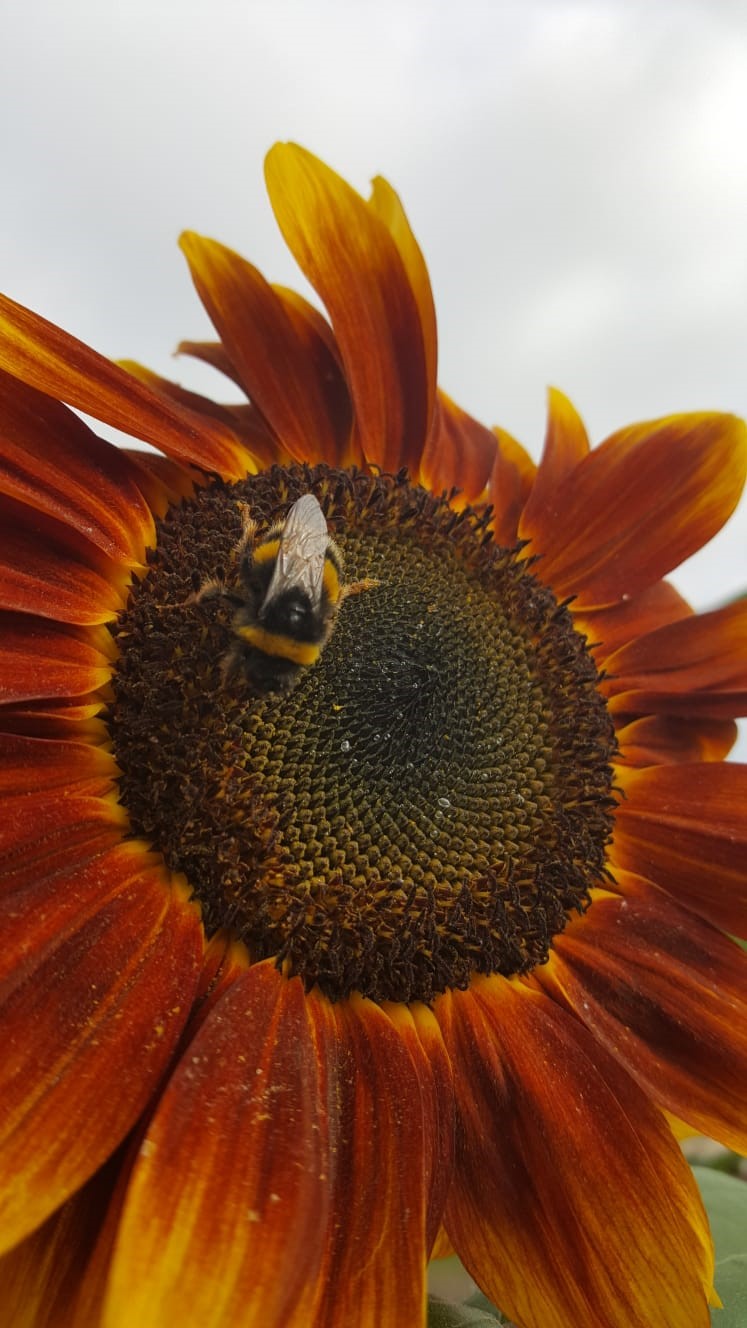 Sunflower with pollinator!
Thinking ahead, we have also ordered our seeds for winter growing – a range of winter lettuces and varieties of chicory and endives.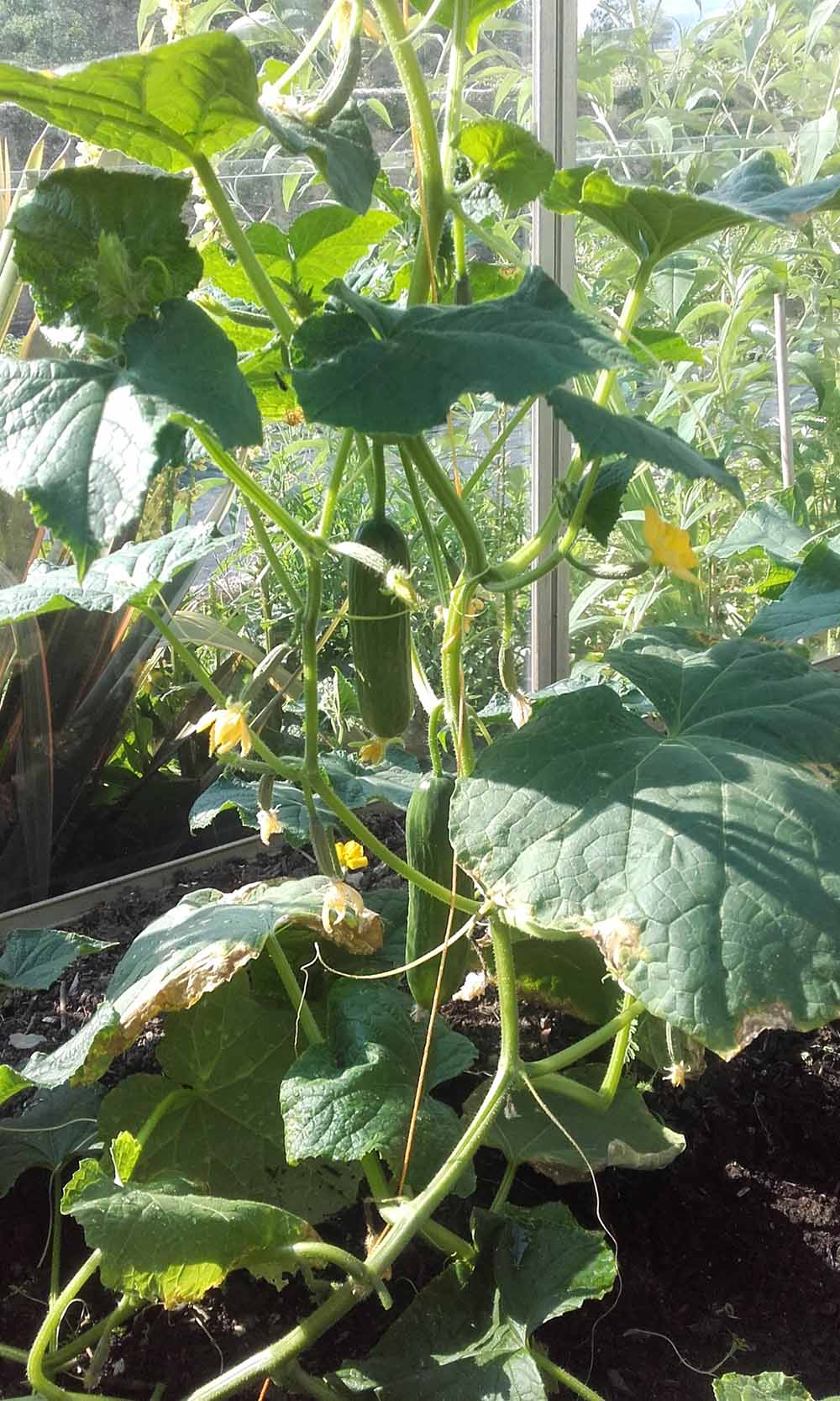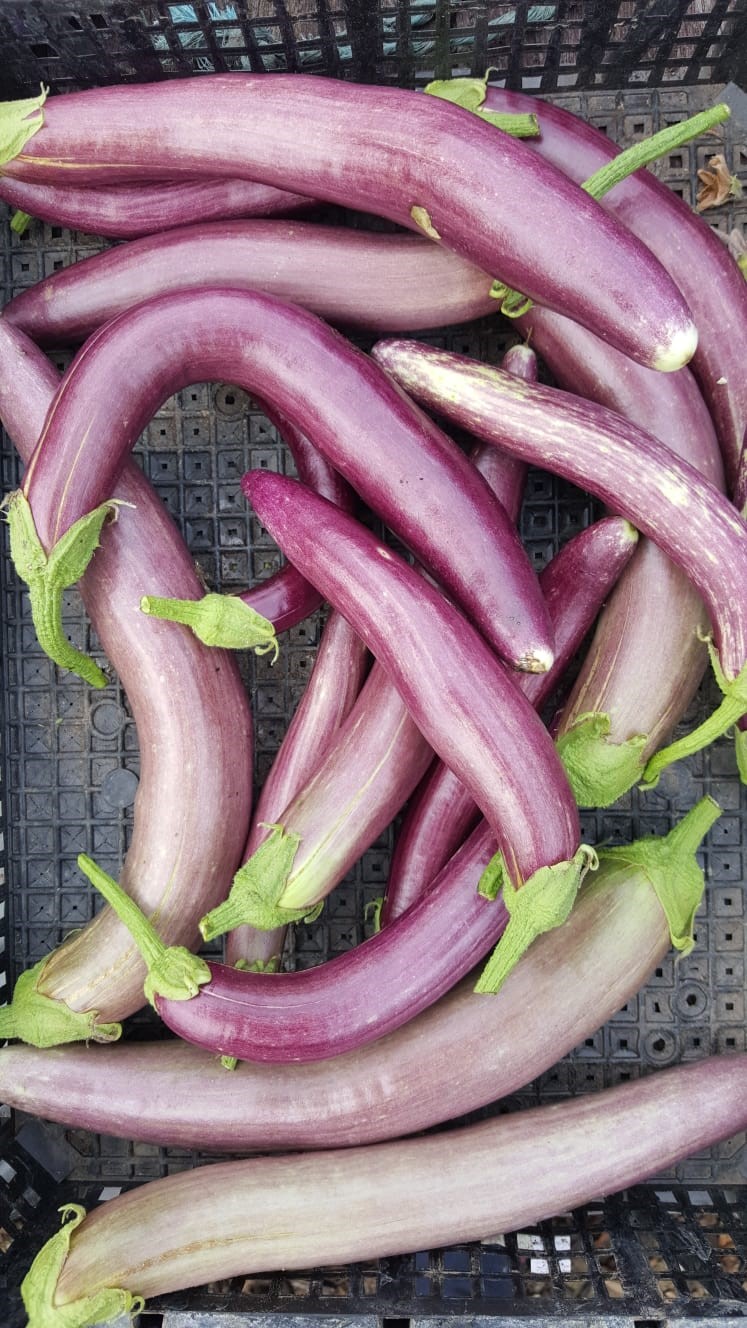 july 2021
Well we're getting into the swing of things…in the glass house we have planted out several types of tomatoes including cherry, black, yellow, beef steak, orange stripe Derby and also varieties of cucumbers, agretti, aubergines and basil.
Outside we have planted out a good range of lettuces as well as sorrel, parsley, buckshorn plantain, calendula, cornflowers, tagetes, amaranth and nasturtiums.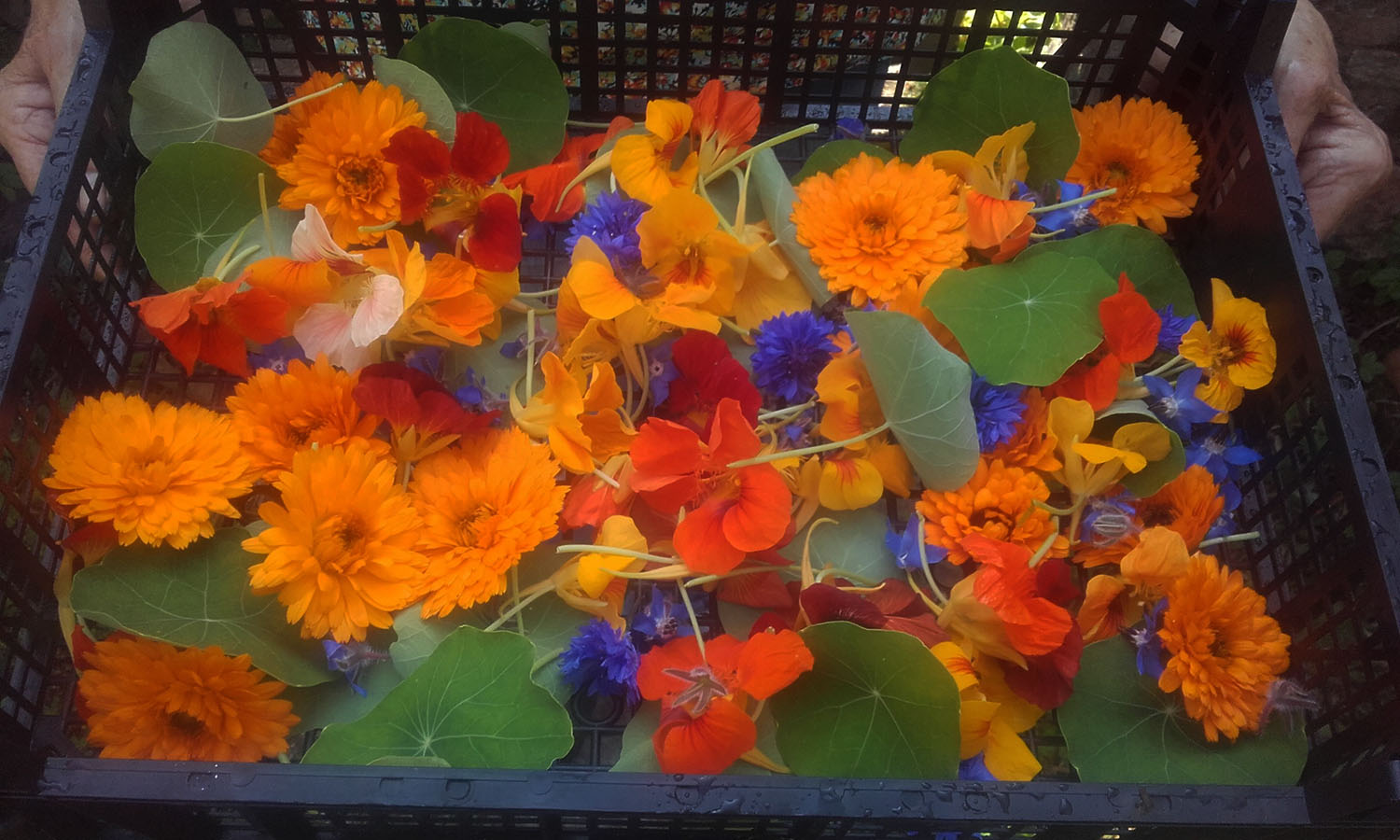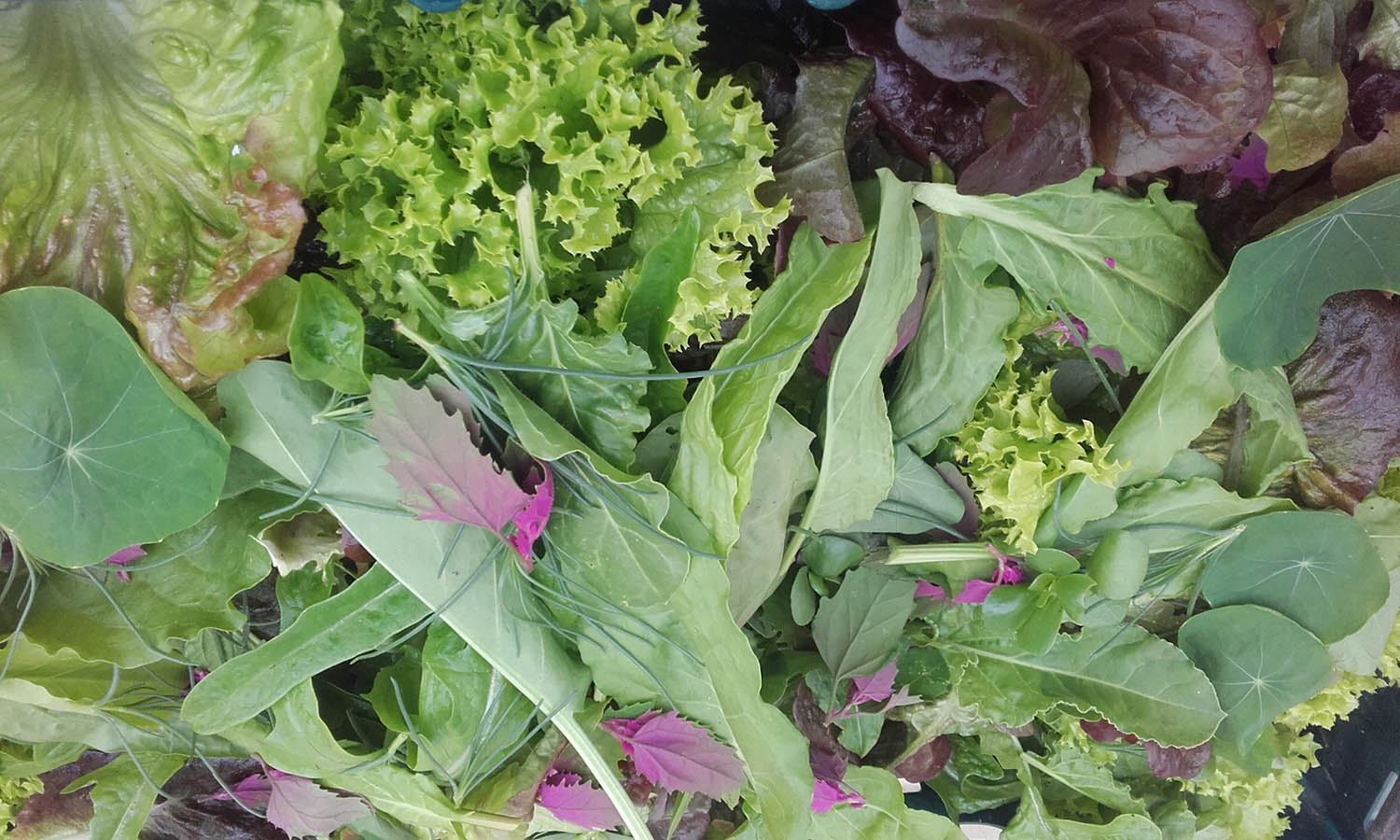 Leaves and herbs for salad
june 2021
It's easy to forget the Walled Garden, tucked away as it is behind the Great Hall; but this small jewel in the crown of the Dartington Hall Estate is far from forgotten by the dedicated team of staff and volunteers who work there.
Like all hardy growers and gardeners they show up with astounding regularity come rain, hail and storm in the winter months to tend and harvest the winter crops. If you have indulged in a takeaway from the Green Table or White Hart in the last few months you will have encountered the beauty and colour of our specialist salad, for sure.
The medley of leaves and lettuces, mustards and cresses, purslanes and beet leaves reaches a mouth-watering crescendo in winter months as oriental brassicas such as mibuna, mispuna and tak soi come into their own. Truly, you will never have the same salad mix from one day to the next.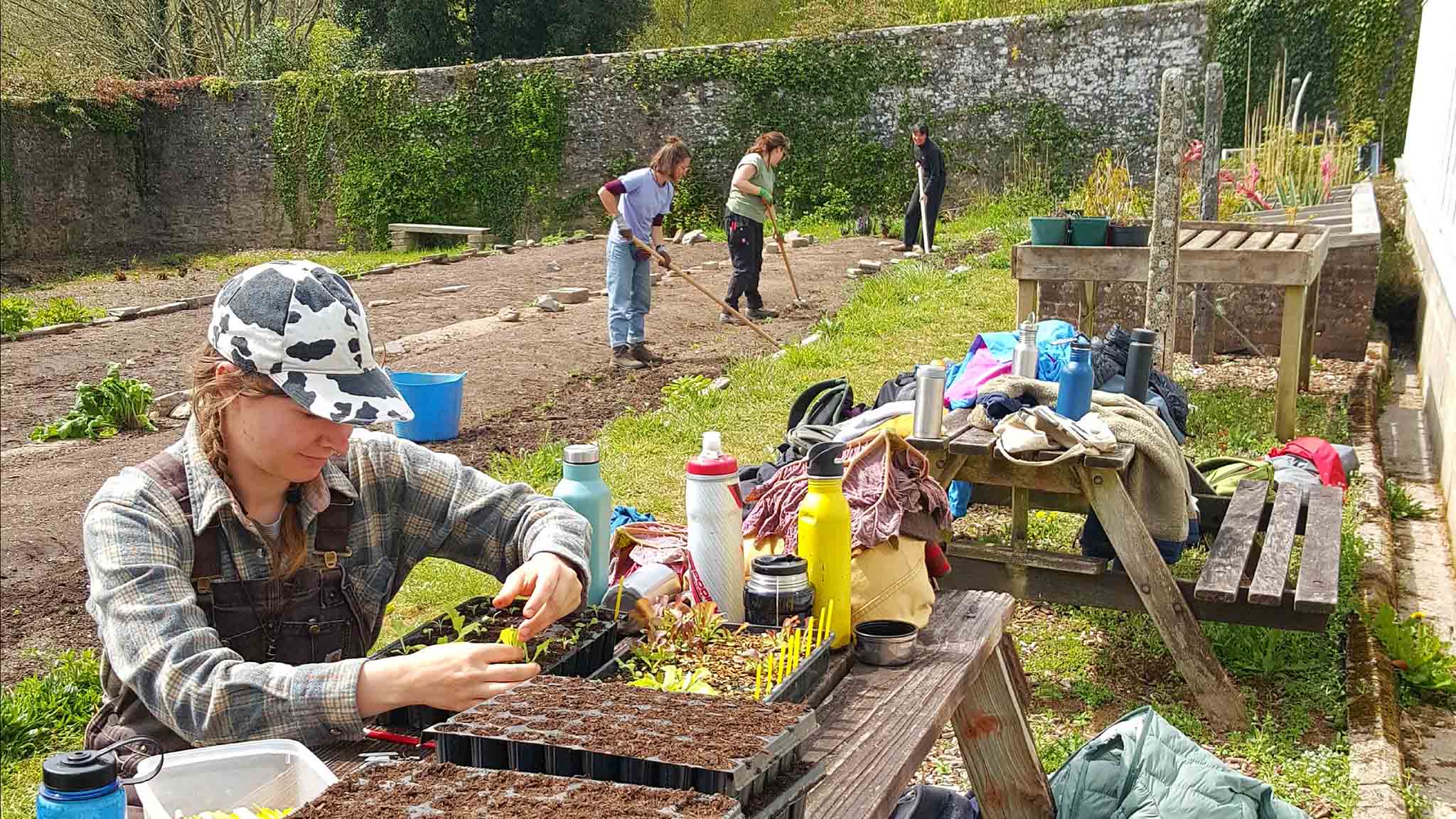 The Walled Garden, which was originally the Kitchen Garden for the Elmhirsts, lay abandoned for many years. In 2018, Sarah Coates took on the mighty task of waking it from its stony, depleted, overgrown slumber, using no-dig sustainable horticulture practices to replenish the soil. The garden is regenerating season upon season with home-made compost adding essential organic matter.
The introduction of flowers – borage, calendula, viola – grown between crops attract pollinating insects and add further to the beauty of salad harvests as well as the space itself.
The garden focuses on high value salad and herb crops to supply the White Hart, and The Green Table. The space is also shared with the Dartington Estate gardeners who are using some parts of the garden and glass houses to raise plants for the ornamental gardens. In recent weeks you may have seen their plants for sale outside the Welcome Centre.
It is intended that the garden can provide an integrated learning experience for all students studying at Dartington and more specifically for Horticulture students training at Schumacher College.
In recent weeks the volunteers – Sally, Lindsey, Jenny, Barbara and newly recruited Pam – were provided with a much-needed boost of person-power when sixteen students from the Schumacher College Residency in Sustainable Horticulture brought their new-found skills, knowledge and enthusiasm to the Walled Garden.
Just two hours spent tackling weeds, prepping beds, pricking out seedlings, turning compost and applying rotted manure in the glass house made a huge difference!
For now, the supply of produce is suspended for the "Hungry Gap", the time between growing seasons. But hope is on the horizon. Hundreds of seeds sown in April/May are beginning to germinate in the propagation house whilst growing beds are being prepared (and rained upon!) ready to receive the seedlings.
If you would like to volunteer at the walled garden please email our volunteer manager Chris.Wright@dartington.org. We currently meet on Tuesdays and Thursdays.
may 2021
Welcome back to the Dartington Walled Kitchen Garden Diary! What a lot of changes have happened since our entry last August.
Dartington Trust has now formalised the Kitchen Garden's position within the greater scheme of things and we are now under the Head Gardener's management as part of Schumacher College's Horticultural team. The planning, coordination and implementation of the seasonal work will hopefully continue to be taken on by Sarah Coates, when she returns. Meanwhile Jan Hornby, a former Schumacher student and intern, is standing in. These changes have taken some time to come about.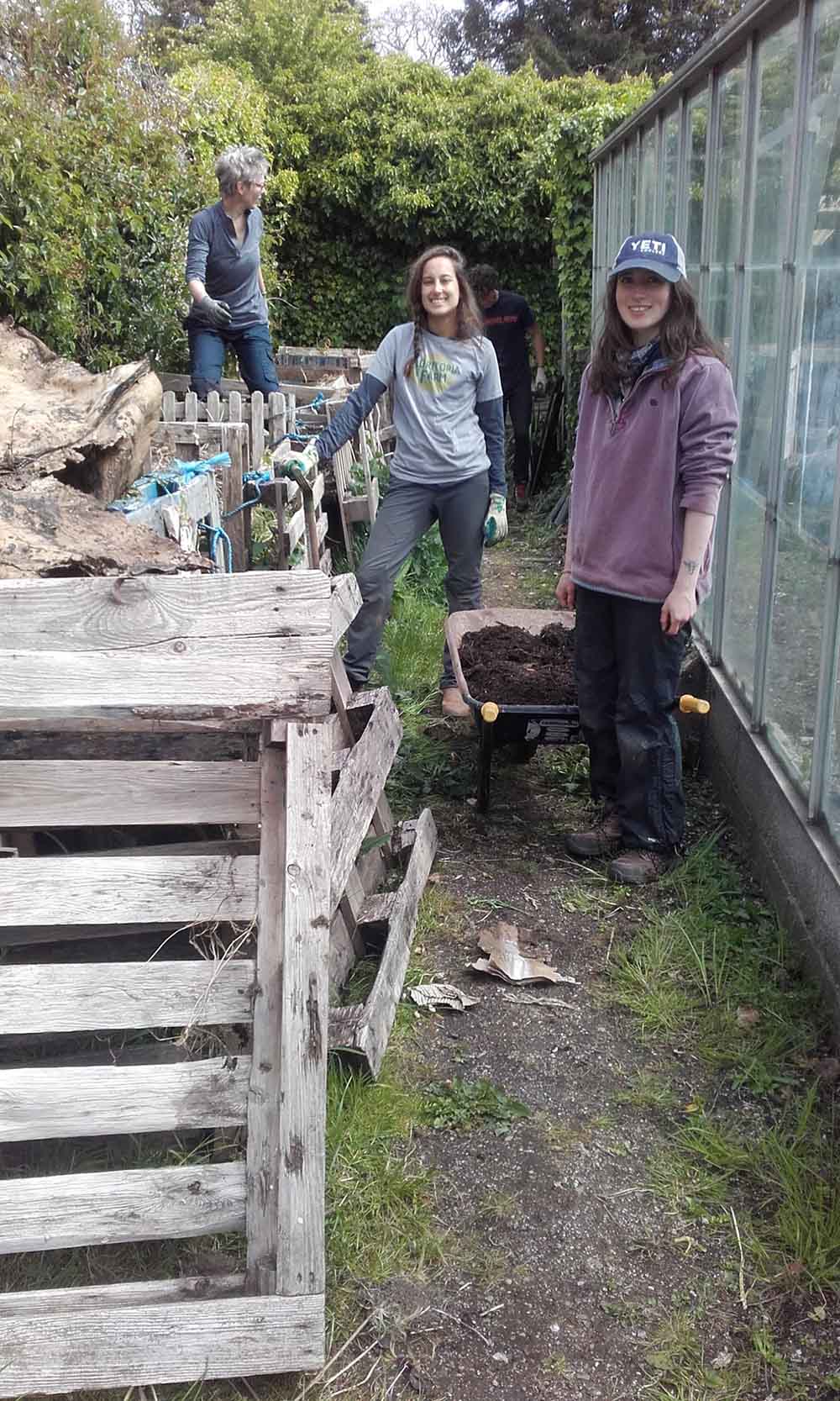 Students from Schumacher College sort the compost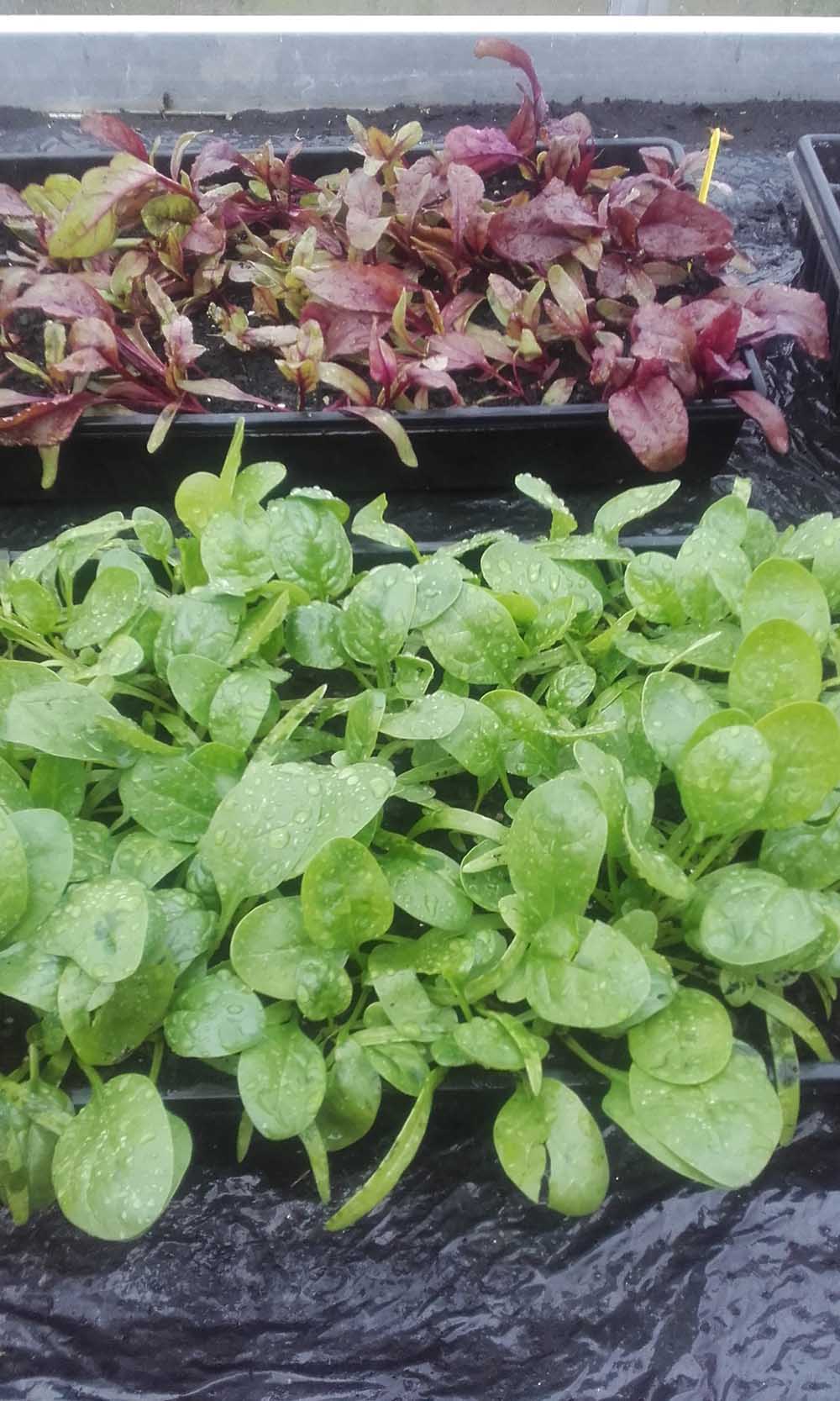 Spinach and Bull's Blood beetroot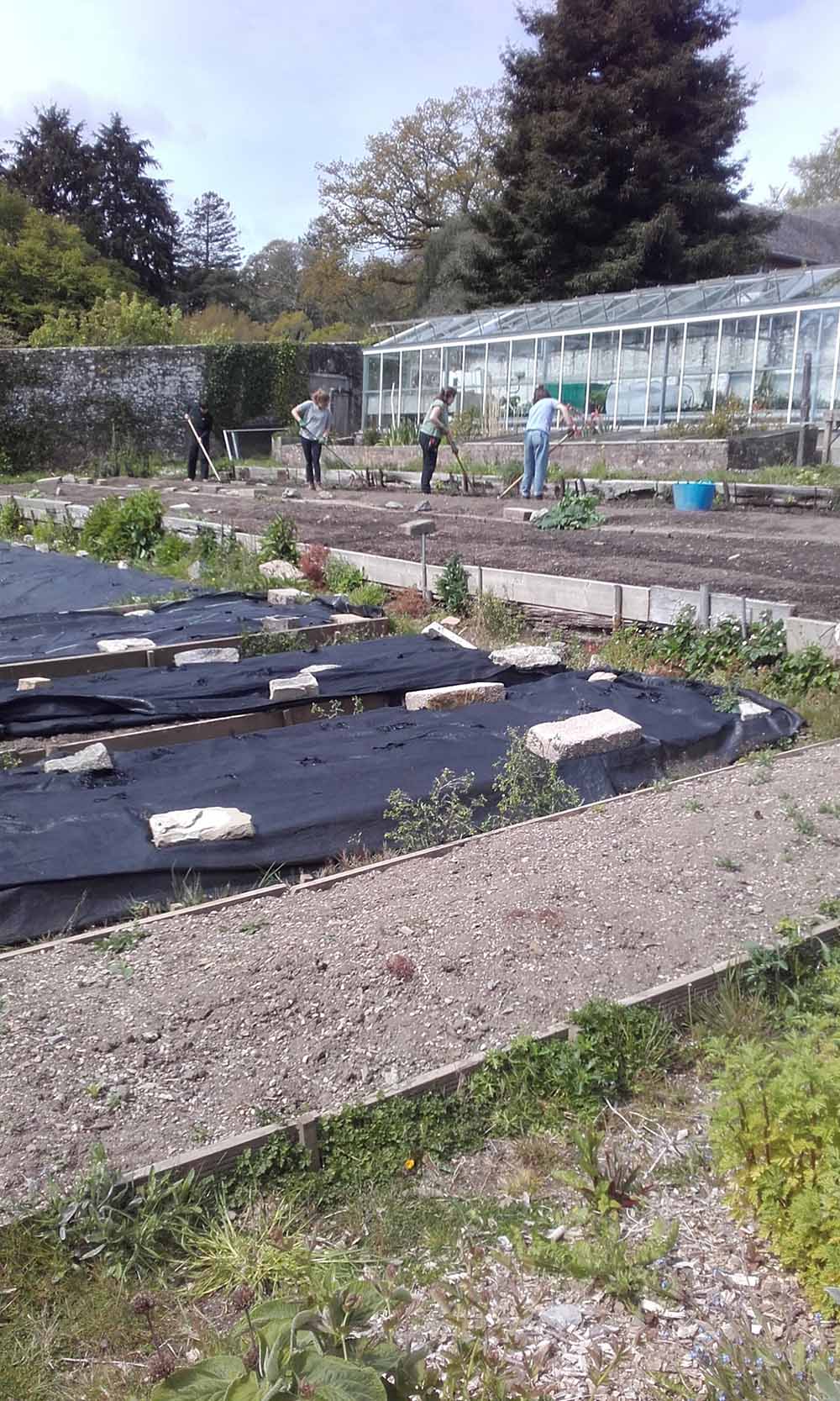 Wide shot of the beds outside
Meanwhile the garden has continued to produce quality winter salad for the Green Table, right until the middle of April. The volunteers have kept up with some of the seasonal jobs, though to a lesser degree without Sarah and within lockdown limitations from the start of 2021.
In May students from the Schumacher College Sustainable Horticulture course visited for a morning and, working in 'covid-bubbles', helped volunteers with seed sowing, compost sorting and the preparation of beds for the new crops.
If the weather continues to improve, (goodness, it is May!!), then hopefully the beds will soon be full of growing plants! Hopefully you can come and visit us soon when covid restrictions allow.
August 2020
August has been another productive month for the walled garden. We've been supplying tomatoes, cucumbers, chard, beetroot, black kale, herbs, peppers (sweet and chilli), giant red celery, green and purple French beans and summer squash. We also grew flowers to add colour and taste to the salads as well as pollen and nectar for the insects.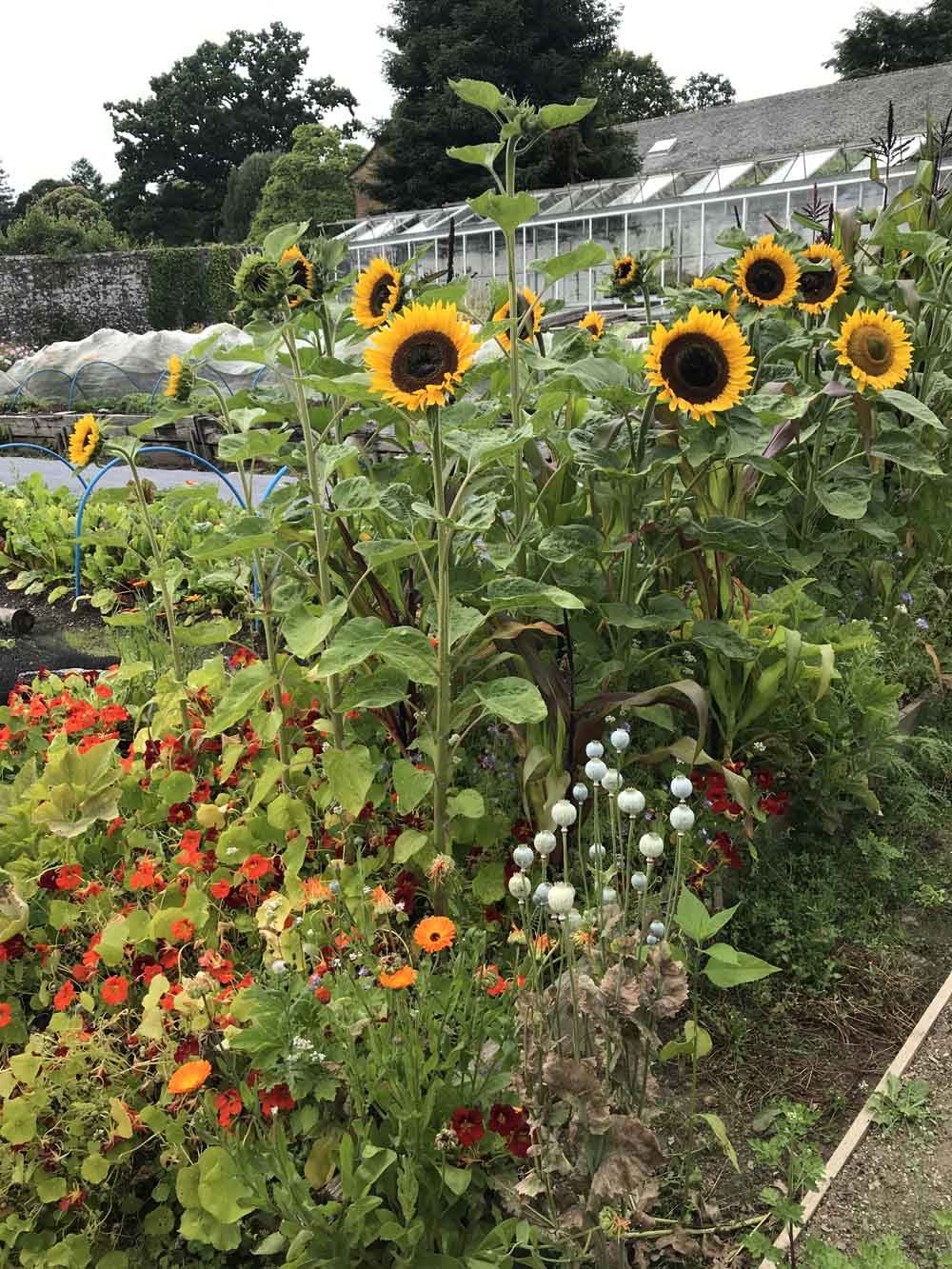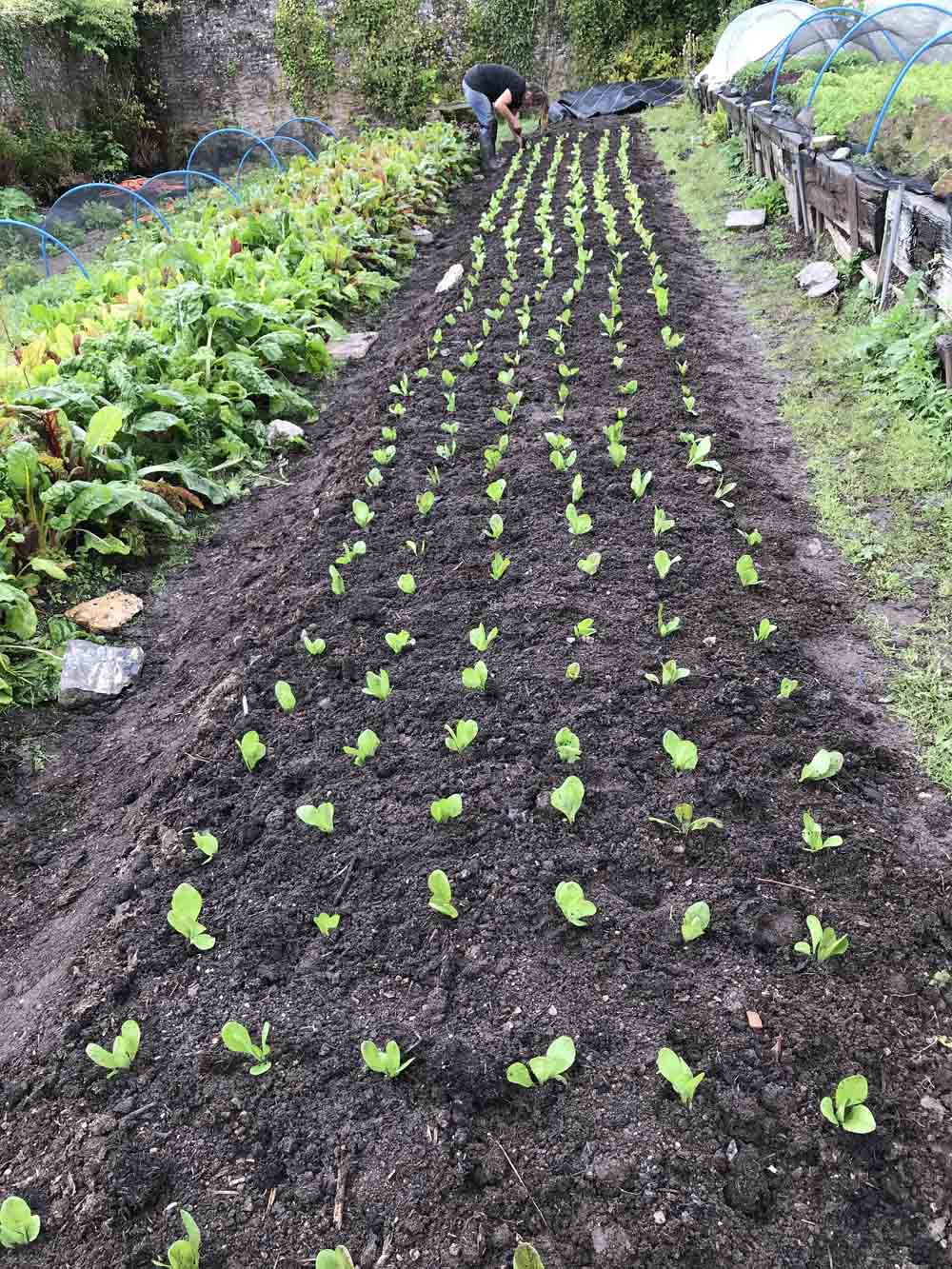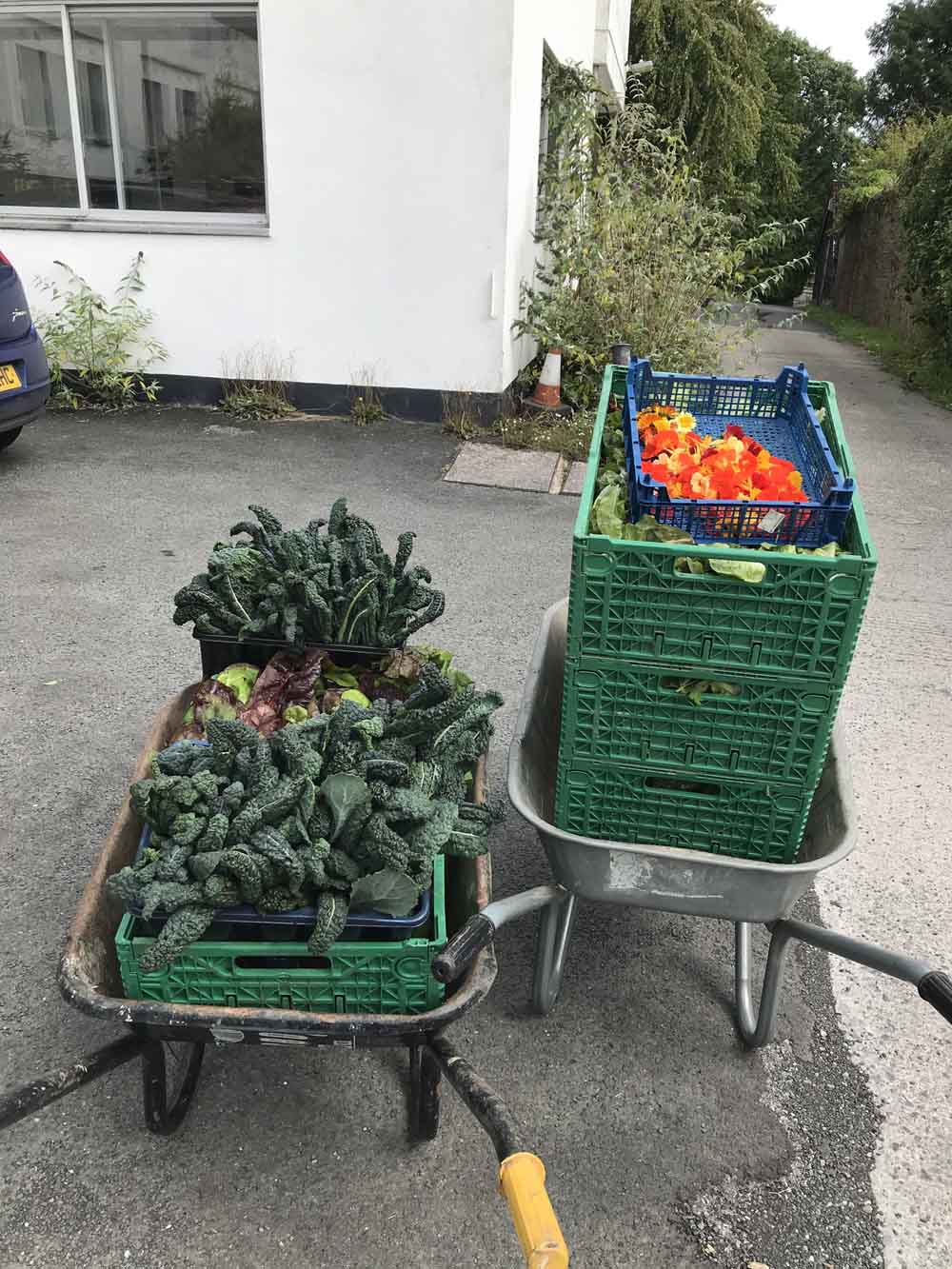 The veg we supply has just about zero food miles. It is picked first thing in the morning, then transported directly up the road by wheelbarrow to the Green Table and the White Hart. The perfect supply chain!
As August draws to a close the main growing season is coming to an end. The weather has changed, the nights and mornings are colder the days have shortened…. and we have started preparing for the winter salads.
The peppers haven't ripened yet, as you can see they are still green, but with a bit of heat there's still a chance they may redden. Blight has brought a premature end to the tomato crop, but all the unripe tomatoes will be converted to green tomato chutney at the Green Table.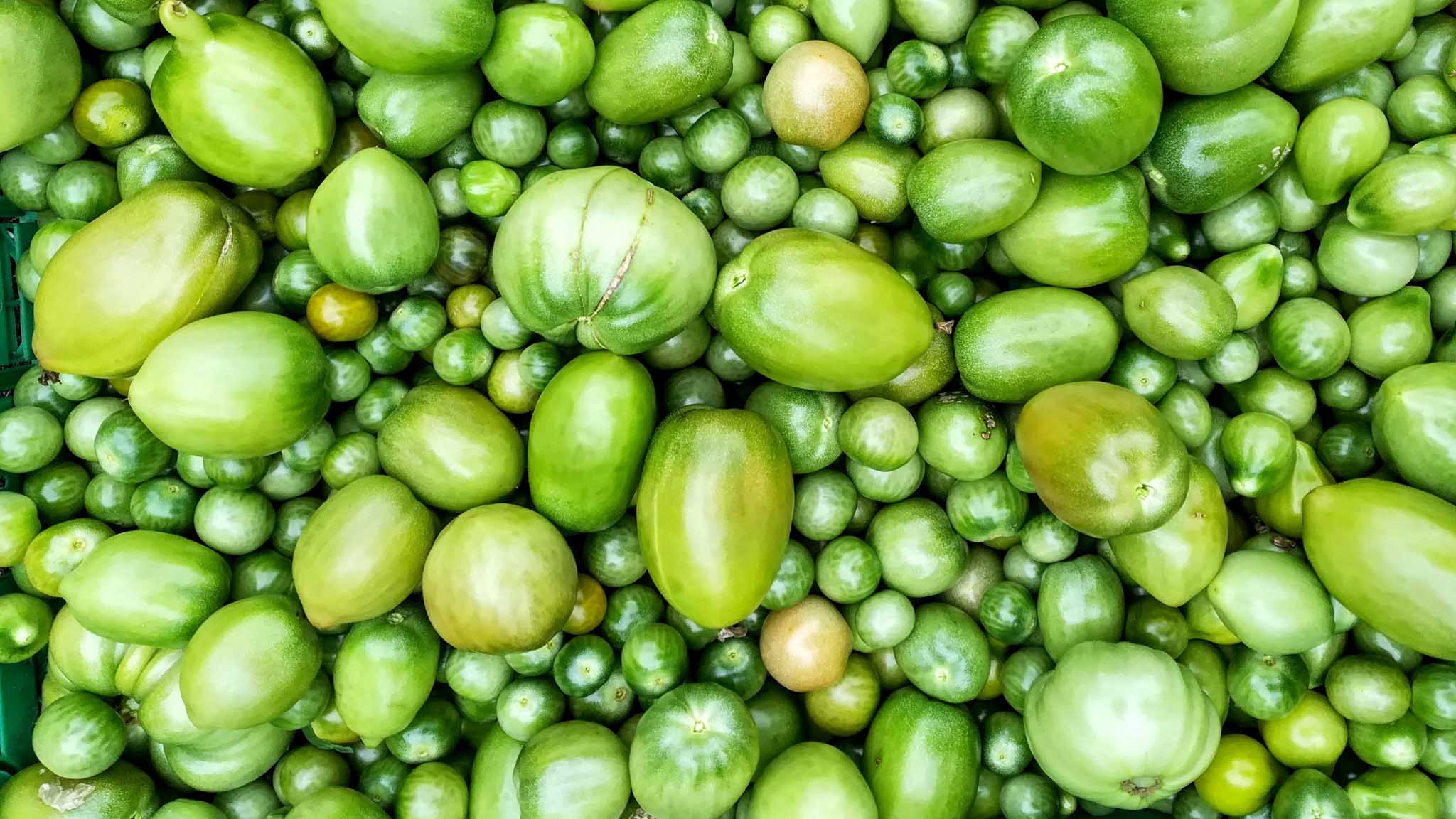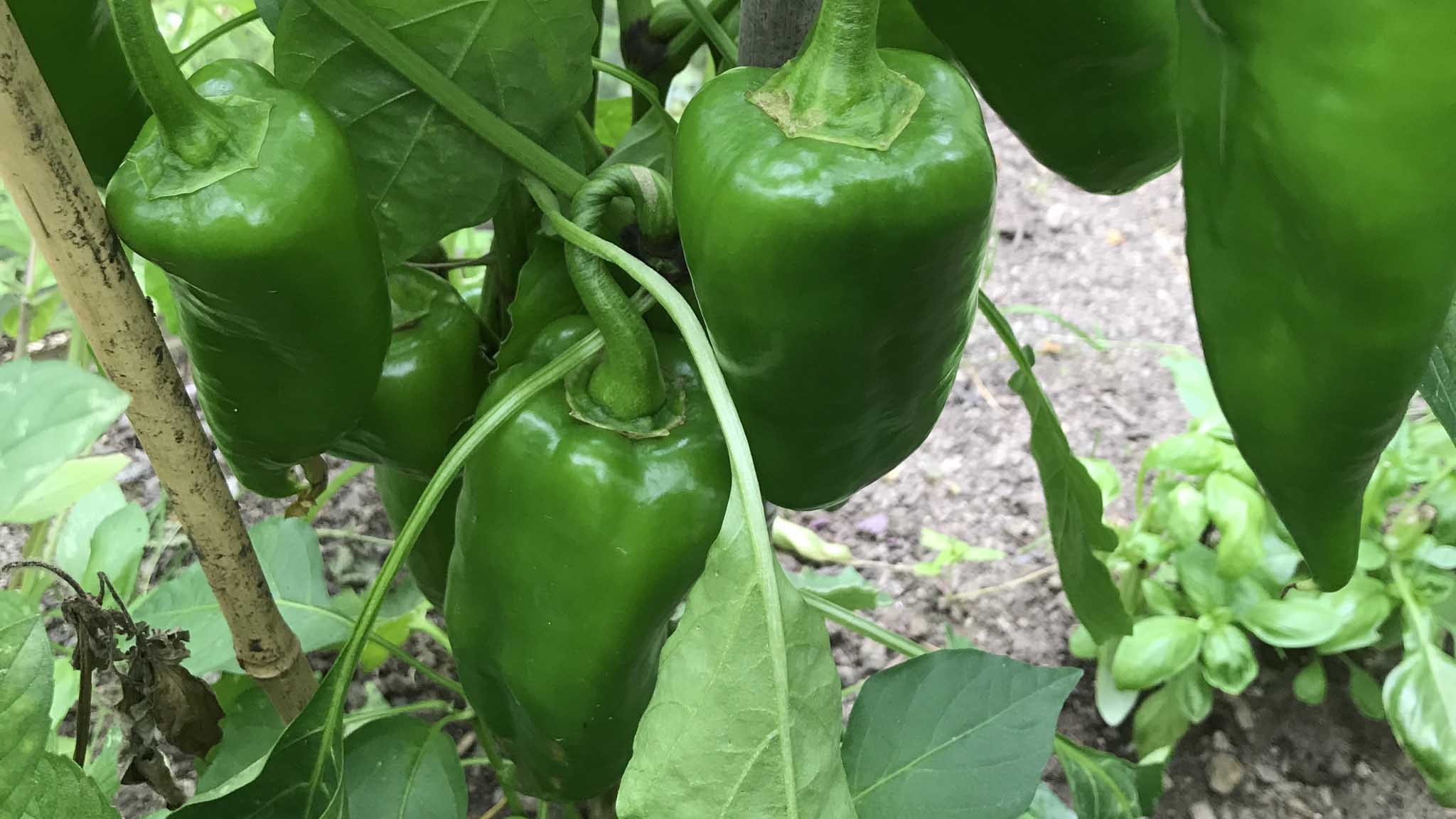 July 2020
We are so pleased to be back in the Dartington Walled Garden and to be able to continue the diary.
The last time I was writing our news was in March. The beds were extended and improved, there were seedlings growing in the glass house, the days were getting longer and the plants were beginning to grow apace, and then…Covid-19 struck!
With no volunteers allowed onto the Dartington estate during the lockdown, Sarah had to manage all on her own – picking, planting, preparing and watering during the hot dry days of March, April, May and June! She was able to put produce to use as vegetable boxes and salad for the Roundhouse cafe. Well done, Sarah!
Below: lettuce bed in April. The fleece has now been removed and replaced with netting to keep off the birds.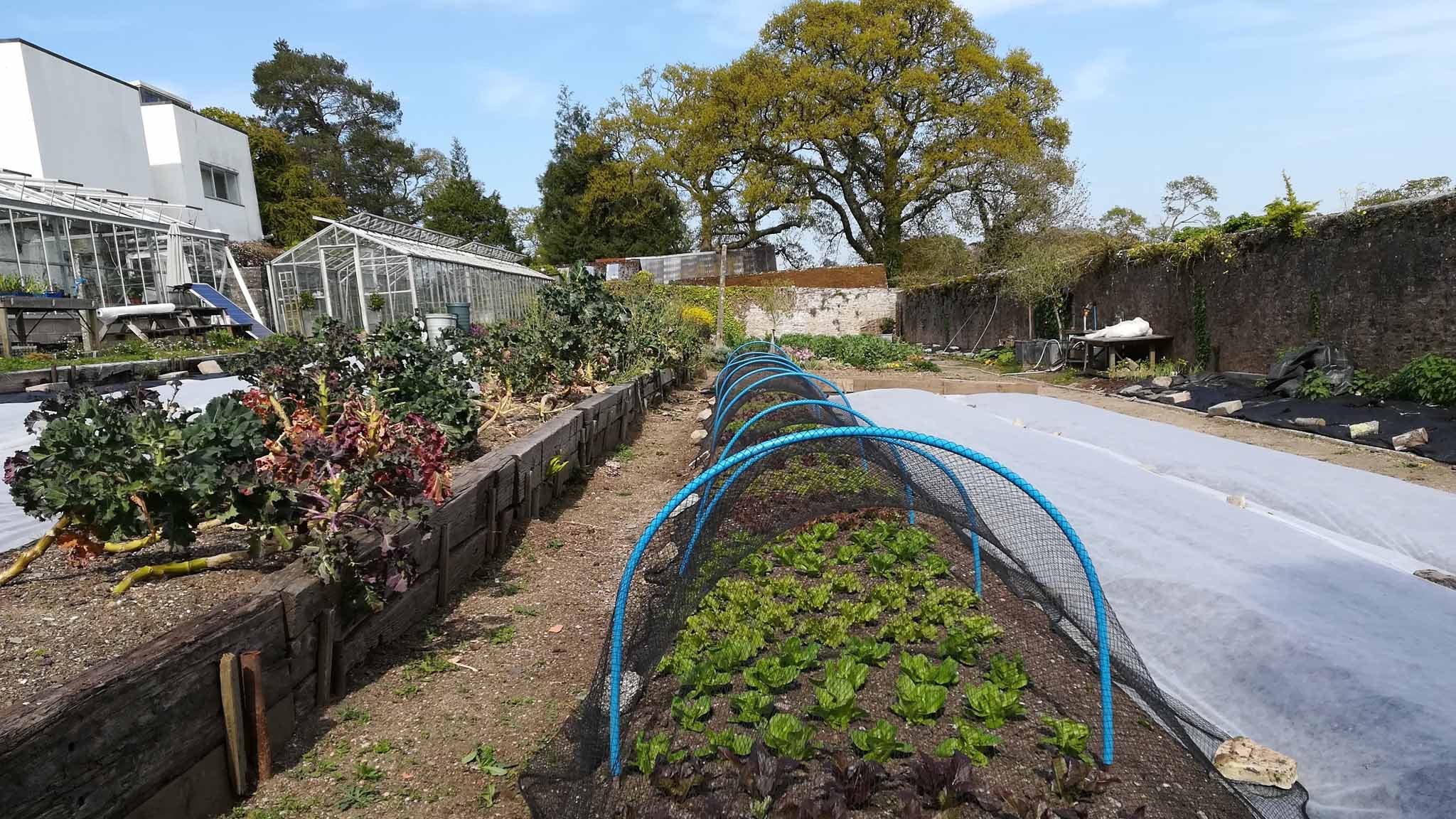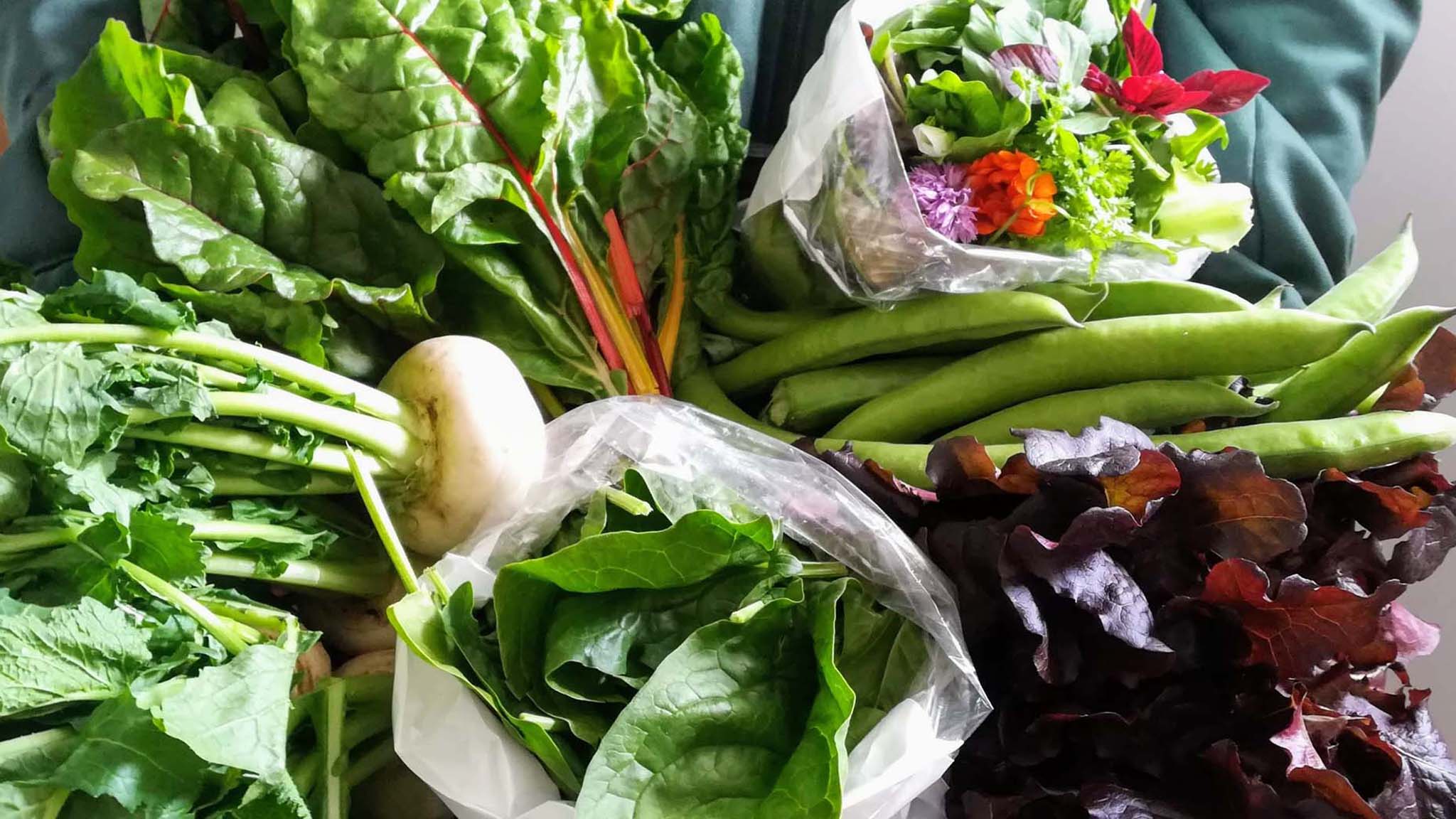 July has now brought welcome changes. The volunteers have been able to return to the garden, working within two groups – two metres apart, washing hands frequently and keeping a keen regard to all health and safety guidance…but we are back. Hooray – how we have missed our Tuesdays and Thursdays!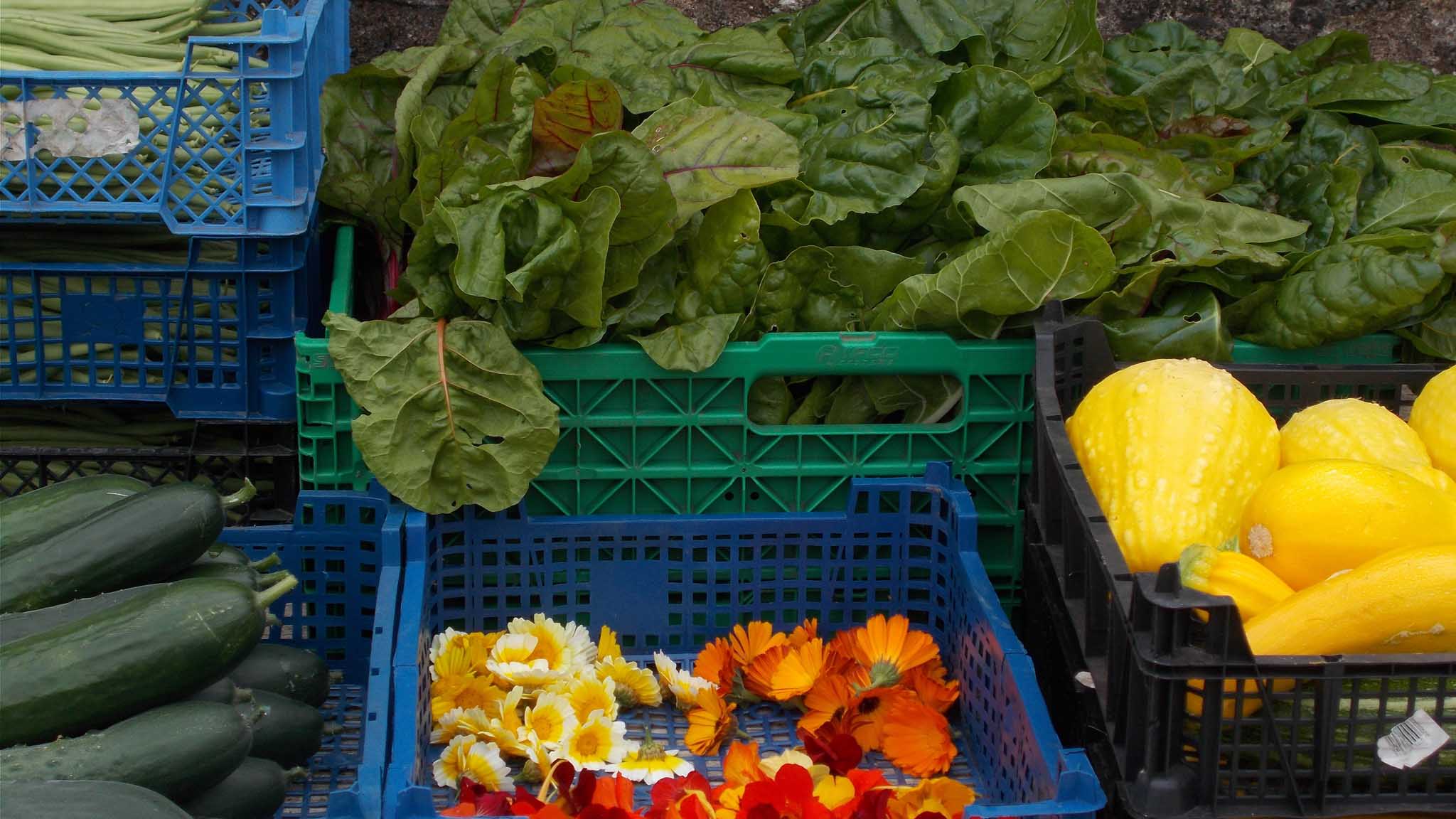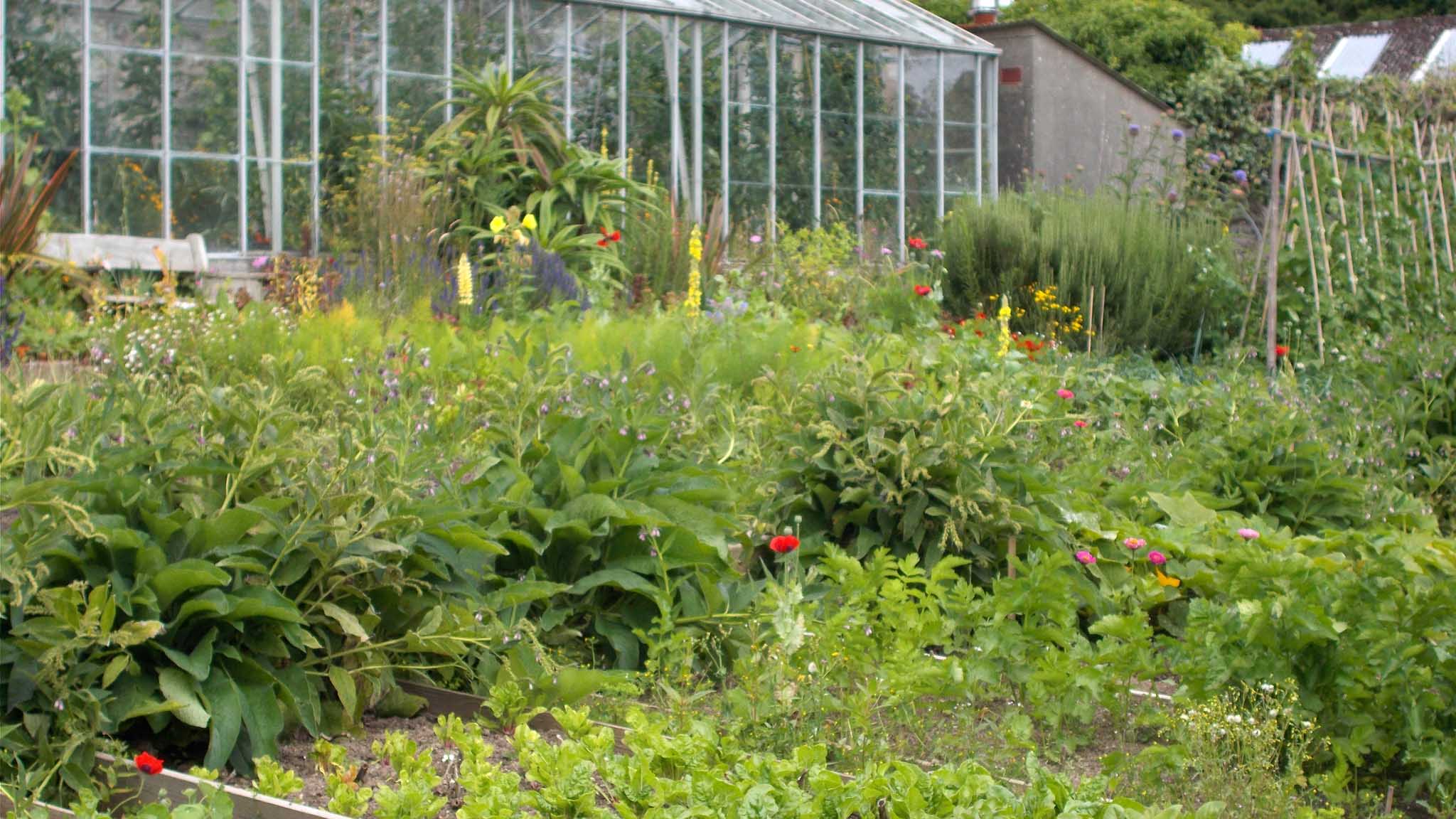 We are now back to harvesting produce for the Green Table – salad leaves and edible flowers, beetroot, courgettes, summer squash, kale, french beans, tomatoes, cucumbers, herbs, fennel and spring onions.
Here in the glasshouse we have peppers, purslane, beans and basil and courgettes, tomatoes and cucumbers. Everything is growing so well!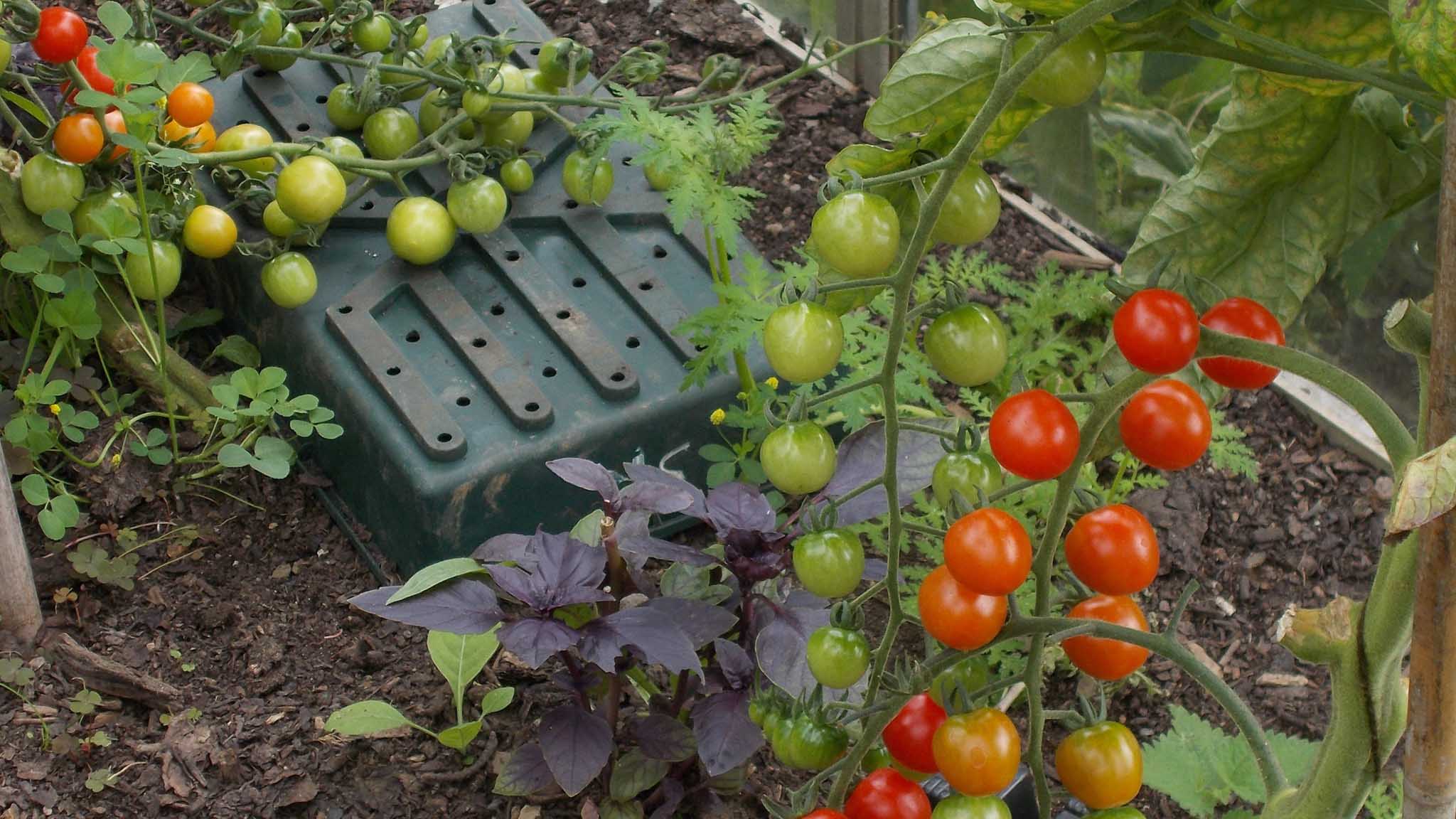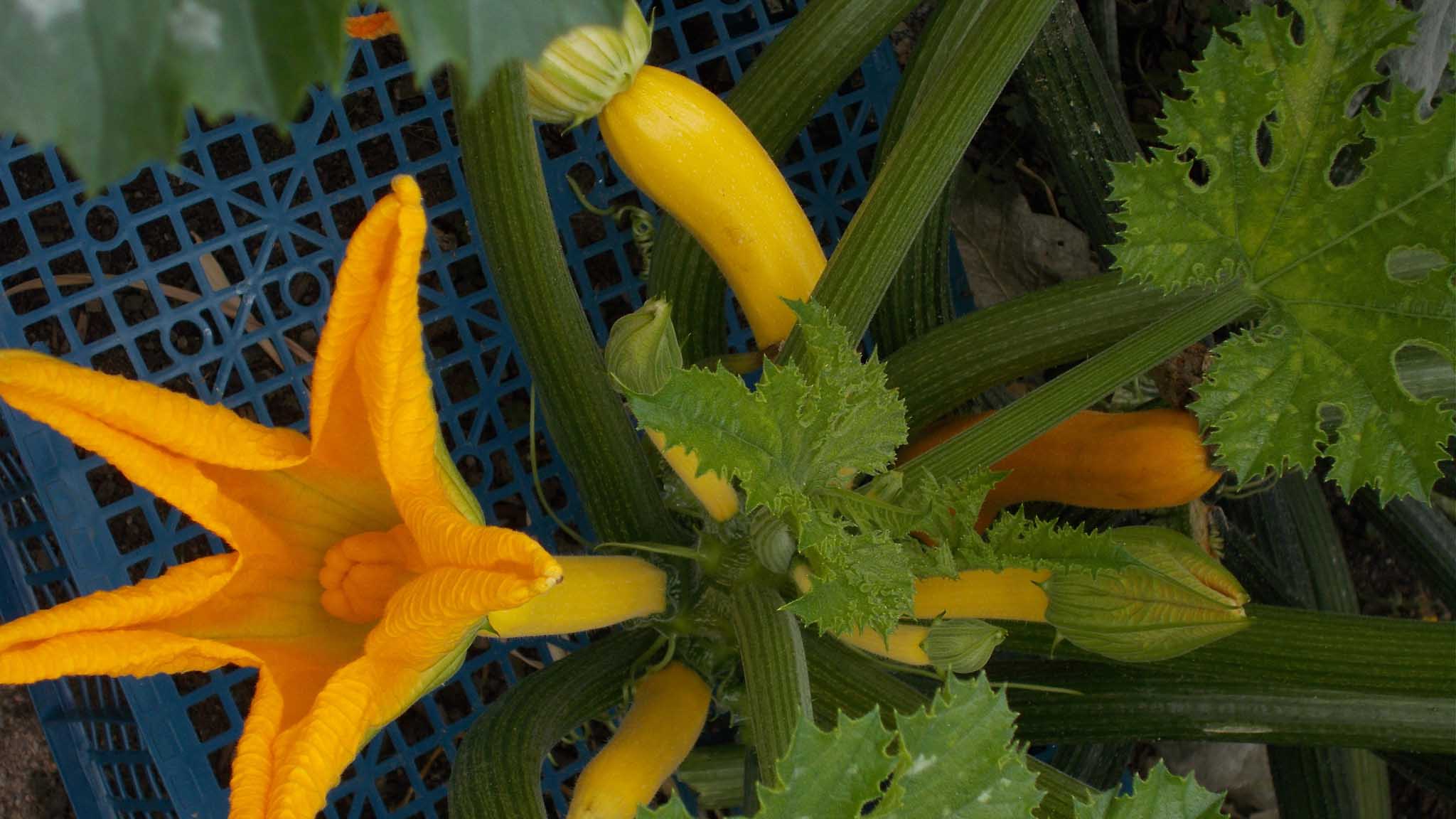 The Garden is now in its third year and is really looking at its best. All the beds are in full use – with both food and flowers blossoming, and a haven for bugs and minibeasts. Here is a particularly lovely bed of sunflowers, squash and heritage sweetcorn.
As the Dartington estate opens up, do come and visit us.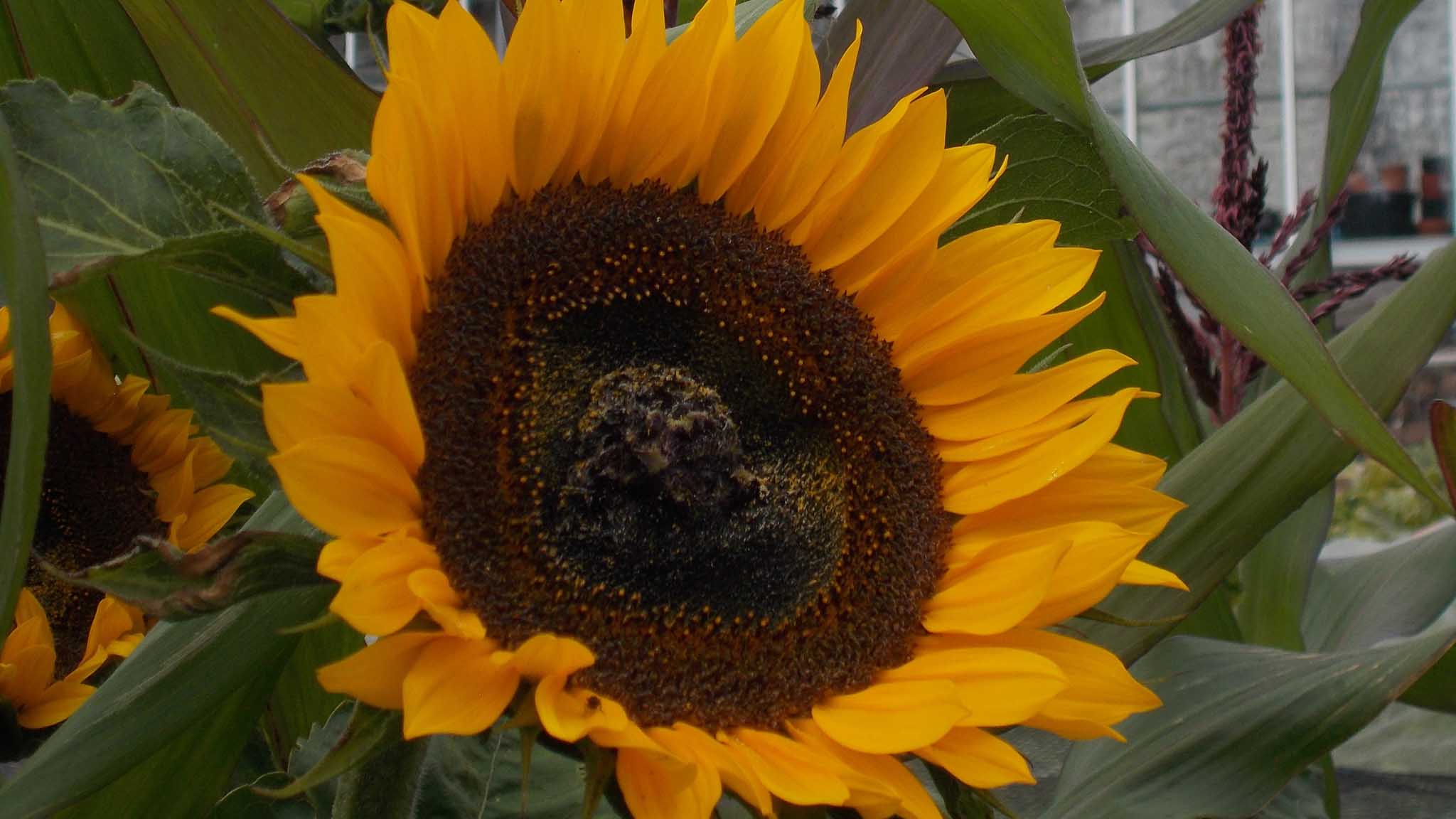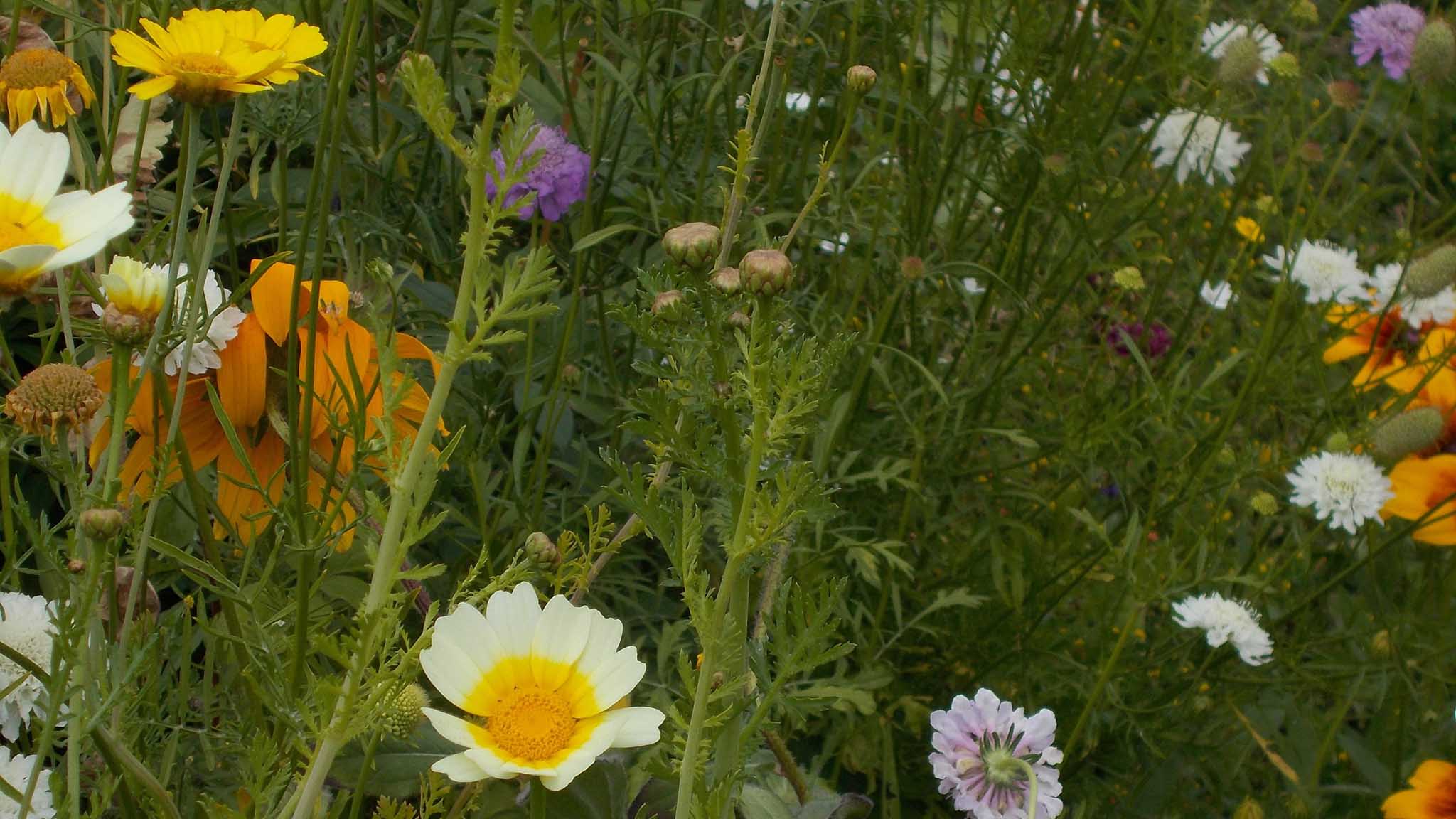 February 2020
Well that was certainly a wet and windy February, but with the help of waterproofs and cups of tea and biscuits, we have worked our way through a long list of seasonal jobs!
Paths and outdoor beds have been improved and extended, and we now wait for the new season's crops. The hardy broad beans and purple and white sprouting broccoli have been braving the winds, rain and chills, and are looking good!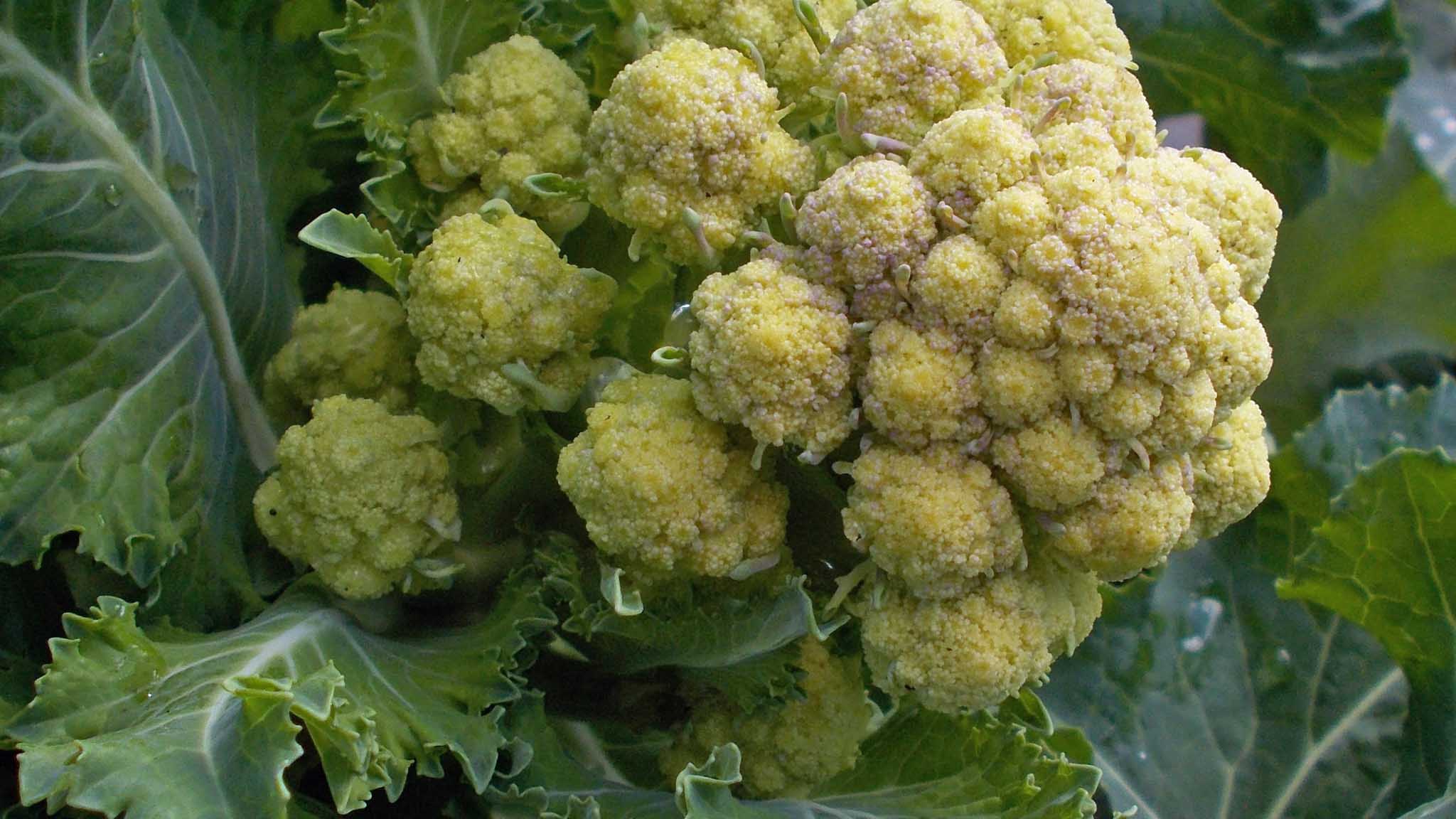 From the glasshouse we have harvested 5-6kg of salad leaves for The Green Table each week which – for the salad connoisseurs among you – includes purslane, pea shoots, a variety of lettuce leaves, land cress, spinach, rocket, golden and purple frills mustard. With the longer daylight hours we are now ready to resume two harvests a week!
The garlic has also been growing amongst the salad leaves, which makes you watch where you are treading – not easy if your feet are larger than average and you have on two pairs of socks and big boots or wellies!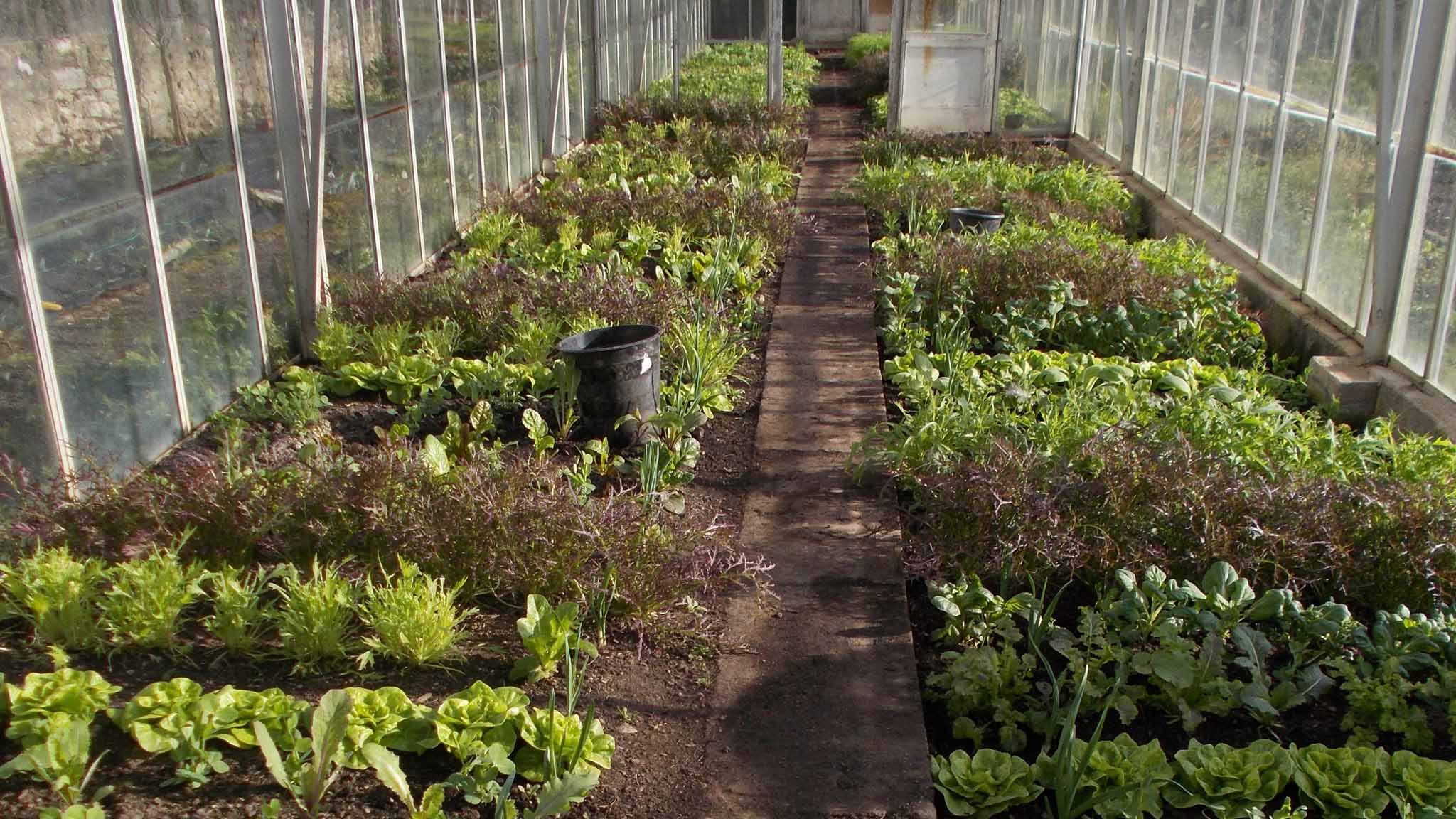 The 14th February marked the start of sowing seeds indoors, and beetroot, chervil, turnip and sugar snap peas are now on their way.
However early sowing of hardy annuals (cornflowers, calendula, cerinthe, larkspur, love-in-the-mist, ammi and scabious) ensures that we have a healthy selection ready for planting as the weather warms up, to add colour to the garden, some to be added to the salad mix, but most importantly to attract the pollinators.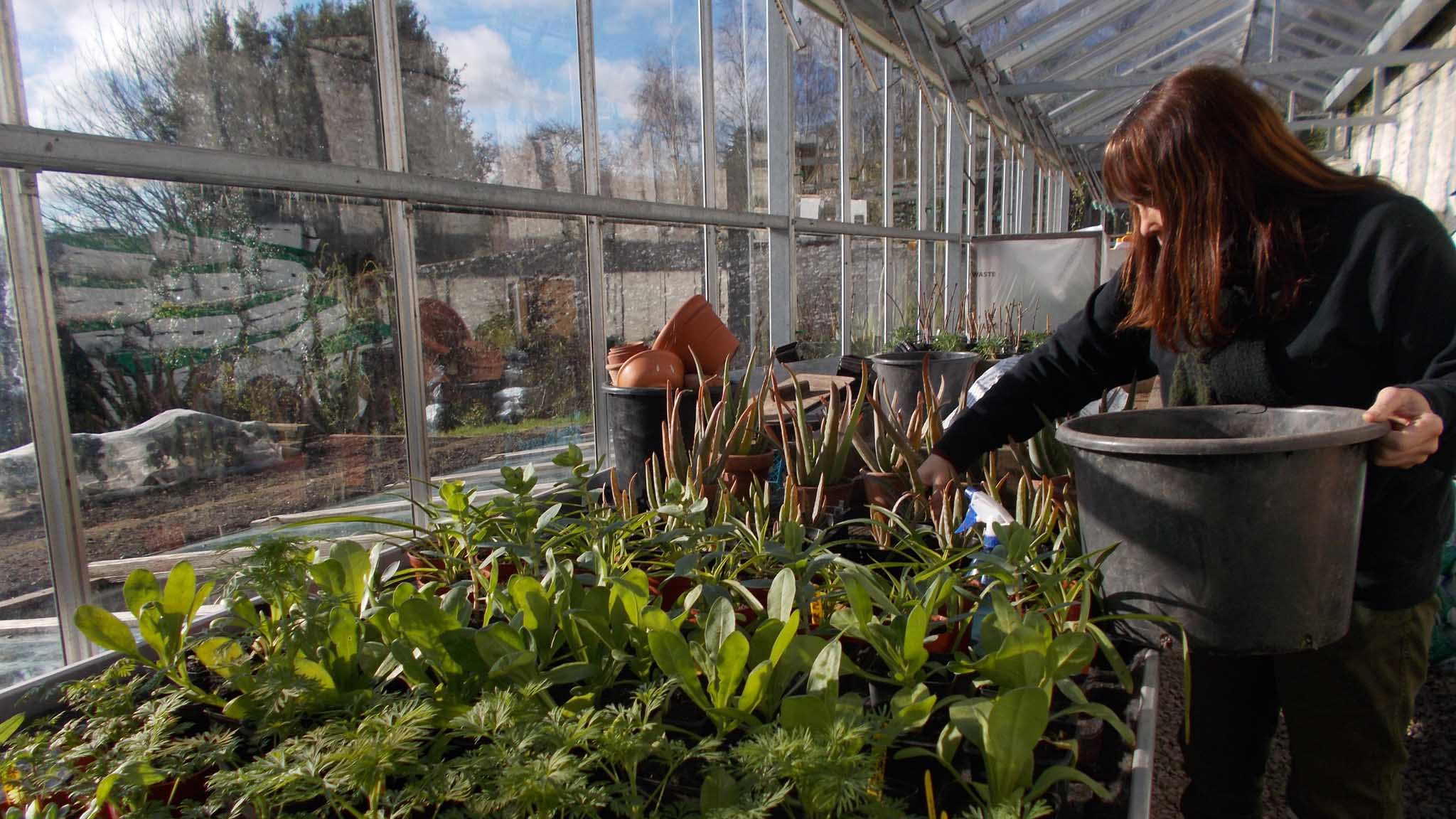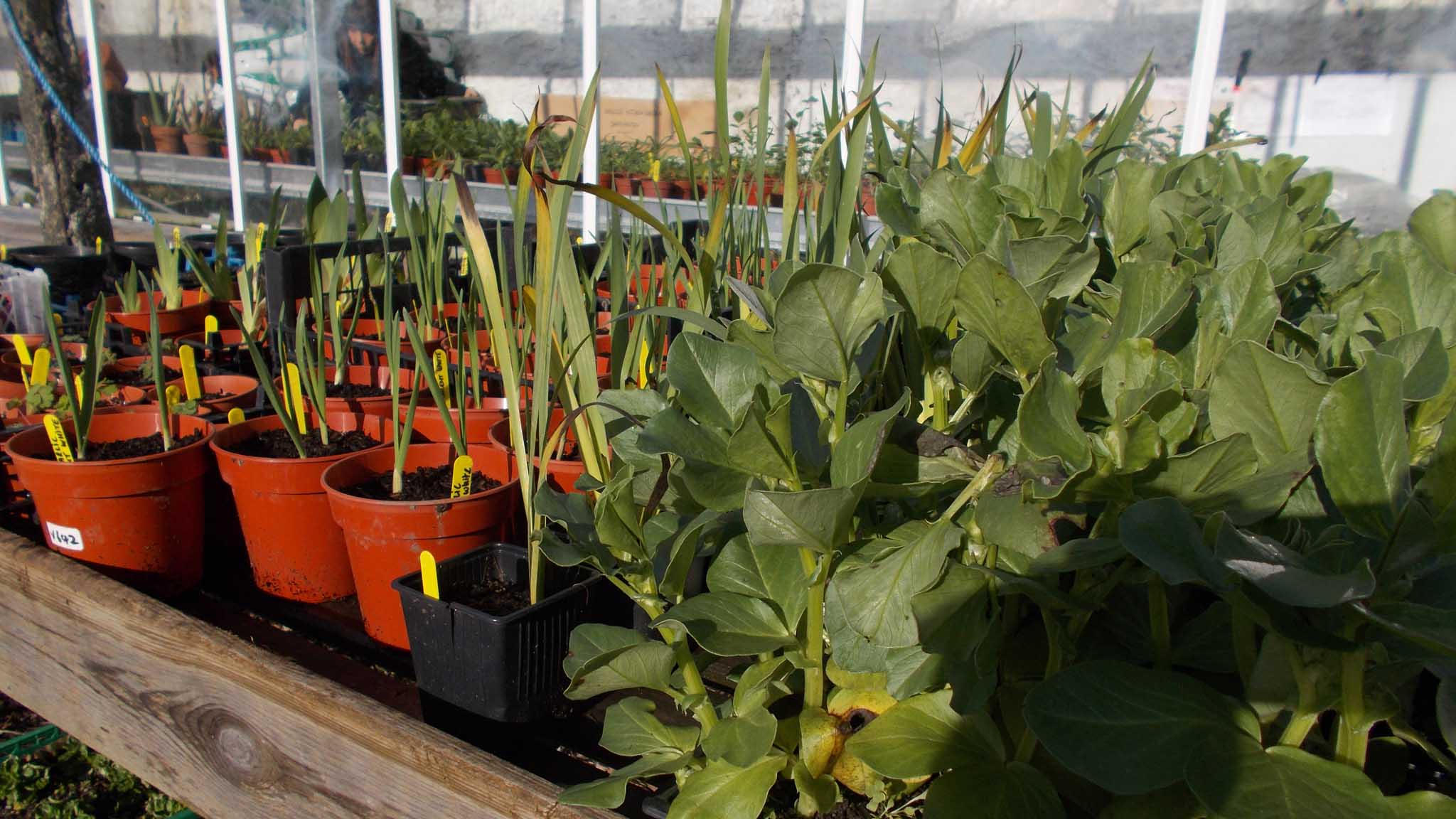 Some plants are now for sale including broad beans, sisyrinchium, garlic (Solent White), aquilegia, blue iris, yellow lupins, comfrey and mint.
Another reason to come and visit us! See you soon!
January 2020
January is named from the Roman god Janus, who is represented by two faces looking in opposite directions – one as retrospective to the past, the other prospective to the coming year. Prospectively, we learn excitedly that we have funding for 2020 therefore can continue to plan and dig for victory. Retrospectively, we make good the damages of our westerly winds, whipping gales through our greenhouses. Many broken glass panes.
We dodge the wet weather and continue to form new raised beds and divert old paths, improving, creating and enriching raised beds. Seed planting will commence in earnest in February.We continue to tackle years of neglect but truth be known, we're winning!
So we took time out for a 'team jolly' – a freezing cold day on a guided tour to Parke's walled garden at Bovey Tracey. We were gleaning ideas for fruit growing and species types. The nearby Home Farm Café comes with a recommendation – in fact, Parke is a great trip!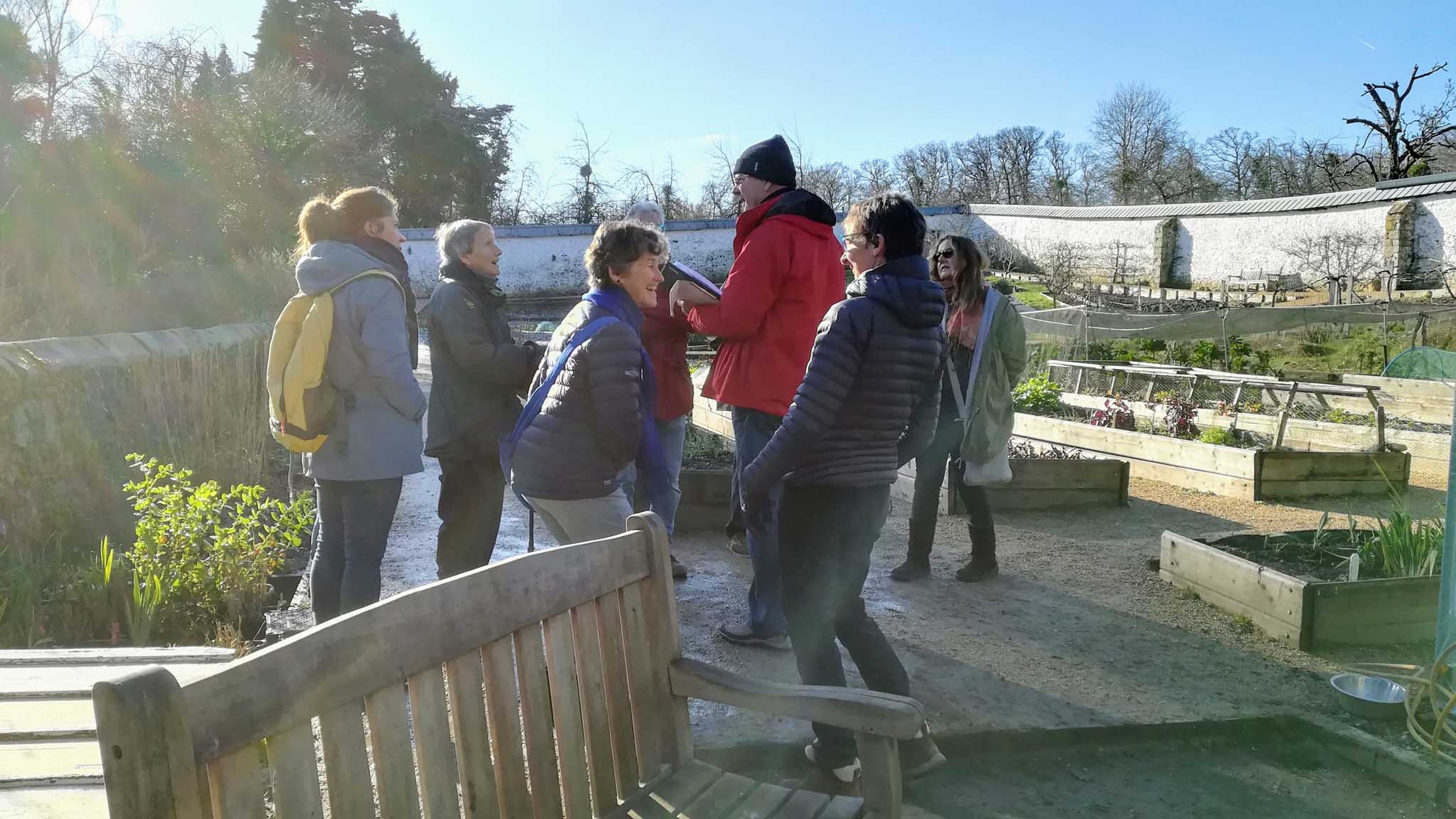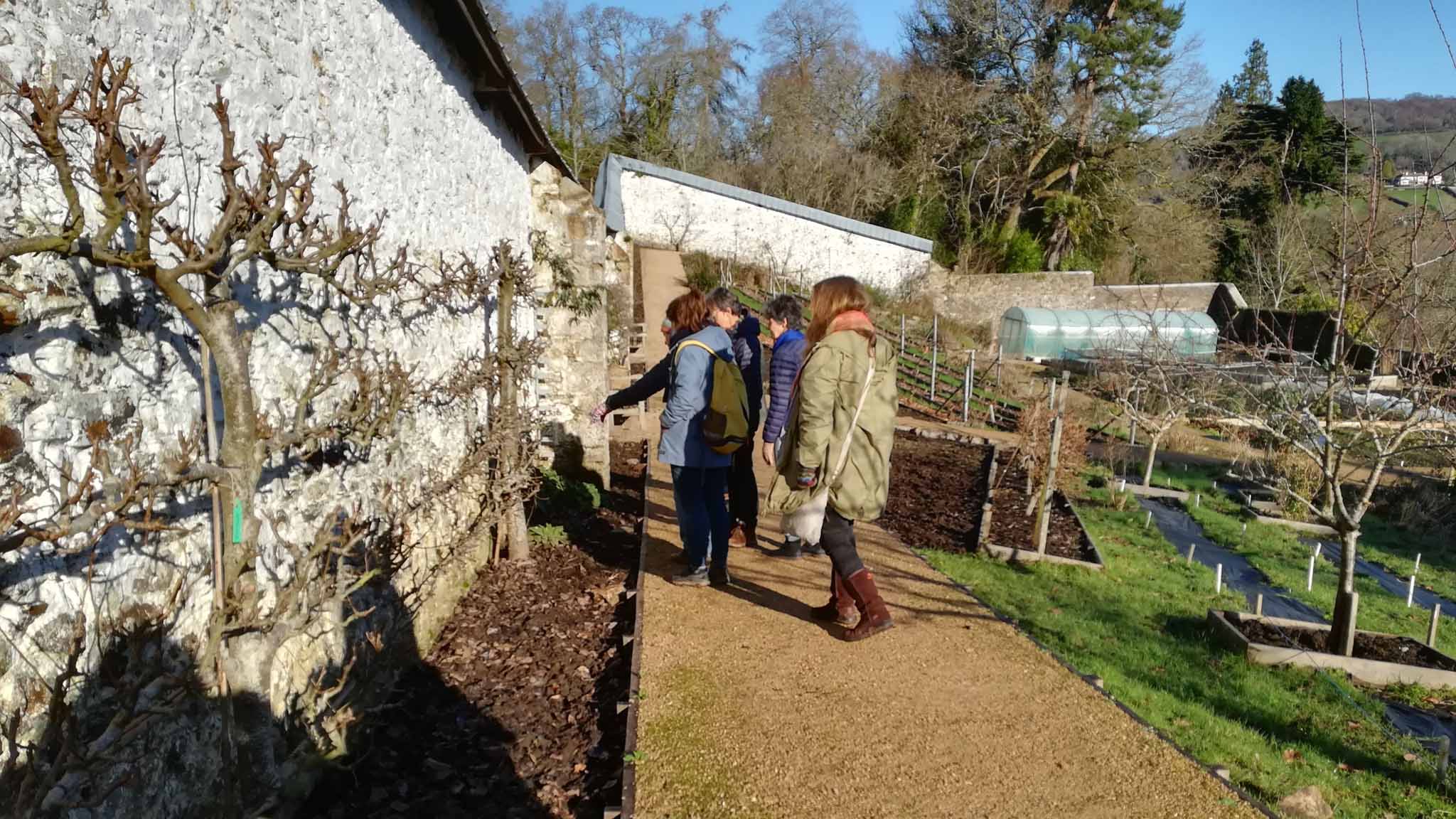 December 2019
You may think December would be a quiet time in the garden, but in contrast to the sleepiness of most of the plants, the Walled Garden team have been industriously working on improvements for the year ahead.
Under Sarah's strict supervision – she has an eye for detail! – we've been creating raised beds, clearing paths and sorting and spreading the compost.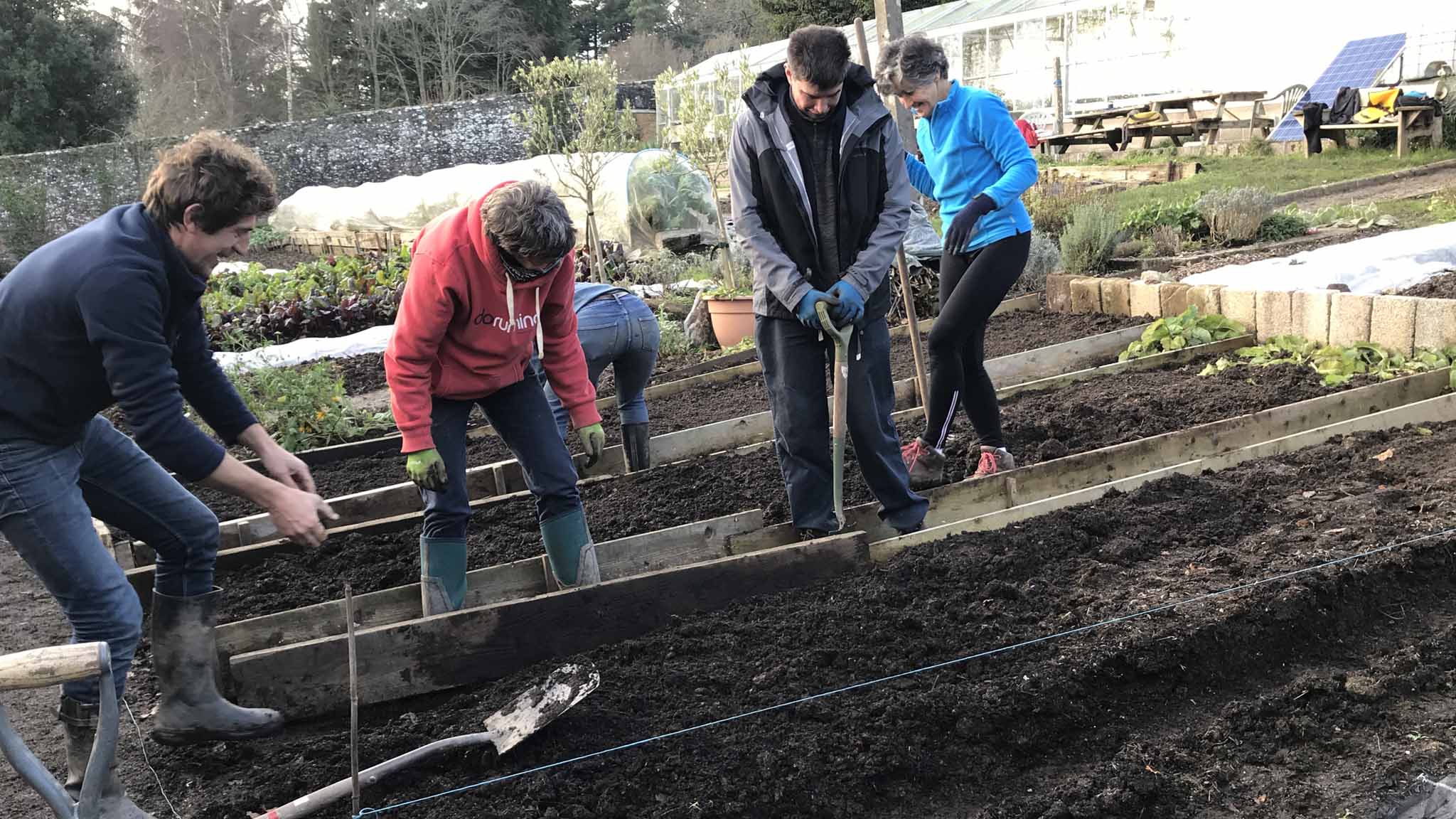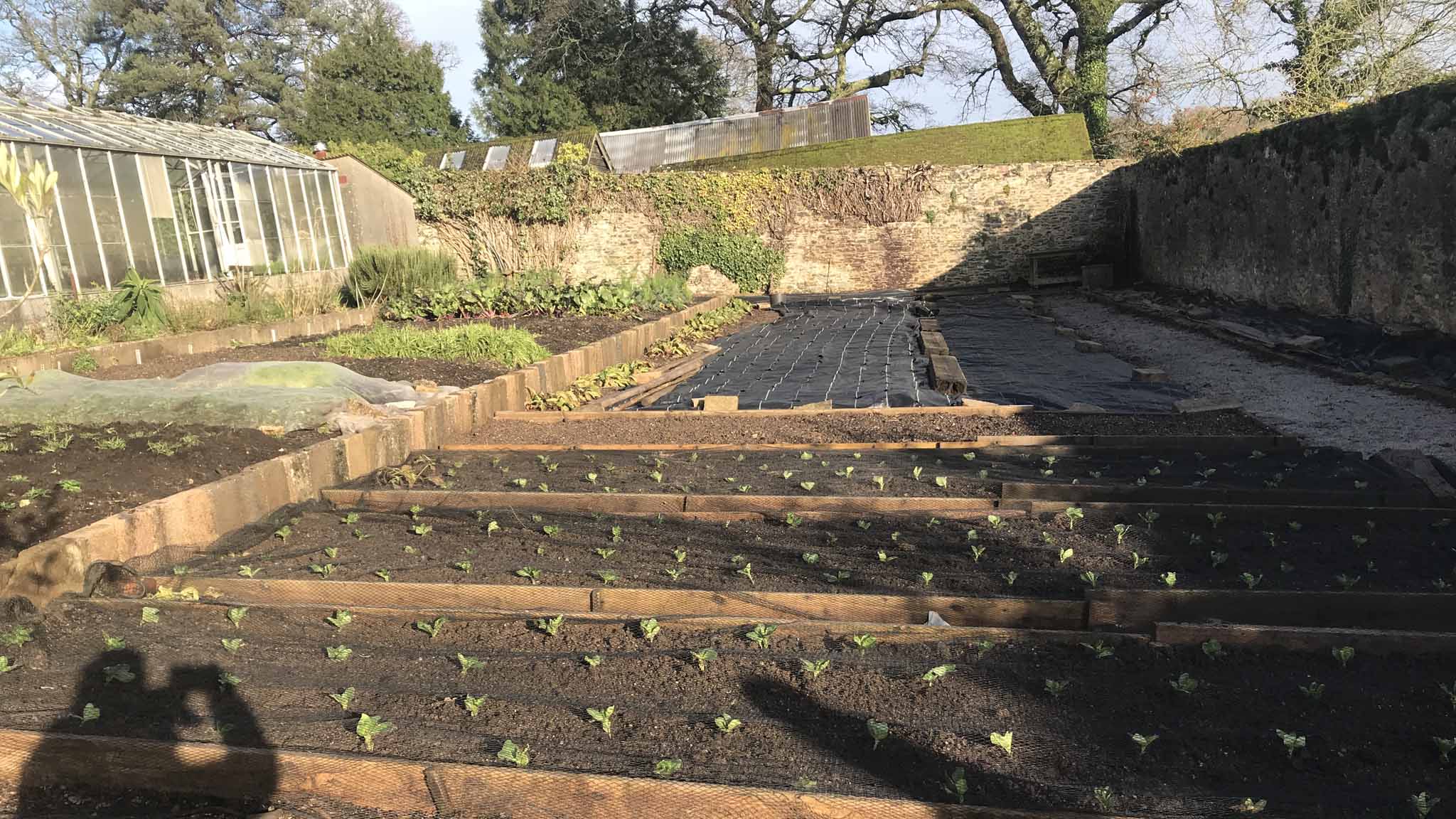 The broad beans have sprouted and been planted in the new raised beds. Saved seed has been sorted and cleaned and some hardy annuals have been sown for planting and selling next year. The indoor salad harvesting for the Green Table has continued, although the yield is much reduced at this time of year.
And it hasn't all been work, wind and rain – we've had a few lovely days sitting in the sun at break times. And ten of us celebrated the festive season with an excellent Christmas lunch last week.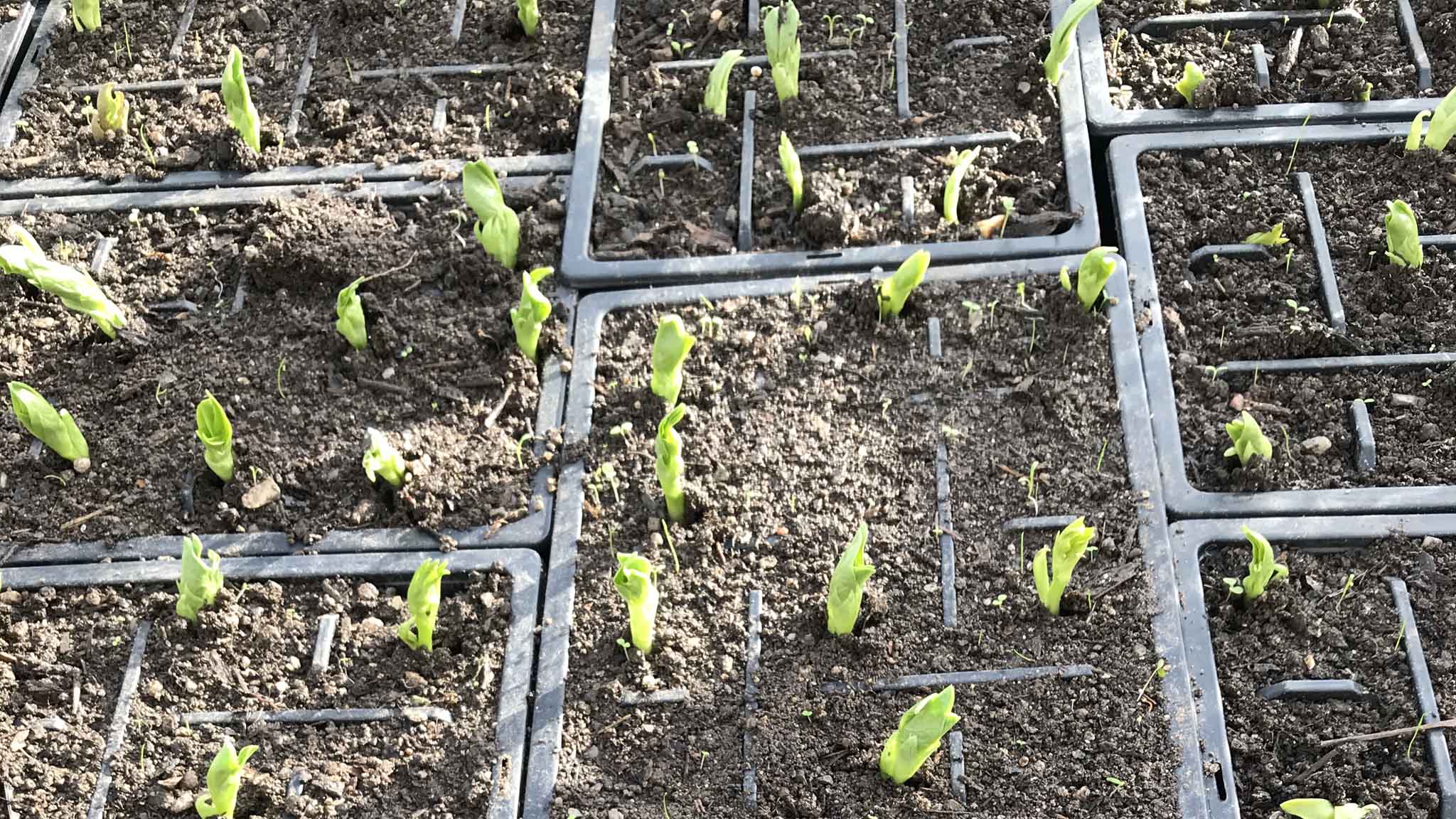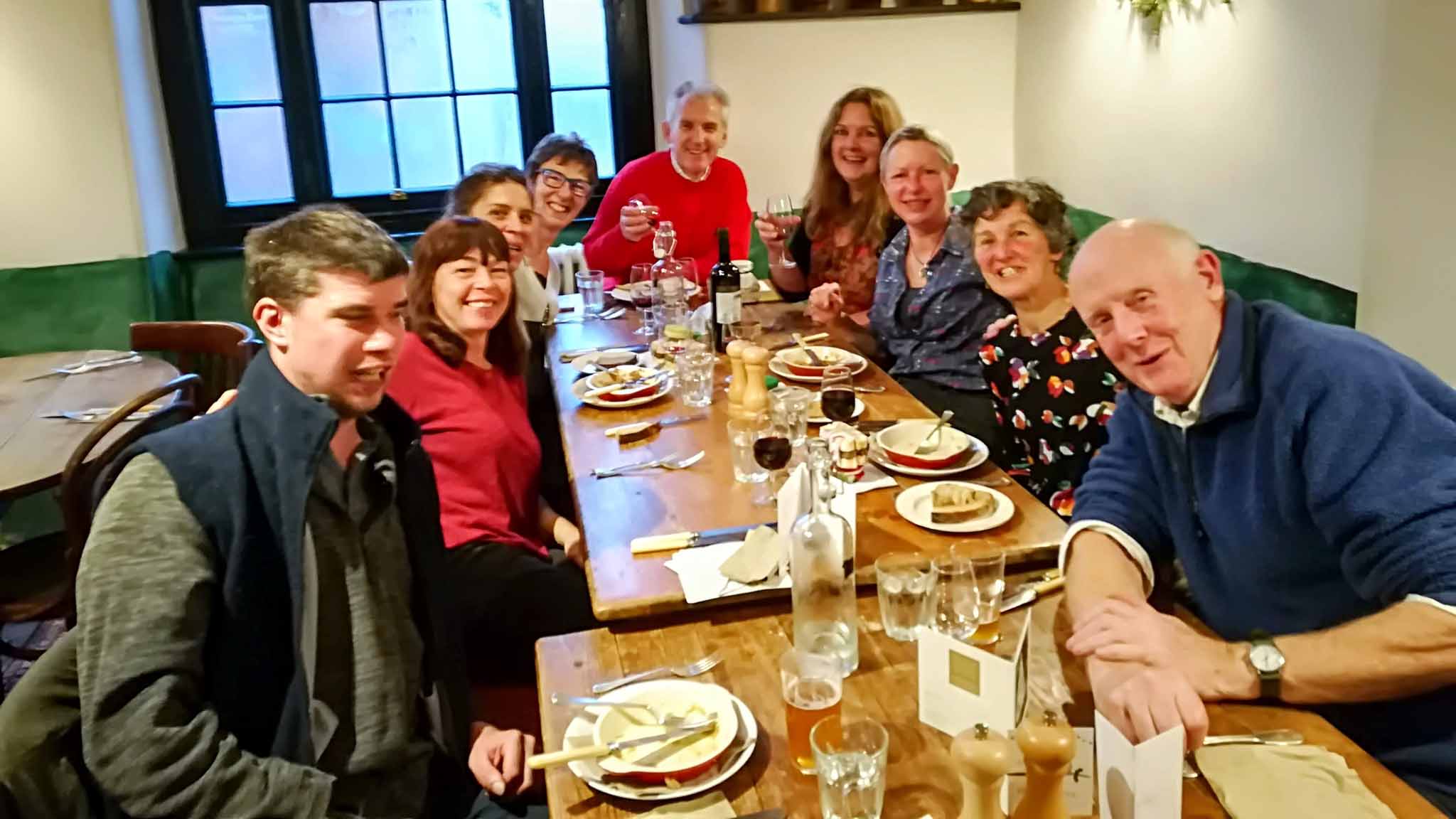 November 2019
The weather has definitely changed and the season of mists and mellow fruitfulness is upon us, with the volunteers now packing away their shorts for another year; Sarah has even unveiled her bobble hat.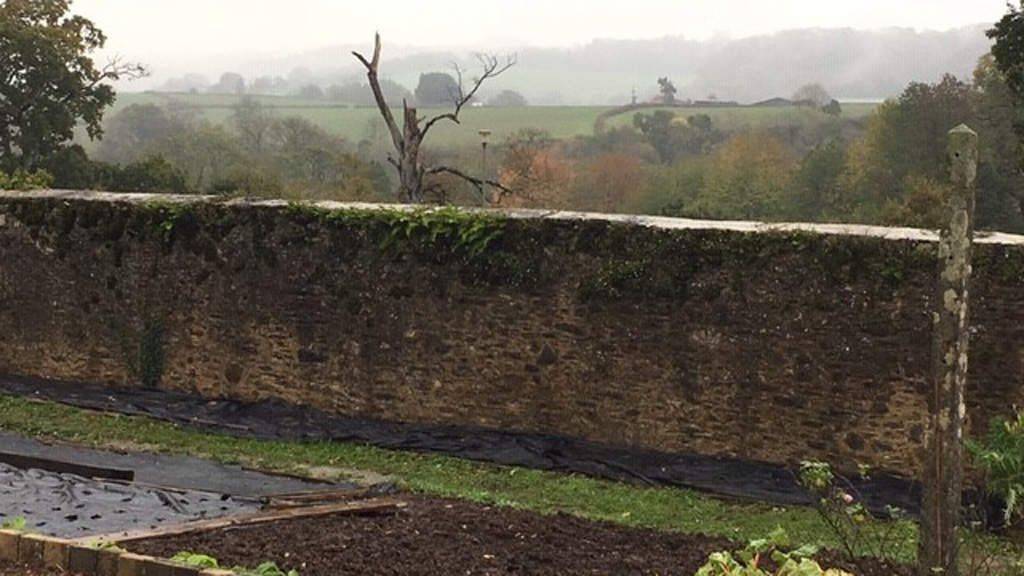 Quince and grape have been turned into delicious jelly, and the last of the squash delivered to the White Hart.
The high winds, which hit us over early November, caused devastation to the greenhouse. Olivier did sterling work collecting the broken glass and making the house safe.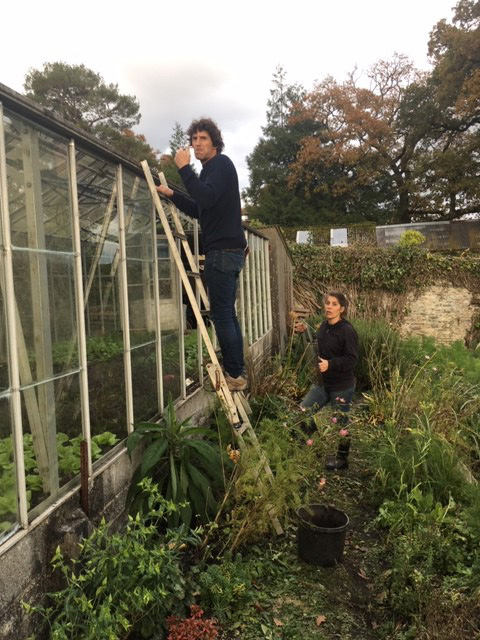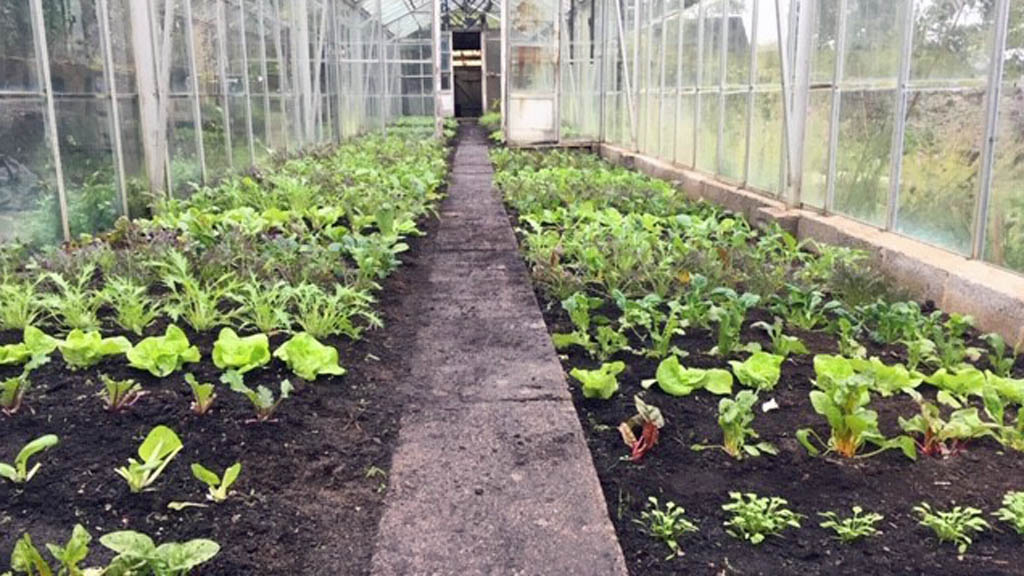 Our compost, which has been decomposing for about 18 months, is now being put to good use as a top dressing and for our new seeds. We're currently planting rocket, winter purslane and some indoor salad.
Other exciting plantings are garlic (Solent white) – we have done a few extras, which will be available to buy from the Walled Garden for home planting. Also broad beans have gone in, again we have done some extras for home planting. These will be available from mid December and will be harvesting in early summer 2020.
As always we are open on Tuesdays and Thursdays and everyone is welcome to pop in and see us, have a wander round and check out the plants.
October 2019
To celebrate the achievements at Dartington's Kitchen Garden we (volunteers) have decided to keep a diary with monthly updates.
After much discussion, it was decided that it would be most accessible as a blog on the Dartington website which we hope you will find interesting – and even useful!
We are very pleased to have reached the end of the second bountiful summer since we started up in 2018. This year we have continued to develop and improve the soil and beds, and are growing an even wider range of seasonal produce for The Green Table and The White Hart.
Many thanks to the generous people whose donations helped make it all possible, and all the people who, under the instruction, guidance and expertise of Sarah Coates, have transformed this…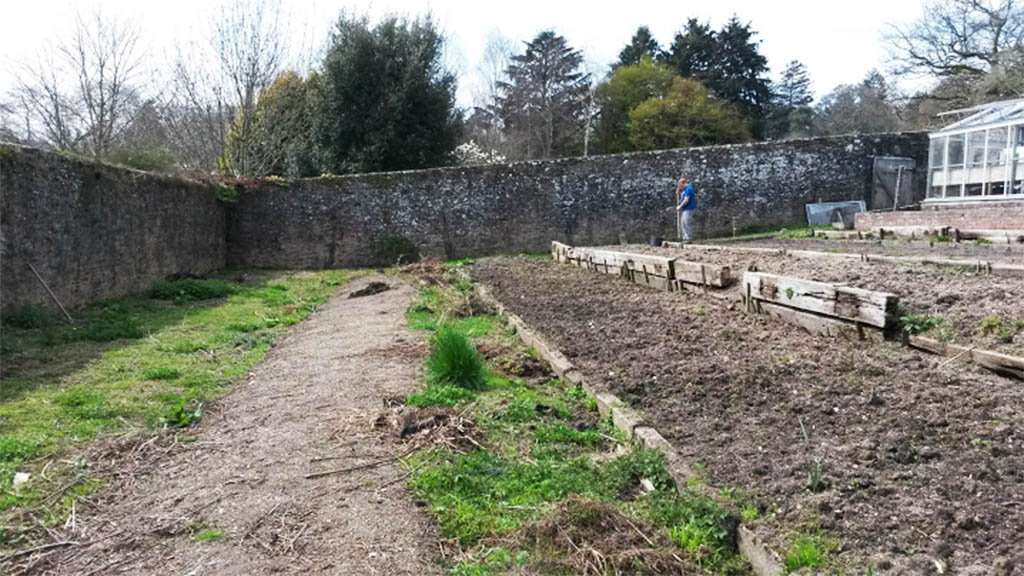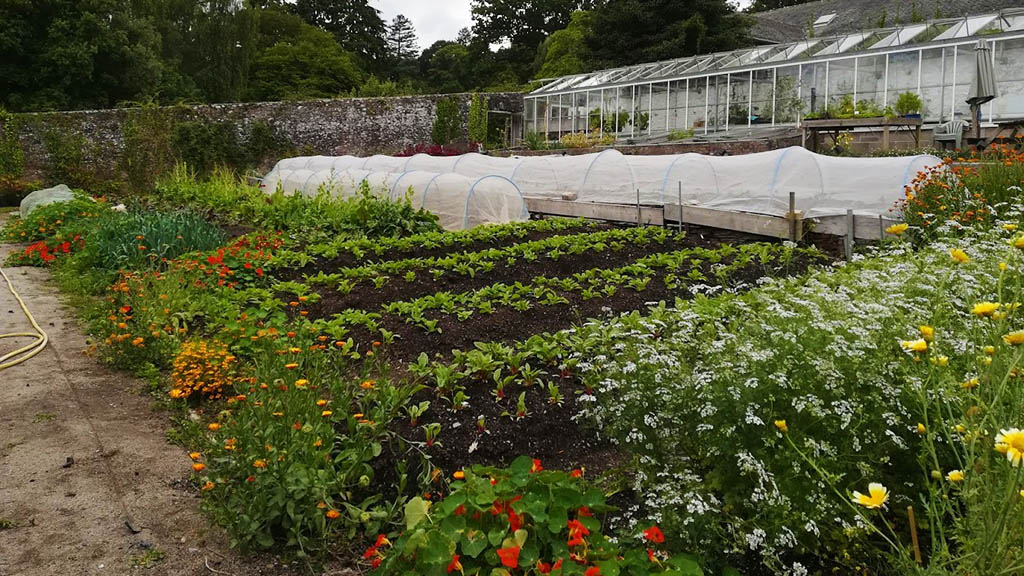 This year we are pleased to have harvested 10-14kg of salad every week for The Green Table, comprising of mixed lettuce leaves, and of seasonal leaves such as basil, dill, pea shoots, purslane, chard, spinach, kale and beetroot leaves, landcress and buckthorn plantain – not to mention the beautiful edible flowers!
Other favourites for the restaurants have been rainbow chard, beetroots, purple and green French beans, courgettes, squash, cucumbers and Florence fennel.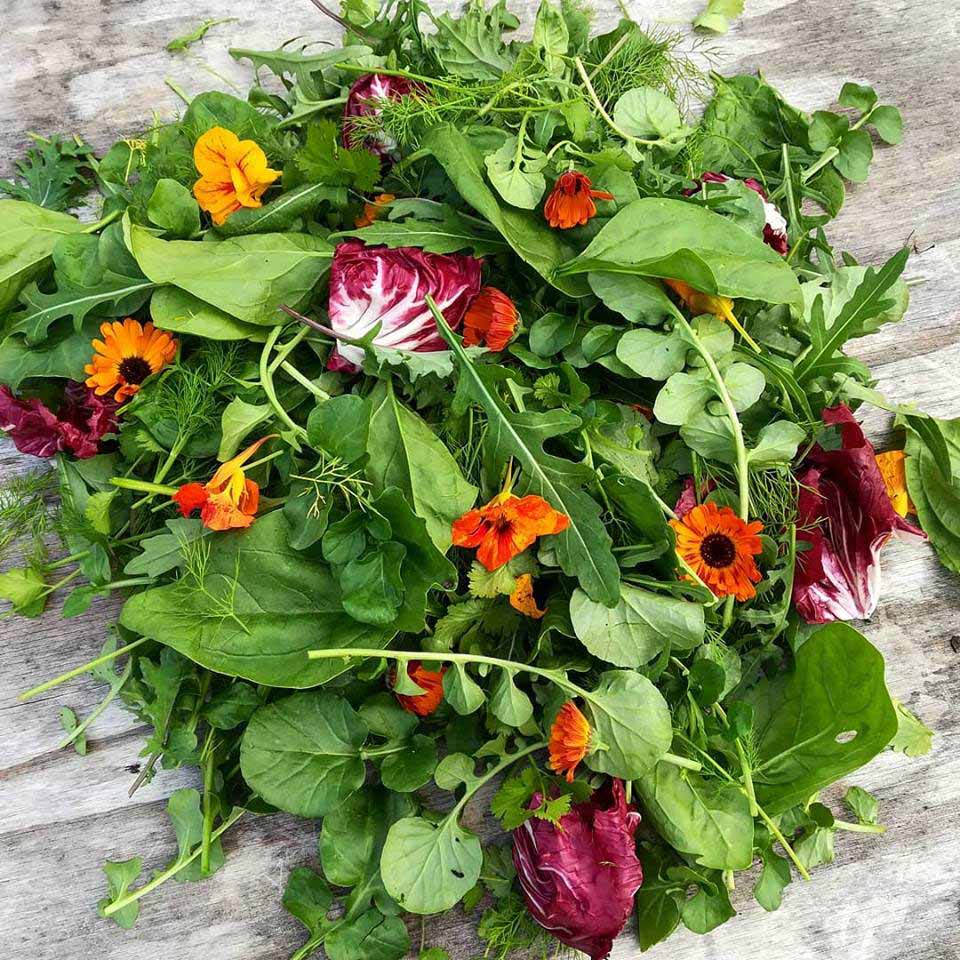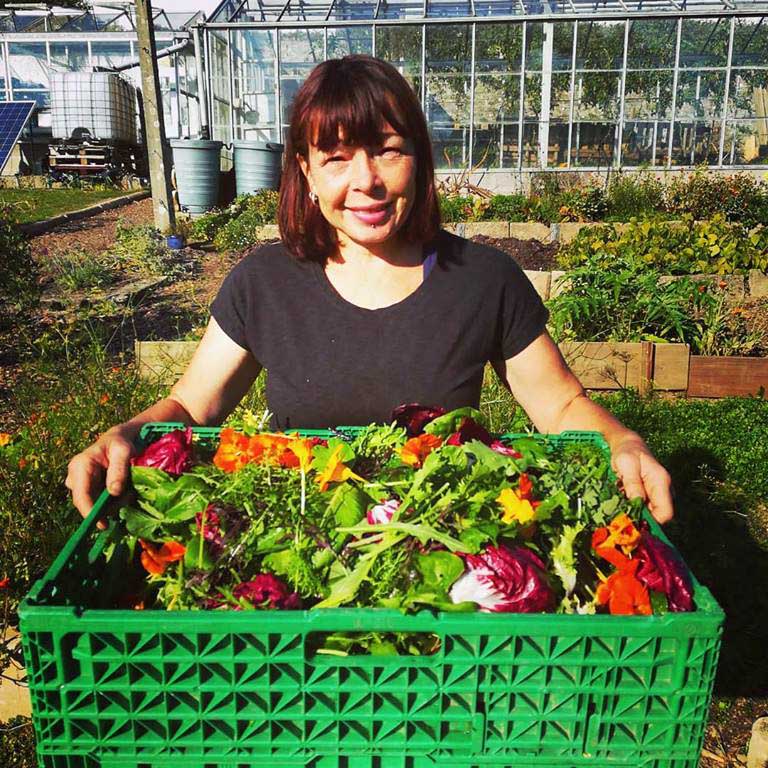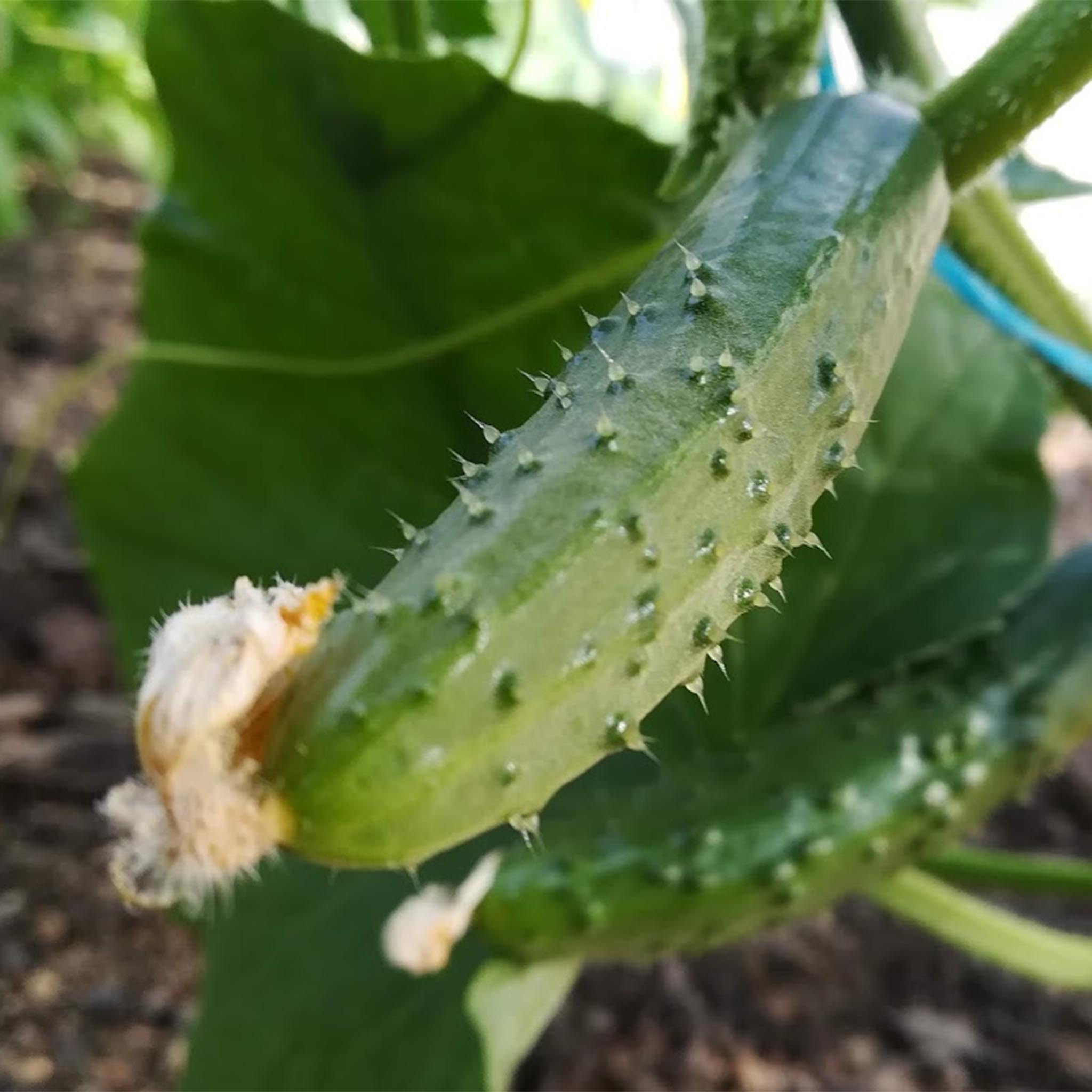 Now the season is changing and we already have leeks, Florence fennel (2nd crop), Russian kale, calabrese, winter squash and more salad greens growing in the beds, and we are sowing more seeds inside for winter crops. Out with the old and in with the new!
Don't forget to visit us on Tuesdays and Thursdays – even if it's just to check on the cucamelons or the Bolivian Giants in the glasshouse! For the coming year we will also be trying out new seeds from Garden Organics and the Heritage Seeds Library so there should be lots of interest to come – we'll keep you posted.