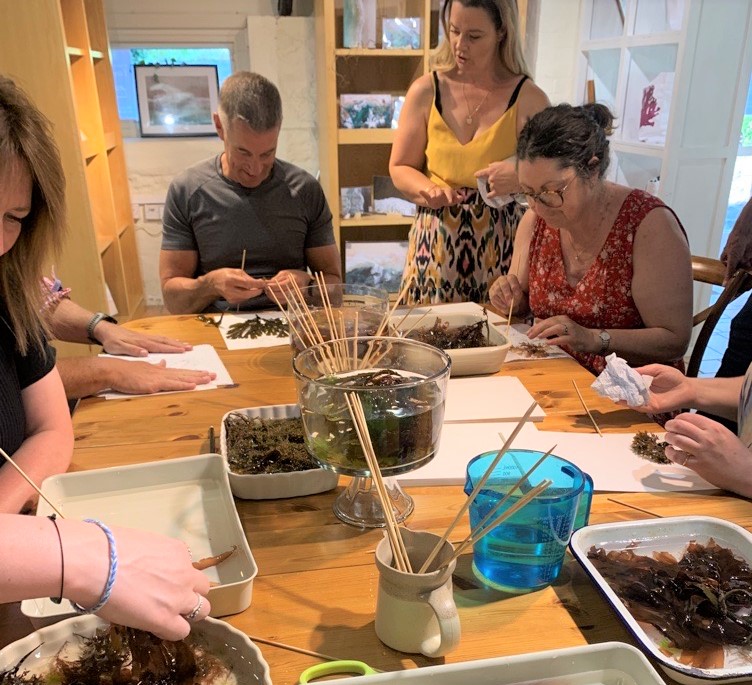 "You'll never walk along the beach and look at it the same way again," says Charlotte Jacob who, with husband Stuart hopes to combine business with ecological education.
They have recently launched The Devon Seaweed Company, based at Dartington's Cider Press Centre, which aims to highlight the rich variety and beauty of our native seaweeds through arts and gifts.
However she hopes activities such as running workshops to teach others how to collect and press seaweed to create their own work –  there are around 650 varieties in Britain – will raise awareness of the importance of seaweed to our marine ecosystems.
"It was actually my grandma who showed me how to collect seaweed and then press and dry it back in the 80's, her mother was a Victorian and she had also done it," she says. "We have seen a resurgence of this kind of art recently, but my grandma was doing this back in the 80's when it really wasn't fashionable. She would have flowers drying in the garage and she would make dried flower bouquets and give them to people.
"I think all these art forms were passed on this way – handed down the generations."
As well as using pressing to raise awareness of seaweed which sequesters carbon, provides habitat for fish and limits ocean acidification – the couple hope it will encourage appreciation for all life in our oceans.  They are working with charities such as the Marine Conservation Society and The Seal Project in Brixham.
Charlotte admits the idea was almost an accident.  They had been running a greetings card business and were searching for new inspiration in a crowded market when she recalled collecting seaweed with her grandmother.
Though less than a year since their official launch they are already struggling to keep up with demand: "I'd like to say we had this brilliant idea and it was all planned but it's just had a life of its own," she adds.
They have gathered a number of awards and attracted interest from large organisations such as The National Trust, who want to use their cards and gifts as a way of engaging and educating the public.
Charlotte and Stuart will be running workshops from their base at the Cider Press Centre where you can learn how to arrange and press seaweed and make your own cards and prints.
"I am really clear that I don't pick seaweed that is still growing – I only collect what has been washed up.  I know it's only a small amount but if we all started picking it then very soon that would have an impact."
The Devon Seaweed Company is in the Cider Press Centre which is open daily. 
Please check opening times as they may vary.  For more information about workshops you can email info@DevonSeaweedCompany.com The shop also stocks work from Victoria Benjafield who runs Time and Tide Aerial who gets drone images of the sea and coastline from around the world. She has created a range of cards and prints as well as t-shirts.
Many varieties of seaweed are not only useful and beatiful, they are also edible and rich in vitamins and minerals but, as with all foraging, it is important to ensure you are fully informed. 
Dulse (pictured right) is a commonly found seaweed on Devon shores and is both high in protein and fibre.   It is a nutrient-rich red algae which has become increasingly popular as a health food due to its variety of properties.  
But pollution and rising temperatures are causing a shift in our oceans as well as on land.  Some varieties of seaweed such as the Velvet Horn are  struggling, particularly on warmer southern coasts rather than in northern parts of the UK.   However there are other seaweeds such as the Wakame that are flourishing.