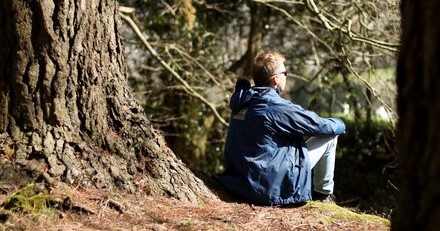 A new award for writers from refugee and migrant backgrounds has been launched this week to coincide with National Refugee Week.
 Winners will receive a £15,000 prize, a publication agreement,  and a week-long writing residency here at Dartington, with the opportunity to use the landscape of the woods, fields and the winding River Dart for reflection and inspiration.
The award, launched by Counterpoints Arts, a partner of Dartington Trust, and Footnote Press, will recognise new work around the themes of displacement, identity and resistance.  Judges are particularly interested in writing that is intersectional, crossing cultures and borders, and that explores key political and social themes.
Anyone who defines themselves as coming from a migrant or refugee background who is resident in the UK or Northern Ireland is eligible to enter.  They should submit a narrative nonfiction sample of a detailed book proposal of 3,000 words and an 8,000 to 10,000-word sample. 
Dartington Trust has a long history in supporting people of refugee and migrant backrounds and has partnered with Counterpoints Arts at number of events, the most recent of which, Pop Culture and Social Change, was held last year.   Last year the Arts School launched the Gustav Metzger Foundation Scholarship in partnership with Hauser and Wirth Gallery in Somerset.   It is available to students on the MA Arts and Place and support include tuition fees for the master's programme, living expenses and an associated residency location at Hauser & Wirth Somerset for two weeks.
Dartington Trust's Creative Director, Emily Hoare, said the Trust was delighted to be partnering with Counterpoints Arts and Footnote Press to provide residency space for the competition.
 "Supporting artists from refugee and migrant backgrounds to share their lived experience of displacement is vital, and Dartington has a legacy of hosting refugee artists, so this feels like a perfect fit for us.  Dartington is a place that can offer both retreat and inspiration in its beautiful built and natural environment and we can't wait to welcome the writers here next year."
 Submissions for the writing prize opened on 19 June with Counterpoints Arts director, Almir Koldzic, saying: "We are delighted to be partnering with Footnote on this unique and timely prize, dedicated to showcasing and celebrating exceptional writers from refugee and migrant backgrounds.
"We know that the selected writers will thrill, inspire and move us and that their rich perspectives, informed by lived experiences, will shine a new light on some of the most pertinent topics shaping our lives and society."
Submissions close on 1 October 2023 and a panel of three judges will be announced in August. A shortlist will be announced in February 2024, and the winner and two runners-up will be announced in March.
The Gustav Metzger Foundation Scholarship was set up to support artists from a migrant background wishing to study on the MA Arts and Place at Dartington Arts School.
Metzger, a jewish refugee, dedicated his creative practice to activism and much of his work reflected his concerns about the climate change and the environment.
Raman Feiz is the current recipient, scholar, pictured left, with fellow students Imogen Mansfield and Emma Yorke while working on the Remember Nature Project.
It was an echo of an original project instigated by Gustav Metzger, in 2015, towards the end of his life in 2015. Arts practitioners and students around the world were encouraged to participate in a Day of Action addressing global issues such as extinction, climate change and environmental pollution.