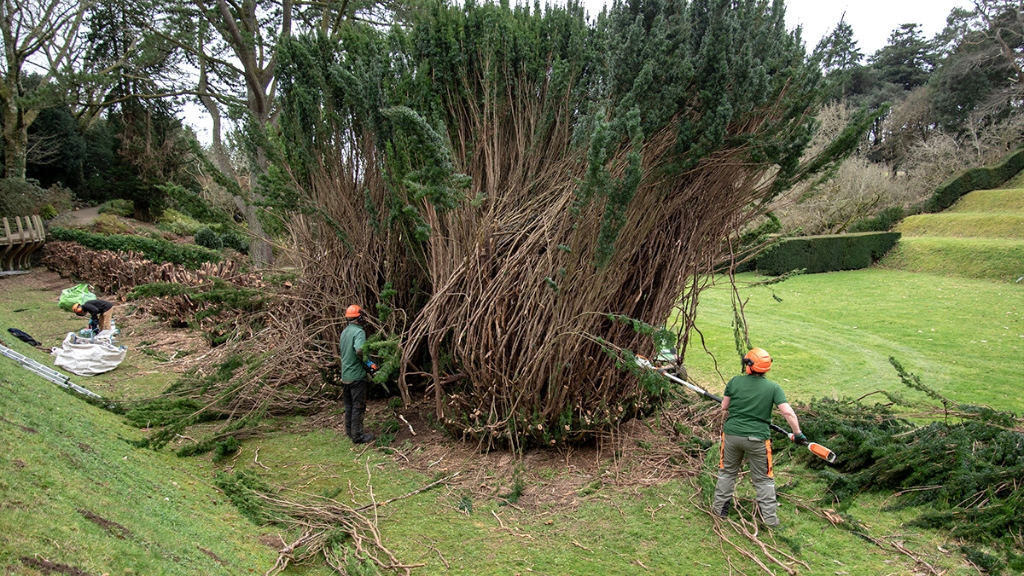 The last of the Apostles pruned on Thursday 9 February. Photo by Kate Mount
A major restoration project to regenerate the the historic 12 Apostles in Dartington's gardens has begun. The Irish yew trees, which are almost 200 years old, were planted in our Grade II* listed gardens in 1830 and need strong pruning to remain in good health. Dartington Trust's head gardener, Neville Evans, spearheaded the project and said the work was urgently needed to preserve these precious trees and to keep us at the cutting edge of tree-care practices on the estate.
"This is not a decision we take lightly but we are reducing the trees to four feet to allow light and air into the heart of these trees which will then encourage them to thrive. We realise some people might find it difficult to see these much-loved trees pruned in what seems a very harsh way but it will secure their longevity."
The 12 Apostles, which stand between the medieval Great Hall and the Tiltyard, are an iconic feature of the gardens. The trees have been a point of great speculation over the years, some believing they were planted to shield the Hall from a view of bear-baiting in the tiltyard. Others believe them to be purely decorative, with reports and archive images showing that they were originally intentended to be skittle-shaped.
"they will soon flourish again, like a phoenix from the ashes"
Neville said: "I appreciate that these iconic trees will look strange for a while but Irish Yews respond well to hard pruning and they will soon flourish again, like a phoenix from the ashes. We will then sculpt them into skittle shapes and we hope with this intervention they will stand proudly for at least another 150 years."
The cut off branches and foliage have already been chipped and we will reapply this to the beds as a mulch to suppress weeds, provide nutrients and conserve water in the summer months.
The work is carried out in consultation with the Gardens Advisory Committee and under the guidance of international experts in Yew tree restoration.
Across the estate here at Dartington we are balancing the preservation and responsible management of our existing tree population with the planting of new trees. In the formal gardens alone, Neville and his team have planted 1,000 tree and shrubs and will grow another 5,000 plants this year for the gardens, so from that point of view our impact and contribution is a positive one. 
We are also exploring the positive role trees more generally can play in ecological approaches to farming and food production. Broadlears, a large field adjacent to the gardens, is a collaborative agroforestry project, where strips of fruit and elder trees are grown in between arable crops to provide protection from the elements, maintain soil quality and to increase the overall yield of the land. A little further down the hill, our colleagues at Schumacher College manage a similar agroforestry project, known as Henri's Field, to grow food to feed our students. This growing space is also used to teach various regenerative farming practices, including forest gardening and coppicing for woodchip, to our residential, undergraduate and postgraduate students. 
The Gardens at Dartington are open to visitors year-round. Come and see the Irish Yew project, and the new views this has opened up across the Tiltyard from the Sunny Border, by booking now on our Grade II* Listed Gardens booking page.